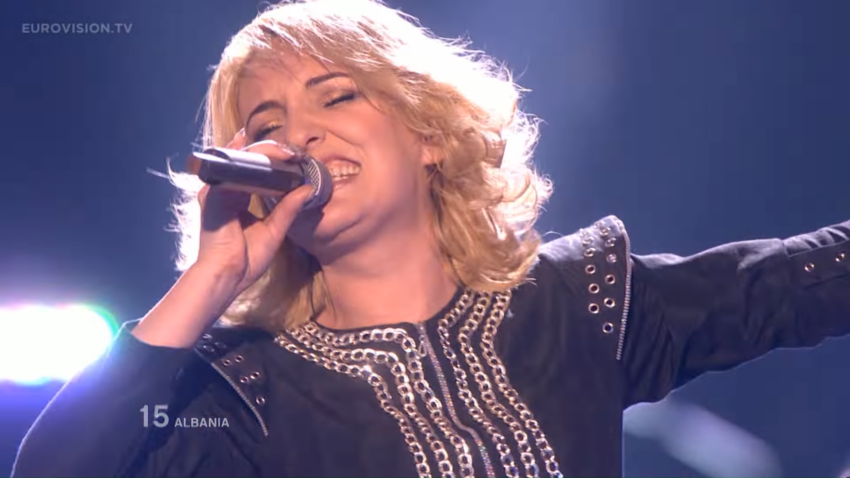 Albania has been known to send strong vocals (mostly females) with ethnic songs. Their 2010 entry 'It's All About You' by Juliana Pasha had a more modern sound compared to their other entries. Fans mostly like the song, but several notice Juliana's English pronunciation being slightly off.
Albanian broadcaster RTSH used the 48th edition of their traditional selection format Festivali i Këngës in order to determine their entry for the 2010 Eurovision Song Contest. After 3 semi finals, 20 contestants took the stage in the final dated to 27th of December 2009. A seven-member jury selected Nuk Mundem Pa Ty by Juliana Pasha as the winner and their representative for the Eurovision Song Contest 2010.
In Dusseldorf, Juliana performed her song in English. The title was changed to It's All About You. She took the stage as 12th in line in the first semi-final. As she received 76 points and placed 6th, she won the right to compete in the final too. In the grand final, she went on stage as 15th in line. Eventually, Albania scrored 62 points, and became 16th after Spain.
It's All About You – opinions from fans
In order to find out what Eurovision fans today think of this Albanian entry from 2010, we asked our Eurovision Fan Panel. It includes team members as well as fans from all over the world.
🇳🇴 Robert I. – This is pure perfection. The year 2010 was a fabulous Eurovision year, and this is one of the reasons. This song is as catchy as it can be, and the lyrics just add to it. Juliana Pasha shows an extraordinary presence and energy, and the same goes with the superb violinist. Juliana sings perfectly well and owns the stage. Wow, she is simply an amazing artist. I just love the three outstanding backing singers, the important role they play and the way they look into the camera – they're probably among the best in the contest ever. Now, 10 years after, I still play this this song on YouTube nearly every weekend. It's hugely underrated. It just doesn't get much better than this!
🇩🇰 Charlotte J. – Had this song represented Sweden, it would have finished in top 5, but there's a difference: Had this represented Sweden it would have been better produced and it would have been sung by a singer with a stronger appearance. I do actually like parts of the song, but it's too much a Sweden-wanna-be entry without having the skills they do in Sweden to get this type of song right.
🇹🇷 Gunec G. – 2010 is one of my favourite years in Eurovision. There were many good songs that year. I liked Juliana's strong vocal performance and her catchy uptempo modern song It's All About You. The violin session spiced up the performance and added an ethnic touch to the song.
🇨🇴 🇫🇮 Alvaro S. – I like the melody of this song. They are catchy indeed although Juliana's vocals at the beginning did not sound right. However, it seems she sounded very confident in the chorus. I also like her stage presence. By the way, the backing vocals looked like the Mamas before the Mamas were a thing. Such a visionary move! (pun intended) 😆
🇷🇴 Doina A. – I just watched the performance. It's an amazing appearance: Juliana sings so well, the English lyrics are so simple, melting listeners heart (love is always the great issue), the backing singers and the violonist are helping her a lot. Juliana looks so charismatic, elegant, her voice is warm yet powerful following the musical chords. A great performance, enjoyable and, for sure, inviting listeners to dance, as "It's All About You"!
🇨🇿 Josef S. – It's All About You is one of the entries you don't forget even after 10 years. It's not super amazing, but it's a nice pop-rocky entry that works in English as well as in Albanian. That's what hurts the most in some of the recent Albanian entries at Eurovision. But not Juliana Pasha. I like that she serves a good vocal quality to the performance, but that's a standard for Albania at Eurovision, one can say.
🇬🇧 Aaron S. – I like this song, especially the chorus. Juliana Pasha makes the song lively to the point despite being ten years old, it could still seem modern today. While I much preferred entries from Turkey and Germany, this song deserved a higher finish than it earned.
🇳🇱 Eric O. – Though it's quite a fun song to listen to, it's also an ear worm because of her bad English, especially in the first & second course where she really mispronounces the word 'one', as it sounds more like 'wann'. She sounds a bit like a witch and to be honest, her appearance does look like one too… 😂 Anyway, no wonder it only placed 16th in the Grand Final, I suppose.
🇬🇧 Michael O. – Oh gee I just hated the way she pronounced the word 'one', and in fact it annoys me so much I can't stand listening to the song, which was another I remember being way over rated.
Enjoy Juliana Pasha's performance from the 2010 Eurovision Song Contest in the embedded video. Below the video, you can read more about them.
Juliana Pasha – a mini biography
Juliana Pasha was born on the 20th of May 1980 in Burrel, Albania. In 2010, she won the Honorary Citizen Award of Burrel from the mayor of the city.
She represented Albania at the 2010 Eurovision Song Contest where she finished 16th in the final with the song It's All About You. After that experience, she won the first prize in the festival Kenga Magjike with her song Sa E Shite Zemren.
The first series of Albania and Kosovo's version of The X Factor, we saw Juliane serve as mentor and judge.
In an interview, where she was asked how important religion is for her, she said it is very important because she believes in God and that she is here as a result of God's help. She has also been involved in a project called Hanna (PH), who are fighting to remove the blood vengeance tradition in Albania.
Over the years, she has received numereous awards and nominations in her musical career.