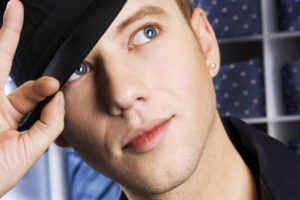 At one point, it seemed as if Lithuania was going to boycott the Eurovision Song Contest 2009 in Russia, but in the end they sent Sasha Son with the song, 'Love'.
On 10 January, 2009, the Lietuvos Dainų Daina contest began, where Sasha Son performed, Pasiklydęs žmogus, in 9th place out of 12. He won his heat, followed it by winning his semi final heat, and eventually won the final on 14 February 2009, with maximum points.
Performing the English version of the song, Love, with the last lines in Russian, Sasha came 9th in the second semi final of Eurovision on 14 May 2009.
Drawing position number one, he opened the Eurovision Song Contest 2009 final, earning 23 points and finishing in 23rd place.
Love – opinions from fans
In order to find out what Eurovision fans today think of this Lithuanian entry from 2009, we asked our Eurovision Fan Panel. It includes team members as well as fans from all over the world.
Michael O. – This was to date the best song Lithuania sent to Eurovision. You could see Sasha visibly squirm when he drew first place in the final. Nonetheless he performed as best he could and Lithuania should have done better than 23rd that year. A terrific little song.
Alvaro S. – I did not remember this song from the 2009 contest, the first contest I followed even if I did not consider myself a fan back then. It is a beautiful song especially at the beginning. I think both this and the French song from the same year bring an intimant feeling through the whole song in spite of sounding so different.
Christopher D. – I was not a great fan of this artist and song. I felt the song was quite flat and there was nothing that made me go back and listen to it after the Eurovision. I know he tried to represent Lithuania again in the following years but I was not looking forward to his return.
Gunec G. – 2009 was in general a very powerful year. Lithuania's Sasha Son is surely a good artist and Love is a good tune. This was enough to carry them to the final but the 23rd place explains that it was not strong enough among many powerful opponents.
Charlotte J. – I am captured from the beginning, thinking this is going to be great. Unfortunately, throughout the song, I slowly realise that I am disappointed. Vocally he is fine, performance wise it's good too, but I am just not feeling it. The mix of languages isn't appealing to me either.
Quique B. – It's not a bad song. His voice is ok. The staging is correct (despite the fire and the cheap hat). But is boring. This entry doesn't transmit me anything.
Jill R. – I like the piano melody, Sasha´s cool hat and the flame at the end. His voice is also alright. But this is not my cup of tea. The songs isn´t really bad, but I think that it is pretty boring and forgettable. It barely made it to the final, but I´m not sure it should have. But then again there were a lot of songs I didn´t like in the final in 2009. Place 23 seems about right.
Martti I. – Very talented artist and songwriter. Melody is beautiful, but there is the but… On this stage with such camerawork this just didn't have a chance, unfortunately in my opinion. I liked it and the bilingual version is great.
Steve P. – Lithuania usually spends weeks on a long selection process to end up with something that really isn't worth all the time and effort. Not in 2009! 'Love' is a very powerful ballad that, at times, becomes quite intense. Another plus is the simple staging. In an era when gimmicks are often used to sell a song, the quality of the song is allowed to shine through. It would be even better if it hadn't fallen into the trap that a lot of swapping between languages! Please choose one and stick with it!
Sasha Son – a brief biography
Sasha was born, Dmitrij Šavrov in Vilnius, Lithuania on 18 September 1983.
As a teenager, Sasha moved to London to study music, having scored a hit with the song, Mama in his homeland.
Sasha came third in the Lithuanian Eurovision song selection in 2008 with the song Miss Kiss, before winning with the song, Love the following year.
He returned in 2010, with the song, Say Yes To Life, a duet with Nora. In 2011 he tried as a solo act with the song, The Slogan Of Our Nation, and also in duet with Donny Montell. Their song, Best Friends came 10th.
In 2017, he returned as Sasha Song, with the catchy, Never Felt Like This Before, burning his arm in the stage presentation.
Nowadays, Sasha is a successful vocal teacher in Lithuania.