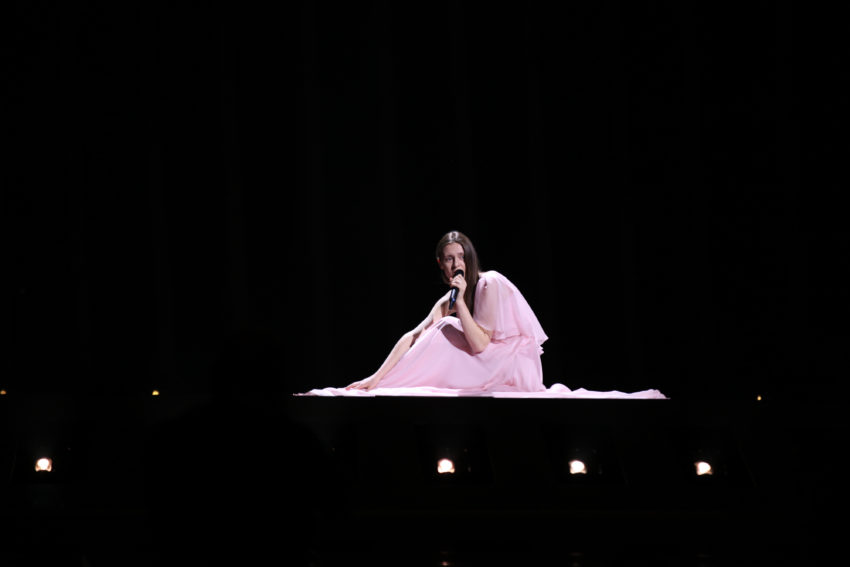 It took five attempts, but perseverance paid off for Lithuania's Ieva Zasimauskaitė when finally in 2018 she won the right to represent her country at the Eurovision Song Contest. For some Eurovision fans, this was a song they needed to grow into.
The song which finally made it for her was 'When We're Old', written by Vytautus Bikas. The final of that year's Eurovisions Atranka took place on March 11, following eight weeks of elimination shows.
Ieva was beaten in the jury vote by Jurgis Bruzga, but having won the public vote, she received enough points to send her to the contest in Lisbon, Portugal. After gaining enough votes in the first semi final, she performed 4th at the final, finishing in 12th place – Lithuania's third best showing.
When We're Old – opinions from fans
In order to find out what Eurovision fans today think of this Lithuanian entry from 2018, we asked our Eurovision Fan Panel. It includes team members as well as fans from all over the world.
Michael O. – This was not my favourite entry from Ieva's attempts but it was still a cut above most Eurovision entries. I had no doubts it would reach the Eurovision final, but had hoped it would improve on their We Are The Winners, sixth place. A sweet gentle song which is easy to like, such a shame that the sentiment in the song , did not transpire for Ieva.
Alvaro S. – This song was not high on my list when I listened to it. But when it was performed live it moved my feelings. It is minimalistic and it is a song about love but unlike Spain who also sent a song with a similar theme, the Lithuanian contestant did not have to overreact to convey her message. The images were powerful and the ending with her then husband was beautiful. It made me want to cry.
Quique B. – Ieva gave a good performance. The song is a bit boring but staging and TV production were very effective. A good work from RTP in this entry. All this gave a very good result placing the song on 12th place, a very good placement for a song finishing with that pretentious kiss with her boyfriend. It's a pity juries didn't appreciate that in the Spanish song, for example, that was better composed and sung although with a production a lot less effective.
Charlotte J. – I hadn't paid attention to this song before I saw the first rehearsal for it at the Eurovision Song Contest. Like many other fans, that was the moment, I realised that Lithuania had a gem. Whoever staged this song did a fantastic job. The performance was absolutely perfect. In the beginning her pronounciation of the word 'old' did annoy me, but now I just find it charming.
Enis H. – One of my favourite entries from Lithuania. I love her fragile voice, the staging, the emotions you get through the song. Love it.
Ray M. – When We're Old by Ieva Zasimauskaitė from Lithuania became a favourite of mine in the days leading up to Eurovision. My partner and I loved to watch the music video and think about our lives together. We're both "middle-aged" and have been together for almost 12 years now. Something about the song struck a deep chord within us. When we saw the stage production, we thought it was a little bit cheesy, but let it go as we loved Ieva and loved hearing the song.
Frank S. – I was actually surprised that Ieva was one of the contestants to continue to the grand final in 2018. Maybe because I didn't listen carefully to the song prior to the actual event, I thought. In my opinion the song was very mediocre (no offense) and there were better songs to proceed from the semi final. HOWEVER, the song kind of hit me in the face during the grand final and I understood fully why she was in the final: I loved the "thin" voice throughout the song and the sweet looks she presented us with. I was haply to see this song ending in the middle regions and not at the bottom of the score board. The simplicity, the look and the voice….still like it up to today!
Ashleigh K. – I remember that this song was one of the favourites to win in 2018. I didn't understand it then and I don't understand it now. I really wish people would sing properly and stop putting on these weak, breathy and annoying vocals. I'm sorry but this style of singing just grates on me.
Enjoy Ieva Zasimauskaitė's performance from the 2018 Eurovision Song Contest in the embedded video. Below the video, you can read more about her.
Ieva Zasimauskaitė – a mini biography
Ieva was born in Kaunas, Lithuania in 1993. As a backup for if a singing career failed, Ieva earned a degree in Hotel Management, whilst also trying to represent Lithuania at Eurovision.
She first tried in 2013, gaining fifth place, performing the duet, I Fall In Love, with Gabrielius. She really came into her own in 2016 with the song Life (Not That Beautiful).
Finally in 2018 the song When We're Old took her to Eurovision, where she famously ended her song by bringing her then husband on stage. Sadly they divorced in 2020.
Ieva continues to release music with her last English song being What Do You Want From Me in 2019. Her last release was the Lithuanian sung, Labas Tua Taria.