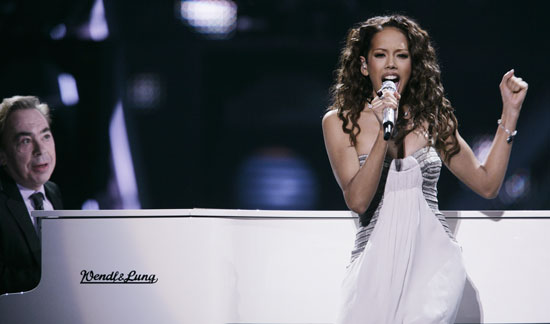 Lovely, Disney fairytale or a Broadway musical? All those words were used by some of our Eurovision Fan Panel members on Jade Ewen and her UK entry 'It's My Time' from Eurovision 2009.
In 2009, United Kingdom used a national selection to decide its entry for Eurovision Song Contest in Moscow. There were six contestants who were week by week cut to the final three. They performed covers of famous songs and in the final, each contestant performed their own version of their Eurovision entry It's My Time. So, besides winning Jade Ewen's, there are also renditions by Mark Evans and one by Francine and Nicola.
In Eurovision: Your Country Needs You 2009 there were many famous singers in the jury, including Lulu, Duncan James, Emma Bunton or Andrew Lloyd Webber himself. In the end, young and almost unknown singer Jade Ewen won and represented the United Kingdom in Moscow with Baron Lloyd-Webber and Diane Warren's song It's My Time, a classical musical theatre power ballad. It looks like Europe loves musicals because Jade finished in 5th place in the final with 173 points. That is the best result for the UK at Eurovision since 2002 and until today.
It's My Time – opinions from fans
In order to find out what Eurovision fans today think of this UK entry from 2009, we asked our Eurovision Fan Panel. It includes team members as well as fans from all over the world.
Michael O. – The singing here is excellent, but there's just that little something missing. The lyrics are a bit repetitive, and while it's a great entry, it just needed that little extra to take it to perfection.
Charlotte J. – This is lovely. But honestly, did anyone expect anything else from Baron Andrew Lloyd Webber? I think the staging for Jade Ewen let her somewhat down, and at some point, she was way too close to one of the violin players. Such things can make a difference when you're up against Alexander Rybak who gave it 110% on his Fairytale. So why didn't UK finish second? Azerbaijan and Iceland had great entries too, but I still think they should have finished below UK, and Turkey? Why on earth that finished 4th, I can't explain. In another year, It's My Time would have won, and in 2009, it should have finished second.
Aaron S. – I remember It's My Time well, this was from the first Eurovision pre-selections and the contest which I watched in 2009, I think this song was a refreshing change on many of our previous UK entries, which we saw before and after 2009, and probably one of the best since 1997, it wasn't a winner, but it wasn't anything embarrassing either.
Josef Š. – Jade Ewen and her musical theatre-inspired song It's My Time by Andrew Lloyd Webber is a pure masterpiece, well it's written by one of the most famous musical theatre composers, so it's very obvious. And as I love this musical style, so I had it always high, top 5 at minimum. And I think that the final result is very well deserved. It's My Time is one of my all-time favourite Eurovision songs from the United Kingdom. I don't need to mention Jade's flawless vocals and gorgeous dress, plus Andrew Lloyd Webber on piano and a violin player, all that summed up together is just perfect!
Christopher D. – This was the UK's best entry for quite a number of years now. I was looking forward to the song when I heard that it was written by Andrew Lloyd Webber. To tell the truth Jade's performance did not impress me much on the final night, and I think the fifth place was well deserved. No winning material but a top ten finish song for sure. Pity that we haven't heard such good songs from the UK lately.
Alvaro S. – This song is lovely. It has this Disney atmosphere, just like Yohanna's song from Iceland on the same year which in no way is a criticism to this song. Quite the opposite, it could have made the soundtrack of a film or be a song from a Broadway musical.
Kostas C. – I am divided about this song. From one side I see a classy song from a great voice and in addition a very good live performance. On the other hand, I could easily say the song is quite boring, basic, and in the beginning flat. I haven't heard it since then, and this means a lot.
Wouter V. – The works of Andrew Lloyd Webber are among my go-to music to lift my mood. In particular The Phantom's Overture, and Strange Thing Mystifying from Jesus Christ Superstar. It's My Time is nothing like any of those. Of course, it isn't, it stands on its own without being backed by the extensive story of a musical. And yet it has the same grandeur as any of his works, the finesse of a sensitive ballad while still featuring a hook of a chorus like apparently any Eurovision song needs. Topped with Jade Ewen's fantastic voice and a strong performance, I'll never understand how this was beaten by Düm Tek Tek.
Frank S. – What can I say? For the first time in 12 years, I was under the impression that the United Kingdom was in the running again to really be meaningful at the Eurovision Song Contest. I love Jade and her song (well her song….), however, what I did not get was the staging (a) and the fact that it seemed that Jade somehow could not stay in tune (b). I miss this kind of power ballads and surely hope that we will hear some great voices again this year!
Craig M. – Jade Ewen has a wonderful voice, and on the night, she looked amazing and hit every note BUT purely because I am not a fan of the song, it is a song I don't listen to any more. Maybe I'm the odd one out, as the UK got a good result with Jade Ewen, so many people voted for it. Being totally honest, I do not like the song at all.
Enjoy Jade Ewen's performance from the 2009 Eurovision Song Contest in the embedded video. Below the video, you can read more about her.
Jade Ewen – a mini biography
Jade Ewen was born in 1988 in London, UK. During her early career, Jade appeared in some dance and music videos as well as in some TV series. In 2005, Jade Ewen became a member of a girl group Trinity Stone, but the group was disbanded in 2007. Two years later in 2009, Jade took part in the British national final for Eurovision 2009 which she won.
After her huge success at Eurovision (5th place, which is until today the best result for the UK since 2002), Jade Ewen became a new member of the popular girl group Sugababes as the replacement for Keisha Buchanan. The group made some music and released the new single Freedom in September 2011, but then Sugababes began their hiatus and that was also the end of Jade Ewen's era in this girl group.
Jade Ewen has appeared in several TV shows, and competed in some of them like Splash! (2013). After that, Jade became more involved in the musical theatre as she played in Porgy & Bess, was supposed to be in Godspell as well but had to drop out because of her illness. She took up a role in In The Heights, and the major role came in 2016 when she got the lead role of Jasmine in Disney's Aladdin on West End.