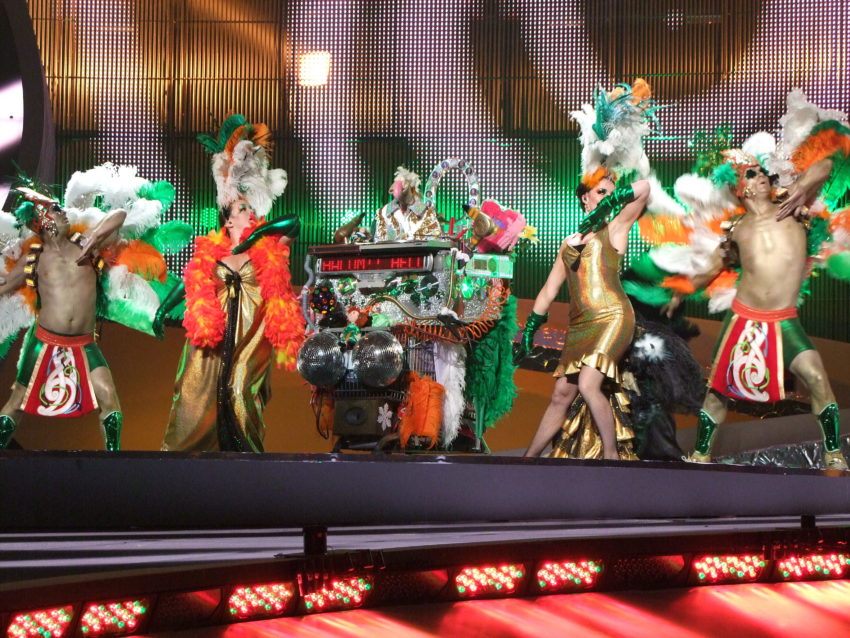 In 2008, Ireland's fortunes at Eurovision were starting to wane, and the disappointed Irish Television (RTE) execs felt they needed to up their game and sent a huge star. They went for Dustin The Turkey.
On 23 February 2008, RTE hosted Eurosong from the University Concert Hall in Limerick. The Irish public voted for their favourite from six songs, and much as she's a beloved Eurovision winner, it was a great laugh to listen to Dana's horror, when Dustin The Turkey won.
He brought his song, Ireland Douze Pointe to Belgrade, Serbia, where Ann Harrington and Kitty B pumped up the backing vocals. The song was basically a comedic complaint how Eastern countries only vote for themselves, and Ireland being an island may never win Eurovision again.
After being booed after his performance, Dustin The Turkey, finished 15th in the first semi final, held on 20 May 2008, so Ireland had to miss out on the final.
Irelande Douze Pointe – opinions from fans
In order to find out what Eurovision fans today think of this Irish entry from 2008, we asked our Eurovision Fan Panel. It includes team members as well as fans from all over the world.
Kat H. – What can I say? Dustin the Turkey has to be one of the most unusual and unique Eurovision entries ever. From the dancers to the shopping trolley, everything about this entry makes me smile. I personally love a good "joke entry" and consequently could listen to Dustin gobble about Wogan and Logan all day!
Paul K. – As someone from Ireland, no thanks, never again! The song itself, without the lyrics, staging or Dustin, is actually catchy and a bop. Then everything else is added in and it's just 🤢. Probably one of our biggest embarrassments to date, so I am happy we have never went back to doing something like this, but I hope we never do. Irlande Douze minus Douze pointe.
Michael O. – I thought the humour in the song, might just have got it to the final, but maybe it just didn't translate as well as expected. Away from Dustin, the music had a good dance beat, and I loved the role call of countries at the end of the song.
Tina M. – I do not know what happened to Ireland in 2008, when they decided to send Dustin the Turkey to Eurovision. Ireland, who have won so many victories with great and beautiful songs – and then they send a turkey. I simply can not say anything good about that song – a "song" I really dislike 1/10.
Alvaro S. – This was… an act, but not one I would like to watch or could enjoy. I understand the irritation about the flaws of the contest but for me this was not just a joke act (which may work if the joke is well elaborated). I interpret Ireland sent Dustin out of spite towards the contest, and it deserved to be in last place.
Sara T. – Oh my dear God no. Horrendous. The Worst song in the Eurovision history. Minus 1000000 points.
Melanie G. – This is a fun tune, holiday vibe, good dance beat energetic good 90's dance vibe it's fun fun fun, just what we need in all our lives.
Josef S. – I like fun entries only occasionally. And Ireland 2008 is definitely not one of them. It actually is one of the WFT moments when you just watch those 3 minutes and in the end think "how the hell did something like this get to Eurovision?" as such entries are the reason why general public called Eurovision a freak show. I am glad we don't have such entries any more or not so often.
Doina A. – Quite different from other Irish entries. Shocking lyrics… names of European countries mixed with "pointe"… a peculiar way to present a manifesto. Background artists, dressed in flashy colors, helped "the Turkey" to fulfill this funny and sad song! It left me with a bitter taste and, although it was somehow disco, I had no intention of dancing! It is not an enjoyable song. Maybe too realistic?
Charlotte J. – I generally don't like these kinds of mockery joke songs, but this one is so cleverly done that it actually becomes quite enjoyable. Don't get me wrong, it's still a very bad song, but I am able to enjoy it – in small doses. What I enjoyed more however was the fuss about who Dustin The Turkey actually was… that was hilarious!
Dustin The Turkey – a brief biography
John Morrison is the man behind Dustin The Turkey. The character made its debut in an Irish children's comedy type show, The Den.
Dustin's first hit record was a duet with fellow puppets, Zig and Zag. They reached the number one spot at Christmas 1990 with the song, The Christmas No.1.
Several acts have recorded duets with Dustin, including Bob Geldof, Chris De Burgh and Irish president, Mary Robinson.
After releasing five albums, Dustin represented Ireland at Eurovision 2008 with Ireland Douze Pointe.
Dustin later attempted to run for President, as part of the Poultry Party, just missing out on winning. On a more serious note, Dustin is an ambassador for UNICEF, offering help to many children's charities.