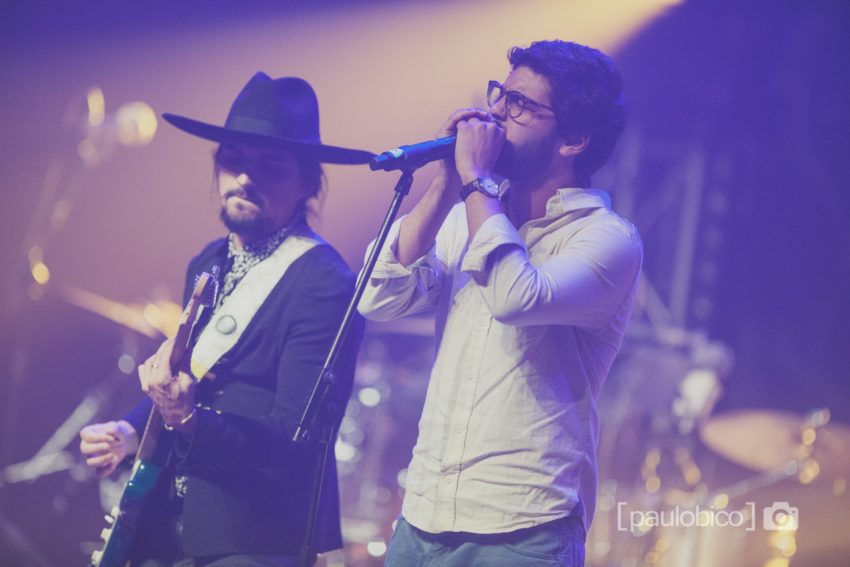 With tonight's first semi-final of Festival da Canção 2021, we are one step closer in knowing who will represent Portugal at the 2021 Eurovision Song Contest. The first five acts have now secured themselves a spot in the final.
On the 6th of March, Portugal's Festival da Canção final will be held. Tonight, we saw the first semi-final, and next Saturday the second one will follow. From each semi-final, five acts will qualify for the final.
Tonight's first semi-final offered a good mix of established artists and talented newcomers. To become more familiar with them, we recommend that you check out our Get-to-know article.
Result of Festival da Canção semi-final 1
Ten acts competed in the first semi-final. Five of them made it to the final.
The Black Mamba – Love Is On My Side (Qualified)

Valéria – Na Mais Profunda Saudade (Qualified)

Mema – Claro Como Água
Nadine – Cheguei Aqui
Miguel Marôco – Girassol
Fábia Maia – Dia Lindo (Qualified)

Irma – Livros
Karetus & Romeu Bairos – Saudade (Qualified)

Sara Afonso – Contramão (Qualified)

IAN – Mundo
The show
In Portugal, they are one hour behind Central European Time. Tonight's first semi-final kicked off at 21:00 local time, 22:00 CET.
Short clips introducing the artists in the words of people who have worked with them or know them well are played before each artist performed their song. In it, they talked about their professional lives and creative process. The semifinalists also had the chance to have a little chat in the green room.
After all the acts performed, the presenters introduced Rita Guerra (Portugal 2003), Paulo de Carvalho (Portugal 1974 and 1977), Vanessa Augusto, Rita Carmo, NBC and Marta Carvalho (Festival da Canção 2020) who are members of the jury panel.
The Festival paid tribute to Elisa showing her journey to winning the 2020 Festival da Canção, the cancellation of the Eurovision Song Contest and how it affected other candidates through Europe, as well as the special show that replaced the regular Eurovision. Elisa performed her new single Na Ilha.
After the votes were closed, a short clip about the Portuguese 1986 national selection was shown. Dora performed her Portuguese song for Eurovision Não sejas mau para mim.
Portugal at the Eurovision Song Contest
The Portuguese Eurovision journey is quite a roller coaster. There's one big high in terms of their 2017 victory by Salvador Sobral. From that victory it however went steep down with a last place in 2018 and a non-final qualification in 2019.
Over the years, Portugal did achieve other good results, but they never a solid period. To find three years in a row with top 10 results, one need to go back to 1971-1973. Up until the victory in 2017, their last top 10 result dates back to Lúcia Moniz in 1996.
Out of the 16 participations since in the past two decades, Portugal failed to qualify for the final 9 times.
In the embedded video below you can watch a special version of Salvador & Luisa Sobral perform the 2017 winning entry Amar Pelos Dois: