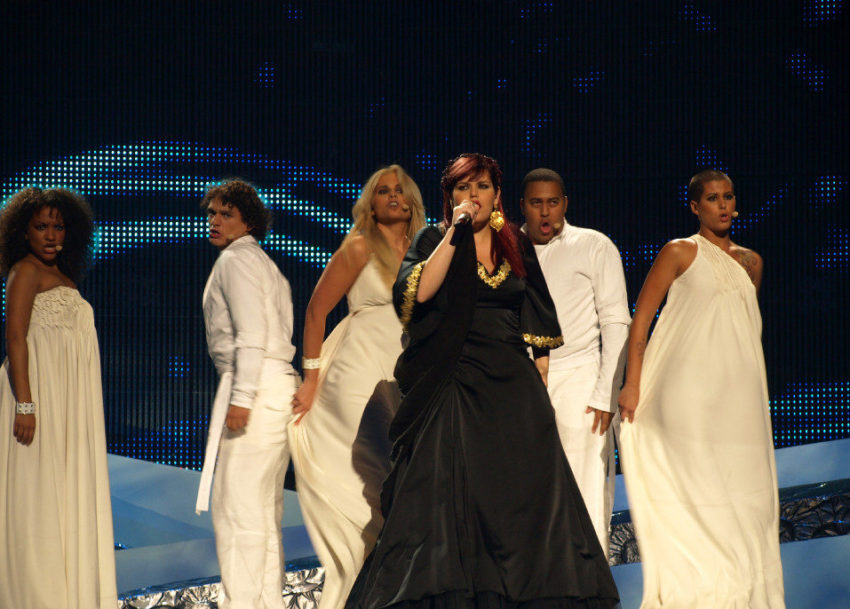 In 2008, Vânia Fernandes brought home Portugal's first qualification to the Eurovision final and their best result from the 00's decade. Not only that, 'Senhora Do Mar' is still one of the most well known Eurovision entries from the Iberian country.   
10 acts competed in Festival da Canção 2008, the Portuguese national selection for Eurovision. The final took place on 9th of March 2008. Vânia Fernandes won the televote in a landslide (more than double compared to the second place) and became the Portuguese representative for Eurovision 2008.
Vânia Fernandes represented her country in the Eurovision Song Contest 2008 held in Belgrade. She performed Senhora Do Mar (Negras Águas) in the second semi-final. Her song ended in second place in the semi-final. This is one of the best Portuguese results in a semi-final to this date. Moreover, Portugal qualified for the first time in 2008 since the semi-finals were introduced.
For the final, Vânia Fernandes wore a black dress. She sang next to her backing singers in white. During her performance the screens projected blue waves. Senhora Do Mar received 69 points in the final ending in 13th place.
Serbian songwriter Andrej Babić and Portuguese Carlos Coelho composed Senhora Do Mar (Negras Águas)
Senhora Do Mar (Negras Águas) – opinions from fans
In order to find out what Eurovision fans today think of this Portuguese entry from 2008, we asked our Eurovision Fan Panel. It includes team members as well as fans from all over the world.
🇳🇱 🇩🇰 Wouter V. – This song has the roaring of the waves and the rhythm of the oars embodied on its DNA. Perhaps a bit too popish to actually be categorised as fado, it certainly carries some elements and appeal from the genre. I don't have many Eurovision songs in my regular rotation on Spotify, and to be honest I can't remember if this is in my "liked songs" playlist – but unless I forget, I might just add it tomorrow.
🇮🇪 John D. – This for me was Portugal's finest entry. It should have won the 2008 contest. It is far better than Dima Bilan's winning song that year and I can't understand how it came second in the semi-final and then 13th in the final. The staging was dramatic and in a similar vein to Serbia's winning entry the year before. For some this may have been too similar but I still rate it as a classic song that should have won.
🇨🇴 🇫🇮 Álvaro S. – This song is a fan favourite and one of the most successful Portuguese songs in Eurovision for a reason. Many times Portugal did not score well in Eurovision because it forgot to find a balance between the song and the performance onstage. That was not the case this time, and people still love this song.
🇩🇰 Liza P. – This is close to be my favourite entry from Portugal. Vânia is so majestic on stage and her voice is fantastic, and I get so happy every time I meet her. I can't praise her performance enough. I am a sucker for the dramatic sound and emotion that Vânia conveys through the performance, it is so well deserved that she finished 2nd in her semi-final. But I feel that she was robbed of a better result in the final. 13th place was no way good enough. She should definitely have been in top 5 – especially because I still fail to understand what Greece is doing in top 3 that year.
🇬🇧 Michael O. – This to me is one of, if not the best entry ever from Portugal. So dramatic and well performed, and with a great group of backing singers, this was one of the rare occasions that I thought Portugal could have won.
🇳🇱 Jacques H. – Belgrade 2008, sweet memories. That year, I was blown away by Ani Lorak's Shady Lady and I still don't understand why Dima Bilan won. I remember that one other fan favourite was Vânia Fernandes' Senhora Do Mar (Negras águas). In the beginning I wasn't too wild about it, but during the contest it grew upon me. Even now, I still think the audience in Europe underestimated the true potential of this great song. Qualifying second in its semi-final, the lady of the sea deserved so much more than just a 13th place in the grand final. It should have ended as runner-up behind Ani of course!
🇩🇰  Charlotte J.- I love her voice, and I really like the music too – for most parts. Here and there the verses aren't as strong and that pulls it a bit down for me. Whereas the 2nd place in the semi-final probably was a bit too much, 13th in the final is a tiny bit too low. I would place it just inside top 10.
🇨🇿 Josef S. –Senhora Do Mar by Vânia Fernandes is my all-time favourite when it comes to Portuguese Eurovision entries. It's because I just love fado in every possible style. Vânia is undoubtedly one of the most iconic representatives from Portugal. This just proves that you can have a song from foreign composer to fit your country's music style. I just miss Andrej Babic in Festival da Cancao in recent years, because his songs were always good for Portugal.
🇬🇧 Aaron S. – This song was OK, while it wasn't my favourite in the contest, it still wasn't a bad entry from Portugal, I liked the use of the Portuguese language and feel the backing vocals were used very well. I do feel it should have finished higher than 13th place though.
🇵🇹 Enio P. – Senhora Do Mar is a masterpiece and it represents beautifully the essence of the Portuguese – the connection to the sea, the saudade, the nostalgia… Vânia Fernandes had an amazing performance full of soul and with crystal clear voice – a true diva! It deserved a better classification than the unlucky 13th place. This song is very dear to all Portuguese and it's considered by many as our best entry at Eurovision!
Enjoy Vânia Fernandes' performance from the 2008 Eurovision Song Contest in the embedded video. Below the video, you can read more about her.
Vânia Fernandes – a mini biography
Vânia Fernandes was born in Madeira, Portugal in 1984. She is a pop, jazz and fado singer. Vânia Fernandes studied music in Lisbon at the Escola Superior de Música where she specialised in jazz. In her first years, she participated in several jazz events and festivals.
In 2007, she won the talent show Operação Triunfo. One year later, she represented her country in Eurovision with Senhora Do Mar. Her Eurovision entry ended in 13th place and gave Portugal one of its best results in a semi-final where it finished 2nd.
Vânia Fernandes is still active. She has performed in Eurovision related events after her participation in the festival. In 2020, she reunited online to perform her Eurovision entry with Andrej Babić playing the piano.