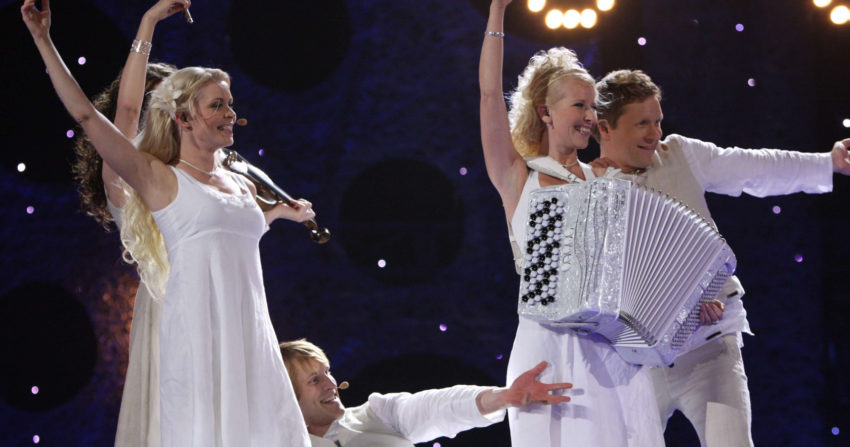 For the Eurovision Song Contest in 2010 Finland sent a more traditional sound to the competition. Kuunkuiskaajat, a folk duo went to Oslo with  the song 'Työlki Ellää'. Almost 11 years after their participation, fans have mixed opinions: Some enjoy a song in the national language in an underrepresented genre, others on the other hand, can't relate to it.
For Eurovision 2010 Finland organised Euroviisut 2010. Fifteen songs competed in three semi-finals but only ten songs qualified to the national final. The final consisted of two stages: a first round of voting with the ten qualifiers and a super-final. Kuunkuiskaajat won the super final consisting of three songs. Therefore, the duo became the Finnish representatives for the Eurovision Song Contest in Oslo.
Kuunkuiskaajat participated in the first semi-final of the 2010 Eurovision Song Contest. They performed wearing white dresses. Susan Aho played the accordion and sung next to Johanna Hytti. A violinist and two male backing singers (all wearing white) accompanied the folk duo. The backing singers danced around the duo during their performance.
Työlki Ellää finished in sixth place by the televote but only in fifteenth place by the jury vote. Combined this was an 11th place in its semi-final, three points below the 10th and last qualifier.
Työlki Ellää – opinions from fans
In order to find out what Eurovision fans today think of this Finnish entry from 2010, we asked our Eurovision Fan Panel. It includes team members as well as fans from all over the world.
🇳🇱 🇩🇰 Wouter V. – I really like the ethnic, folk, medieval sound Kuunkuiskaajat brought to Eurovision. It kinda makes me want to pick up my old folk-dancing hobby again. But alas, the performance did not provide a choreography one could easily copy. Maybe a simple dance routine could have provided them a few more valuable points and brought them into the grand final.
🇬🇷 Mike E. – So. This entry is from back in the days where it used to be fun. I personally love that it's in its native language and with all the instruments, it is a really fun song. I also love the clapping effect in the chorus as its catchy for the audience to follow. I can say that is memorable, but since Eurovision has some really big moments vocally and stage wise it can be considered a bit mid tempo without any wow factor. Overall it's a fun song with its strong point being the language.
🇨🇿 Josef S. – Kuunkuiskaajat are one of my favourite artists from Finland. I really love the happy and folky vibes from the song. I think it should have made it to the finals back then, but it was a pity they missed it by a little, poor 11th place.
🇩🇪 Pascal W. – This seems to be quite a fun song – however I unfortunately don't really enjoy it, even though I'd really want to. I appreciate the traditional elements, though.
🇬🇧 Michael O. – I'm sure the ladies are really enjoying themselves here, but this is excruciatingly awful. Just unbearable to get through.
🇵🇱 🇯🇪 Pawel J. – I always liked a bit of folk and songs with some national elements. The Finnish entry in 2010 wasn't any different in that aspect. Although not my favourite that year, it left a fairly good impression and it's one of the most memorable songs representing the country. In a semi-final the combination of the popular and jury vote resulted in 11th place and Finland missed the final by only three points.
🇹🇷 Günec N. – 2010 is a very memorable year for me as there are many songs I like, except from the winner. Työlki Elaa is one of the melodies I really liked from that year and I think it deserved better, at least it should have been in the final.
🇨🇴  🇫🇮 Álvaro S. – I appreciated that the girls from Kuunkuiskaajat sing in Finnish sending something traditional and enjoying themselves on stage. I like the white dresses and the simple yet beautiful choreography.
🇪🇸 Mária P. – One of my very favourites of 2010. I love this song and it was great that Finland came back to its language and its roots after so many years. The song has a very pleasant melody and it's joyful and lively with a touch of folk, and the duo gave a good and amusing performance. A nice show of good vibes as a whole, and I found it very unfair that they didn't qualify for the final.
🇩🇰 Charlotte J. – I had forgotten all about this song. I don't think I heard it since 2010, and it might just be another ten years before I hear it again. It's not actually that I dislike this mix of pop and folk music, but it's just not memorable enough for me. I am quite entertained when it's on, but afterwards, it's out of my head again.
🇧🇦 Nihad B. – I remember the outrage back in 2010 that this Finnish entry did not get into finals. For me this was good light hearted entry and very Scandinavian. Unfortunately it did lack something, but I can't put my finger on what. Substance, maybe the staging should've been better. I love the blue stage and white costumes combination though.
Enjoy Kuunkuiskaajat's performance from the 2010 Eurovision Song Contest in the embedded video. Below the video, you can read more about them.
Kuunkuiskaajat – a mini biography
Kuukuiskaajat were a Finnish folk duo formed by Johanna Hytti and Susan Aho. The name of the band means Moon Whisperers in English. Both Johanna and Susan are members of Värttina, a Finnish folk music band.
In 2008, Johanna and Susan decided to go on tour as a duo performing both folk and tango songs. In 2009 they released their first studio album. Another year later, they won the Finnish national final and represented Finland in the Eurovision Song Contest where they unfortunately failed to reach the final by only three points, finishing in 11th place.
In 2016 the duo released their second and last studio album as to this date. Shortly after the release of their second album, they separated.