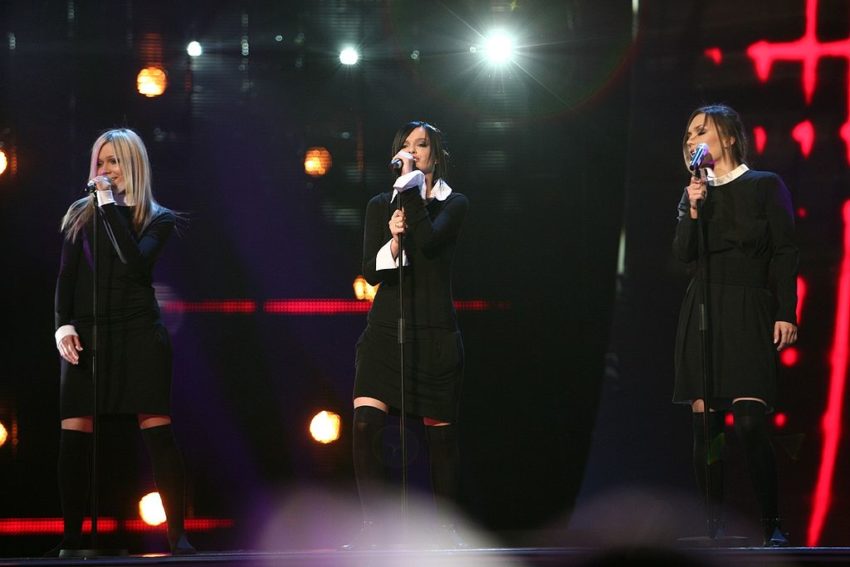 Russian girl group Serebro finished in 3rd place in Helsinki with their song entitled 'Song 1'. They were beat by Marija Šerifović from Serbia and Ukraine's Verka Serduchka who finished in first and second place respectively. Eurovision fans comment on Russia's 2007 entry, 13 years later.
Serebro were chosen as the Russian entrant for 2007 by winning a closed audition with broadcaster Channel 1 Russia. Their song Song 1 was premiered on the Europa Plus radio station on 14 March 2007. Russia did not need to participate in the semi-finals in 2007 due to their placing in the contest the year prior.
The girl group, fronted by lead singer Elena Temnikova and fellow band mates Olga Seryabkina and Marina Lizorkina wore black skirts and jumpers with white shirts underneath with long black socks. Despite their not very colourful outfits the girls gave an energetic performance full of girl power. They finished in 3rd place with a total of 207 points with 3 countries giving them the maximum 12 points.
Song # 1 – Opinions from fans
In order to find out what Eurovision fans today think of this Russian entry from 2007, we asked our Eurovision Fan Panel. It includes team members as well as fans from all over the world.
John D. – This was by far Russia's coolest Eurovision entry. Much influenced by the Pussycat Dolls and Girls Aloud it was also the most radio friendly of the 2007 entries. I much prefer this to Dima Bilan's winner the following year. I remember losing money on this as I backed it to win whereas I had Serbia backed each way so got some money back. It remains my favourite Eurovision entry from Russia.
Josef S. –  Even though Serebro had some very good songs after Eurovision, I don't like their Song 1 from Helsinki. I think their look is really horrible as it tries to be both conservative and also provocative. Their vocals as still good, though. But not a song I would listen again. In the last 13 years, I did not play this song at all.
Alvaro S. – I love this song. The chorus is really catchy and though the lyrics have some quite silly innuendos it is almost impossible the girls from Serebro give a really entertaining performance. Girl power at its best!
Michael O.- One of Russia's best ever entries which still sounds great today. This really should have been the winner in 2007, not that Serbia didn't deserve it, but the Russian girls were in a whole league of their own.
Liza P. – I like this song very much. The rhythm and energy are great. I remember the song very well, but I have forgotten the performance. I'm not sure what the point is regarding the outfits. They look like nuns trying to be slutty. I do recognise, that they are trying to make a sexy performance. But for that you need a little latex and leather and not knitted sweaters closed up to the chin. I don't mean they need to go full dominatrix, but the outfit doesn't fit what they try to express with the song and dance.
🇷🇺 🇺🇸 Theo B. – I believe it was our first 'edgy' entry. Sassy, fun, entertaining. I knew Elena, then lead singer, way before Eurovision as a Russian star factory 2 participant.
When I first heard the entry, I was surprised because it was different than anything we had done before. Then I watched the life performance and it was top notch. The choreography, the outfits, the attitude. I loved it all. They were even allowed to keep the curse words in the song in the live version which also made it more fun and sexy. The entry was a huge success in Russia and set the launch of the group's future success in Russia.
Eric O. – This song didn't do much for me. The live performance is not that great with bad quality English in the vocals and dark dresses on stage. The studio version is much better, but still not my cup of tea. Russia did send much better songs in other years.
Paul G. – I love this song and for me is one of the best Russian entries sent to Eurovision. A very well deserved 3rd place! This particular contest holds a special place in my heart as Helsinki was my first time being in the Arena.
Charlotte J. – I have mixed feelings about this song. The chorus is quite catchy and strong, and I really like that. Unfortunately that's not enough. I don't like the verses, and I don't think the performance is good either. The whole song becomes mediocre when you add it up.
Ashleigh K. – One of my favourite Russian entries and my winner in 2007. I became a big fan of Serebro after seeing them in Eurovision..I loved Song 1 at the time but they released even better music post ESC. A lot of people don't understand why the outfits were so conservative but I think this was because the girls had so much personality that they didn't need all that extra stuff. I'd like to see Russia bring more girl power to Eurovision.
In the video below, you can remind yourself of Serebro's 2007 Eurovision performance. Below the video, you can read more about this group.
Serebro – A mini biography
Girl group Serebro (Russian: Silver) was the brain child of Russian singer and producer Maxim Fadeev. Elena Temnikova was the first member of the group to be recruited as the two met when Temnikova entered Russian TV show Star Factory with fellow band members Marina Lizorkina and Olga Seryabkina also being recruited. Not long after their debut Lizorkina left the group and was replaced by Anastasia Karpova. This wasn't the only change as Serebro went on to have a further 4 changes until in 2019 when the last original member Olga Seryabkina left the band, the following year the group Serebro officially disbanded.
In their original and earlier changes to the line up Serebro became one of the biggest groups in the country. They achieved international success their fun pop song Mama Lover and became known for their suggestive lyrics and controversial music videos.