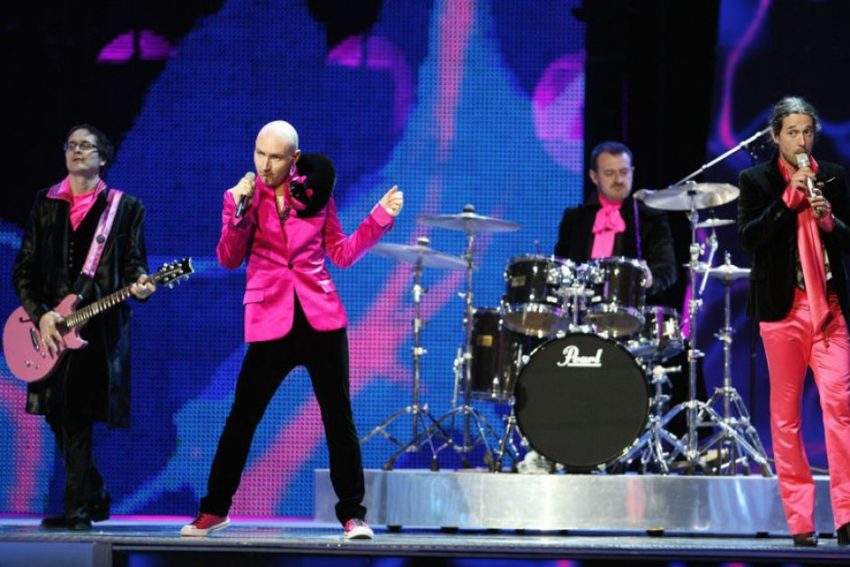 From time to time we have entries which really divide Eurovision fans. The French 2007 entry by Les Fatals Picards is one of those. While some love it, others think it is just a fun or troll song.
Back in 2007, France decided to use a national final to choose its entry for the Eurovision Song Contest in Helsinki, Finland. The final was called Eurovision 2007: Et si on gagnait? and there were 10 entries competing. Out of the submitted songs, each of French broadcaster channels chose two songs according to its genres or categories, each channel had its own group of songs to choose from. Les Fatals Picards and Medi-T were the two super finalists and in the end, Les Fatals Picards won.
Their song L'Amour à la française is sung in "franglais" which is a mixture of French and English (in French). It is considered as a fun entry, and unfortunately it didn't score well. Only a 22nd place out of 24 songs in the grand final with 19 points.
L'Amour à la française – opinions from fans
In order to find out what Eurovision fans today think of this French entry from 2007, we asked our Eurovision Fan Panel. It includes team members as well as fans from all over the world.
Olivier R. – The Fatal Picards was quite an odd choice from my country, but I must say that I was positively surprised, even though I knew that such a 500% French act could not do well at Eurovision. At least it was fun and that the song full of clichés was entertaining. Obviously the hectic staging did not help.
Charlotte J. – I LOVE this one. I usually don't like the quirky songs, but this one is an exception. It's extremely charming. It's catchy and well performed. Music wise, it's nothing special, but I can't help but smile all through this one – and sometimes, that's all matters. Well done, France.
Michael O. – After this performance Terry Wogan said: "Wasn't that just awful?" – Yes, Terry, it was, absolutely dreadful, I wept for the country. Thankfully recently France has given itself a good shake.
Enis H. – A funny troll entry from Northern France. As someone who has been interested in Northern French culture I have to say, this is a great song. Its funny, its wacky, it's a troll entry.
Josef Š. – This French entry is a lot of fun. And not only in the performance but also the song itself. It's about the lyrics and the fun about "franglais", when some phrases in English are literally translated to French where it doesn't make much of a sense. And I love this! I love how catchy the song is, even though the live performance could have been better.
John E. – I can't help but like this entry. It makes me feel good, and I love its simplicity and enthusiasm. It deserved better than joint 22nd place alongside Scooch from the UK. Eurovision needs to celebrate diversity in its entrants. While not being Molitva-like the song does put a smile on my face.
Nihad B. No, just no…horrible France. They are trying to edgy so hard, but it's just not landing. Simply not my cup of tea…
Steinar M. – The year before France sent one of my alltime favourites – Divine – they sent another great song. This band has actually made a lot of good stuff I think. Musically it's very close to the britpop style. A music style I love. This is a perfect feel good pill. A catchy energetic song. Clearly one of the best ever from France. Only negative thing: They don't seem to take it as seriously as they should maybe
Alvaro S. – I like the song but the performance not so much. Actually if I only listen to the studio version of this song it is something I can sit and enjoy. The performance on the other hand, from the dresses to the face expressions and the exaggerated performance is too much and makes it look like a joke act.
Doina A. – Amazing, joyful and funny! Even if the lyrics are in English and French, that's a nice, danceable melody!! And…running all around the stage makes this entry just enjoyable! It really melted the audience heart and making all of us feel happy! A special French entry!
Enjoy Les Fatals Picards' performance from the 2007 Eurovision Song Contest in the embedded video. Below the video, you can read more about them.
Les Fatals Picards – a mini biography
Les Fatals Picards is a French group, its musical style can be defined as rock/punk, but sometimes we may find also French chansons in their discography. They were founded back in 1996 already and are active still today. The name can be translated from French to English as "the fatal men from Picardy", Picardy is one of the French regions. Usually the lyrics of Les Fatals Picards are parodic or very humoristic on very different topics.
Currently, the group has four members but in their history there were multiple other members who are not now part of it any more. In 2007, the group participated at Eurovision Song Contest in Helsinki and took 22nd place. The have released more than 10 albums, the last being in 2019 called Espèces Menacées. 
The foundation of Les Fatals Picards was the intention of Ivan Callot, who is the bald man we saw at Eurovision stage in Helsinki, but in 2007 he decided to leave the group and went for a solo career. While the group started with its orientation to fun versions of punk music or rock-indie, in recent years they focus more on a rock music with a humorous sight on some social themes, e.g. homophobia.