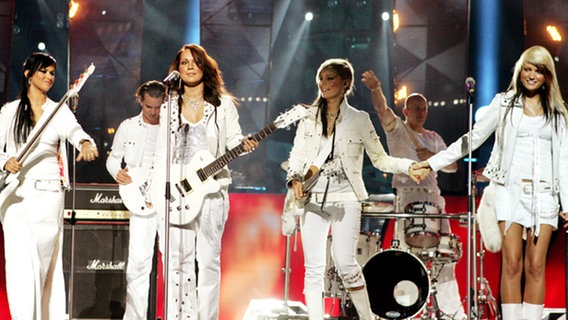 Estonian girl band Vanilla Ninja represented Switzerland at the 50th edition of the Eurovision Song Contest in 2005. After several years of poor points for the Swiss, Vanilla Ninja and their song Cool Vibes proved to be a good move for Switzerland as they finished in a respectable 8th place.
Vanilla Ninja were selected to represent Switzerland at the Eurovision Song Contest 2005 through internal selection. Due to a string of poor results for the Swiss, it was time for them to try something different. With no members of the band being from Switzerland, it was a shock when Estonian girl band Vanilla Ninja were chosen to represent the nation. This wasn't an entirely popular decision, especially in Estonia who felt that if Vanilla Ninja should represent any country at Eurovision it should be there own. Despite this, Estonia gave the girls the maximum 12 points in the grand final.
For some time before the contest it looked like Vanilla Ninja would not be able to go to Eurovision after all, one of the group members left the band due to becoming pregnant and was replaced by a new member Triinu Kivilaan who was just 15 (Eurovision rules stipulate that competitors need to be at least 16 years old). Luckily for the group, and for the Swiss delegation, Triinu turned 16 just before the contest started and was therefore able to compete.
Cool Vibes – Opinions from fans
In order to find out what Eurovision fans today think of this Swiss entry from 2005, we asked our Eurovision Fan Panel. It includes team members as well as fans from all over the world.
Michael O. – This was a fine effort from Switzerland supposedly about a tiger. Nice to see a girl band who can play their instruments. Not a winner, but deservedly did well.
Wouter V. – A mere 8th place for one of the very best songs to ever be performed at the Eurovision Song Contest is something I still cannot accept. This song really has everything. The music is catchy, but has actual quality at the same time, and features cellos. The lyrics are mysterious, cool, layered and easy to sing along to. In a literal sense, Vanilla Ninja sings about a tiger. This is probably a proxy for a difficult relationship though. On top of that, their performance at Eurovision was perfect. This song really did everything right, and nothing wrong. How they were beaten by a true copy of Turkey's Everyway That I Can (2003) and some boring ballads is beyond me. Cool Vibes remains my number one.
Steve P. – After scoring no points in the semi-final the year before, Switzerland came back with a potential winner! Estonian girl rock band, Vanilla Ninja, sounded good and looked the part in a contest where rock was a more common genre than ever before. Cool Vibes explodes into life, grips the listener tightly and never lets go until it's good and ready. Great stuff! I can highly recommend the album, as well. Germany's Gracia (whose song has the same writers), must have been fuming when she realised what she could have been given.
Charlotte J. – Vanilla Ninja had the attractive combination of being sweet and rough at the same time. This song has the same opposites in it; the sweet moments and the rock sound. I like it. It doesn't stand out as a winner to be, but worthy of a top 5 place, certainly.
Ashleigh K. – I love to see a good girl band at Eurovision and Vanilla Ninja fit the bill completely. The lyrics have a bit of a dark edge to it and it did what was intended by bringing Switzerland back into the grand final. Their album 'Blue Tattoo' was also very good. Thumbs up from me.
🇦🇺 Vivienne F. – The song deserved its place in the final. The instrumental at the beginning of the song drew me in followed by the strong tone of the singer saying Cool Vibes, then with the addition of guitars, drums and harmonies, turned into an epic rock ballad, and it's great to see women rocking the stage. I placed it 9th overall. It was much better than the winner Greece. My top 3 that year were Hungary, Bulgaria and Norway.
🇱🇻 Jānis O. – Remembering the 2005 Eurovision Song Contest, Vanilla Ninja from Switzerland definitely wasn't my favourite act. I've never liked this type of a Spice Girls "wannabe"bands. The "Girl Power" era was over and Vanilla Ninja was another group of girls without power 👎😴
However, in comparison with other Eurovision 2005 songs, hearing the song Cool Vibes on the radio, my ears won't start to bleed!
I am really glad that thanks to this Estonian group though, at the 2005 Eurovision Song Contest, Latvia gave 12 points to Switzerland and not to Russia🤪
🇸🇪 Antonio P. – Vanilla Ninja is one of my absolute favourite Eurovision song. It's sad that they had some problem with their song and that a Estonia band should represent Switzerland in Eurovision 2005. It didn't stop them to deliver a good performance, which gave them a 8th position in the final. My own opinion is that Switzerland should had a top five position, and their performance was better than in the music video. And (still) first time a girl group played rock in Eurovision, respect!
William S. – In 2005 I was a new fan, and this was the first contest I was watching as a fan. This song really didn't do much for me. It's an impressive performance and while I understand why it did so well, it hasn't lasted the rest of time for me. Very much a dated song.
🇷🇸 Miljan T. – Even to this day, 2005 is one of my favourite Eurovision years – I still love many songs from that contest. But back in 2005, it was all about Greece, so I disliked (on the night) everything that jeopardized Helena's win, including Switzerland. But now, that's one of my favourite Eurovision songs ever. Great live vocals, great harmonies, 80s pop-rock girl-group vibe, beautiful girls, they just had everything and very well deserved their place in the top 10. Too bad they split up not long after…
You can remind yourself of Vanilla Ninja's Cool Vibes by watching the video below. Below the video, you can read more about the band.
A Mini Biography of Vanilla Ninja
Vanilla Ninja began as a four-piece group consisting of Maarja Kivi, Lenna Kuurmaa, Katrin Siska and Piret Järvis. Maarja Kivi left the group in 2004 as she became pregnant and was replaced by Triinu Kivilaan.
After the 8th place at Eurovision representing Switzerland in 2005, Triinu also left the group to start a solo career. The band decided to continue as a three-piece act. They encountered some further difficulties as they parted ways with their record label and had encountered legal troubles with their trade mark.
In 2007 the group tried to enter the Eurovision Song Contest again but this time for their native Estonia. Unfortunately for them, the national final Eurolaul was won by Gerli Padar with the song Partners In Crime. The girls have all continued to be successful in their own right with some of them releasing solo music and others turning their hand at presenting.