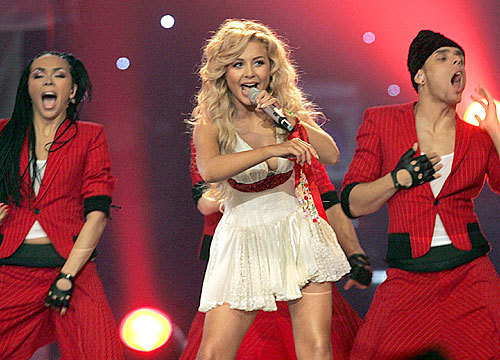 With the song 'Show Me Your Love' Tina Karol finished in 7th place at the 2006 Eurovision Song Contest. The up-tempo song was performed right after Lordi's 'Hard Rock Hallelujah' giving Tina a tough act to follow. Since Eurovision Tina has become on of Ukraine's biggest stars.
Originally called I Am Your Queen, and with completely different lyrics the song was revamped as the song you now know after being selected via the national selection. The song received the maximum points from both the judges and the public televote. The lyrics to the song were written by DJ Pasha who co-presented the Eurovision Song Contest, the year prior in Kyiv, with Tina herself co-composing the music with Michail Nekrasov.
Tina was the 18th artist to perform in the Eurovision final, following winners Finland in the running order. Wearing a semi-traditional dress and surrounded by kossack inspired dancers jumping on a large skipping rope Tina gave an energetic performance which resulted in her receiving 145 points finishing in 7th place.
Show Me Your Love – opinions from fans
In order to find out what Eurovision fans today think of this Ukrainian entry from 2006, we asked our Eurovision Fan Panel. It includes team members as well as fans from all over the world.
Ashleigh K.- I was excited that Tina Karol was chosen to represent Ukraine at Eurovision as I had heard her debut single the year before when I was visiting Kyiv and instantly became a fan. Though Show Me Your Love isn't my favourite song of hers I found it a fun pop song and thought that it was very fitting for Eurovision at the time. As always Tina's performance was engaging and she oozed charm. I'd love to see her back at Eurovision now she has found her niche and style.
🇮🇪 Conor K. – After winning Ty-Zirka', a Ukrainian adaptation of our Irish Talent show 'You're a Star', Tina Karol represented Ukraine in Athens with her re-worked song 'Show Me Your Love'. I for one love how seamlessly the song mixes ethnic sounds with a very mid 00s dance beat. And where do I get started on those vocals? Big wow from me. So much talent in Ukraine! All in all, it was no surprise Ukraine placed in the top 10, granting Ukraine a place in the 2007 final. She certainly impressed the Portugese voters, gaining their 12 points.
🇨🇴 🇫🇮 Alvaro S. – I like the dancers moves and the folkloric sound of the song. Tina's voice in the chorus becomes annoying. But overall it is a very catchy song.
Steve P. – Tina not only looked completely at home on stage, she absolutely owned it! Her relaxed approach and natural talent meant that Ukraine was never in danger of not qualifying for the final. She lifted her pop song from average to good. There was a touch of local flavour about it, which is always welcome in the modern contest, as the production had a Balkan style with a touch of the Cossack thrown into the performance.
Vivienne F. – Talented 21 year old Tina presents a wonderful peppy performance with her lovely voice, the odd "OOOOWWWW" here and there, the part in Ukraine followed by her long note. She was so cute in her little dress and big sparkling boots and I loved the Cossack dancers. My favs that year – Ireland's Every Song Is A Cry For Love, UK's Teenage Life, and Lejla from B&H. My favourite non-qualifiers were: Bulgaria's Let Me Cry and Poland's Follow My Heart.
🇩🇰 Charlotte J.- I'm sorry, but this doesn't appeal to me. I find part of the music slightly irritating me, but her energy simply drives me nuts. I mean, is it completely impossible for her to stand still for just 2 seconds? She is like the energizer bunny. There's too much going on all the time for me to actually focus on it.
Michael O.- A nice jumpy happy song here,and Tina surprised by hitting that long note perfectly. Not my fave song from Ukraine but I don't have anything against it. Deserved it's placing.
🇫🇮 Martti I. – Ukraine is once again offering a superb show. I admit though, that even I adore most details added to this catchy number… Unfortunately this year we had Monsters (Finland's act). Tina Karol is a very talented artist and popular one. The song was as expected catchy and the show offered plenty to see. I like it and yet I think this song could have worked better in beautiful ukrainian.
🇨🇿 Josef Š. – Tina Karol and Show Me Your Love even today still belong to the list of my TOP Ukrainian Eurovision entries, especially because it is flawlessy sung (and what a power she has in her voice) and the positive energy which makes the song so catchy. This is what I expect from Eurovision, pure hapiness and being memorable even after 14 years.
Güneç G.- I usually like Ukrainian entries and this was one of my favourites. Tina was looking good on stage and she has a strong voice. The song has a catchy and modern sound with ethnic flavours which I enjoy a lot.
Enjoy reliving Tina Karol's performance from the 2006 Eurovision Song Contest in this embedded video. Below the video, you can read more about TIna Karol.
Tina Karol – a mini biography
Tina Karol was born in 1985 as Tatiana Liberman in Magadan Region in far east Russia to Ukrainian parents. The family moved back to Ukraine when Karol was six. Two years after she finished 7th in Eurovision in 2006, Tina Karol married her producer Evhen Ogir and later the same year the couple had a son. In 2013 Tina's husband Evhen died of stomach cancer leaving Karol a widow at just 28 years old.
Tina's career in Ukraine has gone from strength to strength since her time at the Eurovision Song Contest. She has become one of Ukraine's highest selling artists as well as becoming a judge on Ukrainian versions of The Voice & The Voice kids, as well as a judge on Vidbir. She has been awarded the title of People's Artist of Ukraine by the President and was also the face of Ukraine International Airlines.🇨🇿🇨🇴🇫🇮🇮🇪🇫🇮🇩🇰