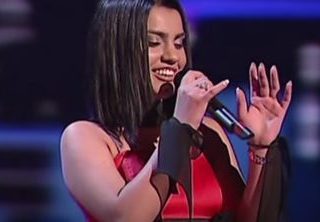 At Albania's Eurovision debut in 2004, they sent the 16 year old school girl Anjeza Shahini. The song 'The Image of You' got a 7th place with 106 points in the grand final.

The Albanian broadcaster RTSH decided to participate in Eurovision Song Contest in 2004. The broadcaster decided to use the 42nd edition of their traditional Festivali i Këngës to select their debut entry for Eurovision. After the two semi finals in 18th and 19th of December 2003, the grand final took place in Palace of Congress in Tirana Albania on the 20th of December 2003. Among 18 finalists, Anjeza Shahini won the honour of representing her country with her song Dua Të Jem Imazhi Yt.
In Istanbul, 16 year old Anjeza was the 9th to take the stage and sang her song in English with the title The Image of You. The romantic mid tempo song with gospel sounds was highly appreciated by the spectators.
The Image of You – Opinions from fans
In order to find out what Eurovision fans today think of this Albanian entry from 2004, we asked our Eurovision Fan Panel. It includes team members as well as fans from all over the world.
🇹🇷 Gunec G. – It was such a nice feeling to welcome Albania in Istanbul for the first time for Eurovision Song Contest in 2004. The 16 year old Anjeza looked and sounded very professional. The way she used her voice and her presence on stage was beyond her age. I admire that performance and the song. As per the song, it gives a strange feeling of liveliness and hope whenever I listen to it and I love that. Good job Albania.
🇬🇧 Michael O. – What a catchy little song to debut with and which to date I think is Albania's best ever entry. Love it.
🇧🇪 Enis H. – I really like this debut entry, though i don't really understand her English in the first verse. I love the small choreography. She had a lot of nerves for a 16 year old to go to Eurovision and be the debut entry for Albania.
🇱🇻 Jānis O. – From Albania, we had this kind of "femme fatale" choice. This song was to soft for Anjeza. I really love this singer but song was weak.
🇨🇴 🇫🇮 Alvaro S. – Being the first entry of Albania in the Eurovision Song Contest it was a good start though not the best Albania – who has given us some beautiful power ballads – has sent. The voice from Anjeza is good although the song itself is a forgettable pop song for me. Maybe the English version did not help?
🇩🇰 Charlotte J. – While I do like the chorus, this song is overall not appealing to me. Her vocals slightly irritate me and the verses are not strong enough. It would be a medium grade from me.
🇬🇧 Ashleigh K. – Wow this girl was really young now that I look back. I'm not a fan of her vocals unfortunately, they are a bit too weak and warbly. The song would have felt right back in 2004, but now in 2020 it just sounds a bit dated. But I got to give her credit for giving it a go at such a young age.
🇭🇺 Vangelis M. – About Albania back in 2004, to be honest I hardly remember most of the participations of 2004 but now as I saw this entry I can't say that it was a bad one. It's catchy and I believe that for the specific year it even is a good entry. Of course there were better entries from Albania but overall is not bad. Good job from Albania in 2004 .
🇬🇧 Steve P. – There was something appealingly innocent about Albania's first entry! Every expense was spared on the presentation (a good thing, in the opinion of this writer), and it was kept simple and unflashy. Singer Anjeza was very young, and her understandably nervous vocal was, to say the least, shaky. None of this seemed to matter to the voters, though. They were won over by what is, after all, a very enjoyable, happy song that is memorable long after it has finished. Overall, a good debut, but it would have been nicer in Albanian.
Enjoy Anjeza Shahini's performance from the 2004 Eurovision Song Contest in the embedded video. Below the video, you can read more about Anjeza Shahini.
A Mini Biography to Anjeza Shahini
Anjeza Shahini was born in Tirana, Albania on the 4th of May 1987. She made her breakthrough in her career at the age of 16 when she participated in Eurovision Song Contest. A year after her success in 2004 edition of Eurovision Song Contest, she signed a contract with an artist agency and moved to Vienna. In Vienna, she went on with her musical education. After coming back to her home country, Anjeza released her first and only album Erdhi Momenti in 2008.
She tried for Festivali i Këngës and Eurovision three times after her participation:
In 2005 (for Eurovision 2006) with Pse Ndai (Why Stop) where the winner was announced as Luiz Ejili with the song Zjarr e Ftohte.
In 2009 (for Eurovision 2010) with with her song Ne Pasqyre

where she came second after Juliana Pasha's

It's All About You
Last she tried in 2012 (for Eurovision 2013) with her song Love

and came second again after Adrian Lulgjuraj and Bledar Sejko's

Identitet.
She managed to fit many singles, one album and a couple of awards in her 16 year career. She released her last single Energji in 2014.