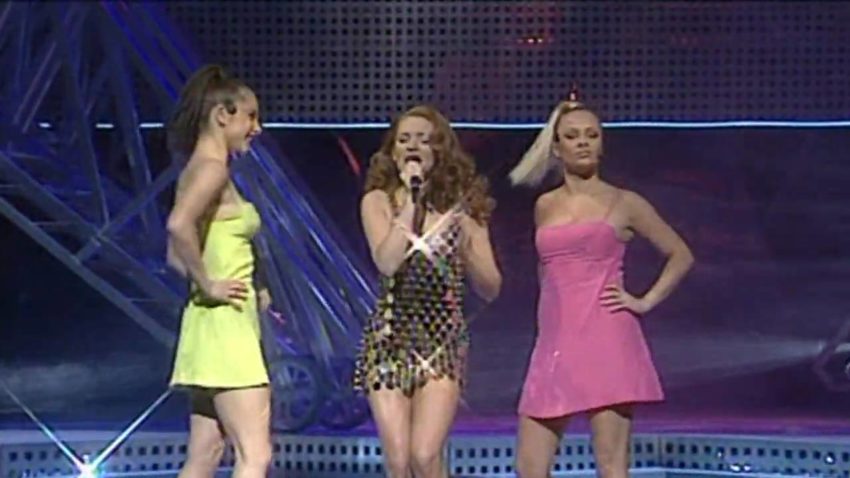 In 1996, Gina G represented the United Kingdom with her song 'Ooh Aah… Just a Little Bit' which became a run-away hit in the UK and Israeli charts reaching the top spot as well as becoming popular in the USA. Despite being 24 years old, this pop song was the last Eurovision entry of the United Kingdom to reach the top of the national charts.
Gina G was selected to represent the United Kingdom in 1996 following her win the national selection show The Great British Song Contest, a special edition of the music television show Top Of The Pops.
Gina G performed in the cursed 2nd position in the running order. She was joined on stage by two female backing dancers, both of whom wore donning bright neon dresses and a DJ stood at a keyboard and two apple mac computers. Matching the up-tempo dance song, the performance was energetic and full of lighting effects. Gina G was awarded a total of 77 points finishing the contest in 8th place.
Ooh Aah… Just a Little Bit – opinions from fans
Steve P. – Wearing a dress made by her Gran, Australian born Gina injected a bit of life early in the show. It's what every contest needs, pure, unashamed, unadulterated pop to lift the spirits. Easily the most contemporary song for years, it could be argued that the international success of the song (it reached number 1 all over the world, including the USA – no mean feat) provided a springboard for a more modern look and feel to contests in the future. If televoting has been introduced one year earlier, Eurovision history might be looking a bit different today.
Elvir P. – Ooh Aah… Just A Little Bit is one of my favourite UK entries. Modern, fresh and catchy. The live performance could have been better, but over all, Gina G deserved a much better result back in 1996.
Egemen O. – This song was part of a genre that caught fire all over the Europe in 90ies: Eurodance. The more techno sounds in a song, the better the song would be. Therefore, it suddenly became ultimate favourite of '96. For younger fans, it can be compared to Shady Lady (Ukraine 2008) or Popular (Sweden 2011). The stage were theirs after Turkey's ballad. Gina G, the song and the performance were flawless. The audience was on fire. However, the 8th place for the UK at the end of the night was scandalous. They should have won as they had deserved.
Ashleigh K. – I wasn't even 10 years old when this song came out and I remember hearing it being played on the radio and loved it. I remember asking for the cassette of this song to play on my Walkman and was over the moon when I was bought it for my birthday. Even now 24 years later the song still brings back lots of nostalgic memories from my childhood and is regularly played at 90's throwback parties.
Pascal W. – Unquestionably a guilty pleasure of mine. Maybe a little bit trashy, but trashy enough to like it. 😂 It's definitely time to make the United Kingdom great again (not only at Eurovision hahaha)!
Josef S. – Ooh.. Aah… Just A Little Bit is perfect example of 90's disco and that's really my cup of tea, so I love it a lot. It would probably not end up on the top of my scoreboard, but definitely would be in the better half and maybe I would put it in the group "guilty pleasure".
🇮🇪 Conor K. – This was the big favourite going into the contest, but in all honesty I can see why it 'flopped'. I mean 8th place is nothing to be ashamed of but not the winner many in the UK were hoping for.
In my opinion the live performance didn't do the song justice (the studio version did much better in the pre qualification round), and no.2 in the running order dealt some damage.
However it is one of the most modern UK entries for its time and is still heard on the radio here in Ireland. How could you not dance along?
🇷🇸 Miljan T. – The mid-nineties were a time where I didn't watch Eurovision. But even I knew Gina G's song. That was a time when the UK used to send contemporary songs, ahead of the time Eurovision is usually stuck in. Just A Little Bit was a huge hit and still is, and many people are still surprised it's actually from Eurovision. The real question is – what happened to the UK and why did it stop sending such contemporary chart toppers after 1998?
Charlotte J. – A catchy pop song of the kind, which it's basically impossible not to like. No matter how hard you may try to resist, you end up singing along to it. Believe me, I tried! I shouldn't like this. It's the Spice Girls' sound, which I really don't like – so why I am not pulled off from this one? It's really weird, and I can't explain it in any other way, that it's simply impossible not to like. It's too damn catchy, and charming.
🇬🇧 🇮🇪 William S. – This UK entry is the quality that most people expect from the country every year. It's a real shame when we are then mostly presented with sub-par entries year in/ year out. This is pure cheese and heady pop/Eurodance, I adore dancing to this today and it is one of the few Eurovision songs that everyone I knows, knows off by heart. Not surprising that this is the last song from the contest to top the UK charts.
Wouter V. – This is what a typical Saturday morning sounded like, in the period where I "transitioned" from child to teenager. Not because I was such a huge Eurovion fan back then, but because Carlo Boszhard was. In those years, he hosted a hugely popular children's programme, Telekids, together with Irene Moors. And that show opened with a session of morning gymnastics, to the tune of Ochtendgymnastiek. Good fun! Many years later I found out that this was a cover of Ooh Aah… Just a Little Bit. As for Gina G's original; it's a hard pass from me. Her vocals are just a little bit too weak.
Alvaro S. – This is one of these enjoyable songs I should feel guilty for liking but I can't. This is the type of eurovision song with a chorus that gets stuck in your head o easily. Just a little bit is probably one of the most memorable UK entries of the 90s after Love Shine A Light.
Michael O.- This was by far the best entry in 1996, proved by becoming a huge hit round the world. Despite the slightly under par performance this should still have won for the UK and would have brought the contest right up to date, but instead we had to wait another 16 years until another modern contemporary entry win the contest.
You can relive the moment Gina G represented the United Kingdom at the Eurovision Song Contest by watching the video below.
A Mini biography of Gina G
Gina G was born as Gina Mary Gardiner in Queensland, Australia in 1970. She worked as a DJ in her native Australia before moving to the United Kingdom to further pursue a music career. After winning the Great British Song Contest and subsequently representing the United Kingdom in Oslo, Gina G became an instant star in the UK with the song peaking at number 1 in the singles chart and entering the US Billboard chart at number 12. The following year, Gina G released her debut album Fresh! which she released several singles from though with each single release the songs charted less and less well.
Following the release of the first album Gina took a long hiatus from releasing music and took part in some reality TV shows in the naughties. She made a second attempt to represent the United Kingdom at the Eurovision Song Contest again in 2005 where she competed against Javine Hilton and Katie Price with the song Flashback. Unfortunately for Gina, it was Javine who was selected to fly the flag in Kyiv. As well as releasing more music Gina also has set up her own record label and a property staging business.
Join the Fan Panel
Do you want to join our Fan Panel? We'll ask you for your opinion on a former Eurovision entry or a Eurovision related topic approximately once a week. Your opinions will be used in articles like this.
Send us a message on Facebook, and we'll get back to you.