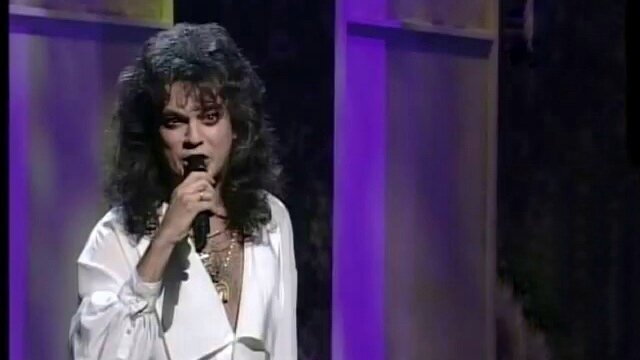 Many Eurovision fans do know who we talk about when we say the name Philipp Kirkorov. It's however not everyone who remember his own Eurovision participation from 1995.
Before Philipp Kirkorov started to work with his dream team on songs for other artists he experienced Eurovision Song Contest on his own in 1995. Back then, there still was a national language rule.
It was an internal selection of the Russian broadcaster, which brough Kirkorov to Eurovision. What is interesting and today quite unimaginable is that Philipp Kirkorov was chosen only two weeks before the rehearsals started. So he was trying to find a song that was not released yet and got two proposals for the broadcaster – Karnaval and Kolybelnaya Dlya Vulkana. In the end, the broadcaster ORT chose the second one.
Philipp's song (in English titled A Lullaby for a volcano) was composed by Ilya Bershadskiy and lyrics were written by Ilya Resnik. Back in 1995 there still was an orchestra at Eurovision and Russia has its own conductor in Mikhail Finberg. The song is a ballad with some hidden metaphor in its lyrics. Philipp is facing the volcano and asks not to threat anymore as it did for many year, which was a connection to war, so Kolybelnaya Dlya Vulkana became one of the peace songs. It did not attract the juries attention as it obtained only 17 points, enough for a 17th place too.
Kolybelnaya Dlya Vulkana – opinions from fans
In order to find out what Eurovision fans today think of this Russian entry from 1995, we asked our Eurovision Fan Panel. It includes team members as well as fans from all over the world.
Michael R. – Ah…. Kirkorov. The man who considers himself Russia's chief Eurovision expert, but until Yulia Samoylova came along had long held the title of Russia's worst placed entry. As an entry, it's not terrible. It may be my love for dreary Russian ballads but I really don't mind this. This was a victim of the typical disorganisation and nonchalance that's characterised most of Russia's participation's in the 1990's. I'm sure if he had more time he would've come up with something stronger. But in all honesty this wasn't that bad. It just wasn't going to get wide support from the juries and perhaps would've fared better if there had been televoting and more neighbouring countries taking part… but it wouldn't have gone further than that.
Josef Š. – Even though the song may sound a little bit cheesy and old-fashioned even for mid 90's, I think it's a good entry, mostly because of two things. First is the Russian language which is good and the second and most important is Philipp's singing. He may not be the most favourite guy in the world, but it's undeniable that he's really good singer. I would say he deserved to do better.
John E. – I remember this song more for the outlandish appearance of the singer rather than the quality of the song. I usually like Russian entries but I remember feeling that this song was so dated and old fashioned. I can appreciate a quality voice but I find the song bland and easily forgettable.
Charlotte J. – Philipp Kirkorov is unique, an original, one of a kind who makes a deal out of being extraordinary. Unfortunately, I can't say the same about this song. Don't get me wrong, it's not bad, but it doesn't stand out enough. I do enjoy listen to it, but once it's over, I forget it again. It's too plain – and looking at him nowadays, it's impossible to use that word about him. Whether one likes it or not, he is anything but plain.
Jacques H. – There are participants and composers who believe they are God's gift to Eurovision Mankind (which they certainly are not!). Like Russia's own Filipp Kirkorov, the flamboyant, too much make-up wearing, eyebrows plucking singer-went-Eurovision-mogul. To put it mildly, his participation in 1995 was as dreadful as his dictatorial behaviour, especcially when you dare to criticize him. I must admit, his Shady Lady deserved Ani Lorak the victory in 2008, but none of his other participating artists were a winning act in my book. To me, Kirkorov is a much overrated artist, and so is his 1995 song Kolibelnaja Dlja Voelkana, with a too high 17th place at the Contest.
Alvaro S. – So here we have the mastermind behind so many of the recent Russian entries. In one hand it is quite funny to see Mr. Kirkorov being as famboyant as he still is but at the same time with a look that makes him look like a rockstar (a little bit like Ozzy Osbourne). Apart from that note Philip Kirkorov is an entertainer who loves being at the centre of the stage and he gave a good show.
Michael O. – Well old Philipp and Russia weren't really giving any indication of how many good entries were to come from them later, but this is a pompous piece of dated nonsense that placed exactly where it deserved.
Alexander S. – In 1995 Russia selected Philipp kirkirov, who is the most important local singer, to sing at Eurovision. He sang "lullaby" which in my opinion is a boring song, the performance is very random, the look of him is a bit outlandish…. so in conclusion, this russian entry despite being in Russian is not my cup of tea. All in all, a 17th place isn't that bad a result.
Enjoy Philipp Kirkorov's performance from the 1995 Eurovision Song Contest in the embedded video. Below the video, you can read more about him.
Philipp Kirkorov – a mini biography
Philipp Kirkorov comes from a multinational family. He was born in 1967 in Bulgaria, to a Bulgarian-born father with Armenian descent and mother of Russian and French descent. In 1988 he met Alla Pugacheva, famous Russian star and started to appear in many competitions like Song of the Year or Shlyager-90. His popularity started to grow also outside of Russia and he became well known around the world, which yet escalated after his tour in the USA, Canada, Germany and Israel. He married Alla Pugacheva in 1994 and in 1995 represented Russia at Eurovision. His wife followed his steps and represented Russia at Eurovision in 1997 after very unsucessfull attempt of Russia in 1996.
Philipp has been a very controversial person throughout his career – for many different reasons such as attacks of other artists, journalists and other affairs. One of the big ones was around Eurovision in 2009 in Moscow when Philipp was the head of the Russian Eurovision jury, but was seen together with competing artists like Sakis Rouvas (Greece) and Alexander Rybak (Norway). After that, he resigned from the position in the jury.
Together with Dimitris Kontopoulos and Fokas Evangelinos Philipp forms the so-called "dream team" that appears almost every year at Eurovision. And not always in connection with the Russian representative. We have seen them working with artists from Moldova, Estonia or Greece to name some. The latest was for example Moldova's 2020 & 2021 representative Natalia Gordienko. Philipp also, a few times, obtained a prestigious title Best Selling Russian Artist at World Music Awards.