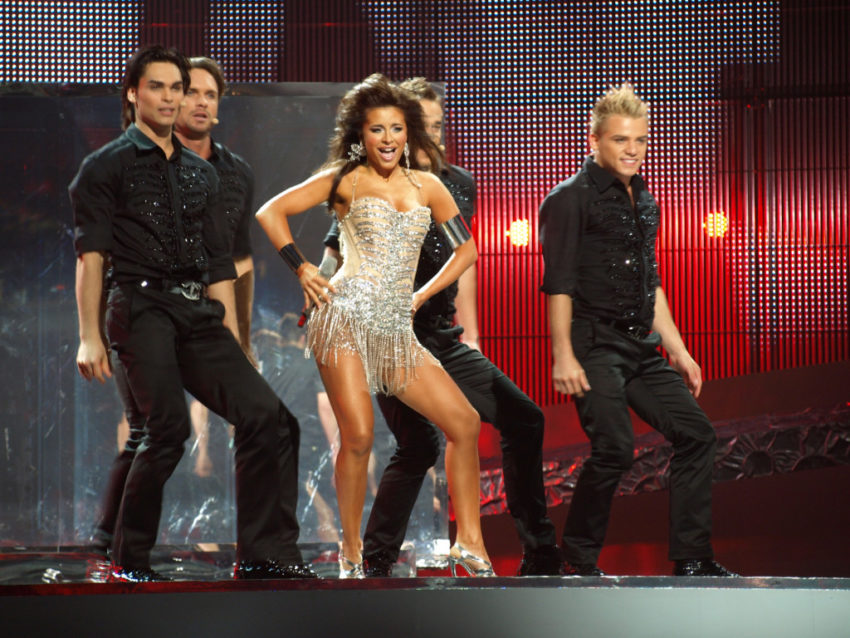 This summer #Eurovisionagain voted Shady Lady as the winner but in 2008 Ani Lorak finished the Eurovision Song Contest in 2nd place behind Russia's Dima Bilan. Should Ukraine have won the competition in Belgrade? We ask our fan panel and team members to give us their thoughts.
In 2008 Ani Lorak was announced to be flying the Ukrainian flag at the Eurovision Song Contest in Belgrade. Already a big star in Ukraine at this time, a selection show was broadcast on TV where Ani performed five different songs with Shady Lady winning both the public and the jury vote.
Dressed in a dress designed by Roberto Cavalli, Lorak became a fan favourite and performed her song Shady Lady in true diva style. Unfortunately for Ani, she finished the competition in 2nd place with 230 points. Despite this, Shady Lady is still a fan favourite. This summer #Eurovisionagain re-aired the 2008 contest with a vote following for fans to declare their winner 12 years later, Ani Lorak won the vote with original winners Russia falling behind several places.
Remind yourself of Ani's performance of Shady Lady at the 2008 Eurovision Song Contest in Belgrade by watching the opinion below. Do you agree with any of our fan and team panel?
Shady Lady – opinions from fans
Jacques H. – In Belgrade 2008, Ani Lorak deserved to win Eurovision. It was the better song, the better voice, the better act and the better looks. Unfortunately, Dima Bilan sniffed up the victory. I still find it unbelievable, because his song wasn't as gripping as the well thought musical sensation that Ani's Shady Lady delivered. Okay, the voice, backing and music were not all too well mixed, and maybe Ani had been partying a wee bit too much; the same could be said of Dima, who looked like he had been sniffing too much of the scrapings of his ice skater. A few Lines too many perhaps. Ani deserved more, much more!
Michael O.- This was by far the best entry in this years contest and clearly lots of effort was put into the stage performance. Still a classic to this day, saying a song that came as high as second was robbed may be a stretch, but I'm saying it.. it was robbed.
Josef S.- Shady Lady is a very good song but Ani Lorak, she's one of my favourite Ukrainian singers. Fun fact is that I did not like her Eurovision song back in 2008, but only started to like it later. It is catchy and her performance is flawless. I love also most of her post Eurovision songs.
Wouter V.- I didn't think much of Shady Lady back in 2008, and I still don't think much of it now. It's a decent pop banger, that I'll always be able to sing along to – but I can't imagine me ever just playing this song for myself. And why would I, Ani Lorak has so much more, and better, to offer.
Charlotte J.- I am torn here. While I do like parts of this catchy pop song, there's also something holding me back. I am mostly enjoying it while watching, but I find myself unable to connect to it. It doesn't bring out any emotions in me. It's catchy, and I can easily sing along to the chorus, but it just comes out as shallow to me.
Steinar M. – This is a song I don't have so much to say about. It sounds quite typical for an uptempo Eurovision song. Nothing special or original. I guess also it was a quite "visual" act, which maybe the song didn't benefit from. My favourites from 2008 are France, Finland, Bulgaria, Bosnia and Turkey.
Ashleigh K.- There have been many times when Russia have been my contest favourite and deserved the victory. However, 2008 is not one of those times. Eurovision 2008 on the whole was a very underwhelming year, which makes it all the more devastating that Ani Lorak didn't win. Shady Lady was a breath of fresh air..it was punchy, fun and Ani slayed at being a diva. I'm glad that Europe finally came to their senses this year during Eurovision again and voted her the fans winner.
Linete A. – Very powerful song and Ani Lorak has a great and powerful voice. The song is very Eurovision style and I like the way it changes and isn't very repetitive! The staging is also very good with the four male dancers and it's interesting how she makes use of the whole stage. The song is catchy and I actually like it and her stage presence is also very strong.
Miljan T. – Ani Lorak was one of my absolute favorites and still is. For me, this was the real winner 2008. The performance, the box with the cabins for the dancers and the mirrors, her voice, everything was perfect. And to add to that, she is a super sweet person and touched many people with her press conferences and extra event on her fight against the HIV-stigma in the Ukraine. "Shady lady against Mr. AIDS" – I still have that T-shirt!
Ani Lorak – A mini biography
Ani Lorak was born as Karolina Kuiek in Kitsman, West Ukraine. In 1995 Karolina took part in a singing competition in Moscow where another singer also called Karolina Kuiek had also entered the competition. Needing to find a new name to distinguish herself from her competitor she decided to spell her first name backwards and this formed the name Ani Lorak. She was already a big star in her native Ukraine when she first attempted to enter Eurovision in 2005. There was a controversy surrounding her defeat in the national pre-selection as eventual winners GreenJolly did not have to qualify for the final by winning one of the preliminary heats, like Lorak did. She eventually got her chance in 2008.
In 2014 Lorak was was accused of disloyalty to her country of Ukraine by accepting awards in Russia during the Russian-Ukrainian crisis which resulted in many of her concerts being protested at by pro-Ukrainian activisits. Now mostly based in Russia, Lorak was a judge on The Voice Russia and often spends time with her pal Sergey Lazarev.