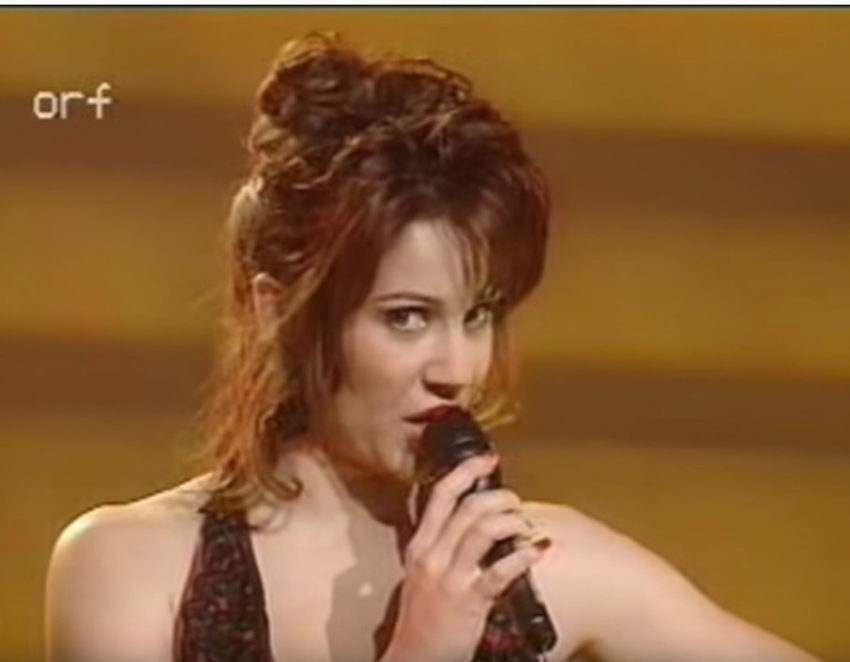 "All men are so selfish that they have confused "manly" for "macho" (…) all men are so special that they have managed to be all the same!"  Back in 1993, Eva Santamaría has had enough of sexism and wanted it to make it clear in her song.  She represented Spain in Millstreet, Ireland with a song that was controversial back in the time for various reasons.
TVE, the Spanish national broadcaster internally selected Eva Santamaría. She represented Spain in the Eurovision Song Contest 1993 held in Millstreet, Ireland. Her song, Hombres (men) talks about sexism from the perspective of a woman who is fed up with dating, and just men in general.
Eva Santamaría performed in 22nd place on the night of the final. She performed together with two backing singers and three dancers. Hombres is a pop/ rap song. The song received 58 points and finished in 11th place. Hombres got points from 12 different countries with Finland giving it 10 points and Malta 8 points, the maximum score among them.
The song Hombres was controversial back at the time not only for discussing sexism. Further, this was the first ever Eurovision song that contained the word "sex".
In an interview to TVE, Eva Santamaría talked about her experience at Eurovision. According to her, Hombres originated from a discussion she had with songwriter Carlos Toro. Eva and Carlos where in Los Angeles recording Eva Santamaria's record when they had a discussion over the place they would visit. In the middle of the discussion, Eva started talking about "how men are selfish and macho". The next day Carlos showed her the lyrics of her Eurovision song. Eva was surprised about the lyrics and Carlos replied "this was what you were telling me yesterday but put into a song". The jurors were also surprised but not positively however. According to Eva Santamaría, they got a negative impression. She was also attacked by the press which interpreted the aggressive tone of the lyrics literary.
We were the favourites until men came up (jokes). I think the jurors were mainly men because they were shocked when they got a translation of the song.

Eva Santamaría
Hombres- opinions from fans
In order to find out what Eurovision fans today think of this Spanish entry from 1993, we asked our Eurovision Fan Panel. It includes team members as well as fans from all over the world.
🇪🇸 Alexander S. – In 1993 Spain chose internally Eva Santamaría Hombres the song is a statement against men. Eva was accompanied on stage by two backing singers and three highly excited dancers. Despite all the effort and the good performance the orchestra spoilt the sound of the song up to the point that differs so much from the studio version. In my view, Hombres was badly orchestrated, and It took its toll, It just got a very poor 11th place.
🇬🇧 Michael O. – This was a not bad bit of pop music. I remember playing this to my Mexican friends and them telling me what type of music it is. However, the staging was absolute chaos, what on earth was going on?
🇮🇱 Adi S. – Oh, 1993… This is such a brilliant year. So many great songs in one year in a decade that was… ahem, less than optimal. I can't understand a word, but it gives a certain feel of "cheekiness". The song is fun and her delivery is flawless and powerful. Love it!
🇩🇰 Charlotte J. – The chorus sounds extremely familiar. I keep humming another song, but unfortunately I can't remember which one. Anyone who can help me? Anyway, this isn't bad. It's actually quite enjoyable, and unfortunately it's rare, I can say that about Spanish entries these years. I do like this one, but it's not one, I would take any actions myself to hear again.
🇳🇴 Robert I. – Eva sings well but the song itself is average. The biggest issue of this entry however is the over energetic dancing by the dancers. The choreography with their arms waiving in all directions is distracting and draws the attention away from the vocalist. It would have been better to just have Eva and the two good backing vocalists on the stage.
🇨🇴 🇫🇮 Álvaro S. – OMG the song is so catchy, the rapping is very 90s but the lyrics were controversial back in the time and I imagine even today some people would hate the message. I just imagine the face expression of the jurors when they got the translation of this song. The dance on the other hand is strange.
🇩🇰 Alberte B. – I've never heard this particular style of music in Eurovision before (but that might just be me being ignorant). It definitely reminds me of Macarena, which came out the same year. But it's a really fun song, and it's definitely catchy.
Josef S. – Another completely unknown Eurovision entry to me. But this time, it's not the "good retro" I mentioned in some of the previous entries we commented on. Even though the singer has a good voice and a nice dress and also quite good backing vocalists. What I really don't like it how messy the song sounds, those dancers don't help it much in this case. So a little bit catchy, but a completely messy performance.
🇪🇸 Mária P. – In this song there are things I like and things I dislike. The melody is OK, Eva's voice is very good, but I don't like the lyrics with strong criticism of men after the sentence todos los hombres son…all men are... On the other hand, the studio version was much better than the live one, as in the latter the orchestration was worse and the choreography too chaotic. I think that ending up in 11th place was fair.
Enjoy Eva Santamaria's performance from the 1993 Eurovision Song Contest in the embedded video. Below the video, you can read more about her.
Eva Santamaría – a mini biography
Eva María Delgado Macías or Eva Santamaría was born in El Puerto de Santamaría, Spain in 1971. She started her career in the talent show Gente Joven in 1988 which she won. She recorded a total of 4 studio albums.
In 1993, she recorded her fourth and last studio album in Los Angeles, USA which included her Eurovision song Hombres.  After her Eurovision participation, she ended her music career citing artistic differences with her manager.
Later, she continued her career as a theatre actress and copla singer. She has participated in theatre musical shows and went on tour between 2006 and 2009.