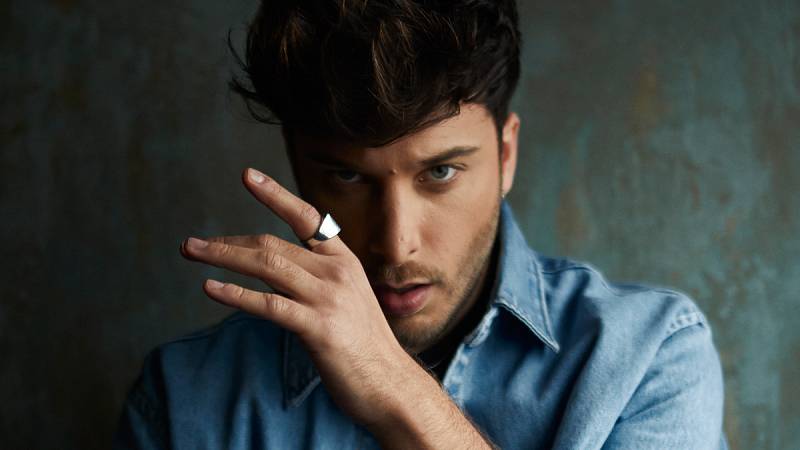 Tonight, Spanish television (RTVE) broadcast Destino Eurovisión 2021 featuring Blas Cantó, and chose their song for Eurovision 2021.
Blas will sing Voy a quedarme. Blas had worked with Warner Brothers and songwriters prior to the show, and picked two songs out of a pool of ten. He performed Memoria and Voy a quedarme. Blas and Leroy Sanchez had a hand in writing both songs.
As a member of the Big 5, Spain and Blas will go direct to the Eurovision Song Contest final, to be held on May 22, 2021 from Rotterdam, The Netherlands.
The Show
Blas started the show with a medley of Eurovision favourites including Soldi, Euphoria, Ne Partez Pas Sans Moi, Bailar Pegados and his own, Universo. After he'd sung the songs, the hosts sat and chatted to Blas about his career.
Vanessa Martin was the first to come on to perform a duet with Blas. Spain's entrant 2015, Edurne then came on to sing Queens Somebody To Love with him. Andrés Suárez sang an emotional ballad with Blas accompanied by the guitar and the piano.
Nia also performed an impassionate ballad with Blas. Capeda came along to sing Blas's hit, In Your Bed. The final highlight was a duet with Spain's 2012 entrant, Pastora Soler. Before the final announcement, Blas performed his version of Portugal's 2017 winning song.
You can watch Spain's 2021 Eurovision entry below.
Spain At The Eurovision Song Contest
Spain made their debut at the 1961 contest. Let's take a look how they've done through the decades
Sixties: Spain's first entry in 1961 was by Conchita Bautista with the song, Estando contigo which finished in 9th place. She returned in 1965 but finished last. In 1968 , Spain won the contest with Massiel and La La La. This is the only time they won outright, but in 1969, Salome, shared the win with Vivo Cantando.
Seventies: Spain started and ended the seventies well. Julio Iglesias came 4th in 1970 with Gwendolyne and then Karina placed 2nd in 1971 with En Un Munro Nuevo. Mocedades came second in 1973 with Eres Tu and the decade ended with a third second place for Betty Missiego and Su Cancion.
Eighties: Spain made the Top 10 on four occassions in the eighties, but also had their third yet final, zero points. Bravo and Lady Lady did best in 1984 coming third, while Nina came 6th in 1989 with Nacida Par Amar. In 1983, Remedios Amaya scored no points with Quién maneja mi barca?.
Nineties: Spain opened the first contest of the nineties, placing a respectable fifth with Bandido by Azúcar Moreno. The following year they went one better with Bailar pegados. Best of all came in 1995 when Anabel Conde placed second with Vuelve conmigo. Unfortunately they ended the decade in last place with Lydia and No quiero escuchar.
Nougties: David Civers gave Spain their best result during this decade, when Dile que la quiero came 6th in 2001. They followed that with a 7th and 8th place in 2002 and 2003 with Rosa and Europe's Living A Celebration and Beth with Dime. Again their last song of the decade placed lowest with Soraya Arnelas coming 24th with La noche es para mí.
Tens: This decade has not been kind to Spain, with only Pastora Soler making the Top 10,and only just with Quédate conmigo in 2012. On seven occasions they have finished out of the Top 20. Their last entry, La Venda by Miki came 22nd. In 2017, Manel and Do It For Your Lover, gave Spain its fifth last place in the final