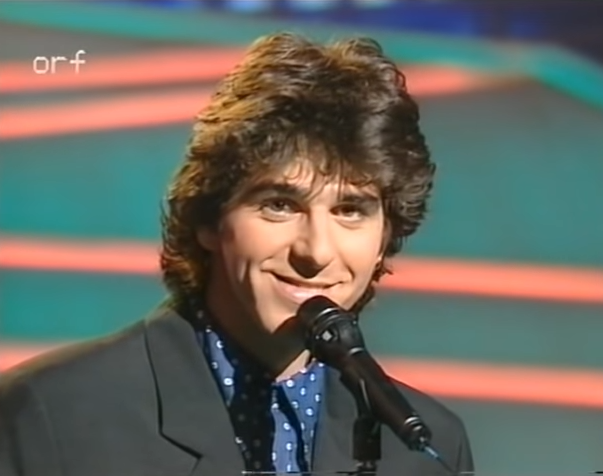 Europe got to hear Corsican for the first time at the Eurovision stage. France got themselves a new star as Patrick Fiori returned home with a 4th place. 27 years later, 'Mama Corsica' is still loved by many Eurovision fans.
Broadcaster France 2 had internally selected Patrick Fiori to represent them at the 1993 Eurovision Song Contest. This followed a good period from France where the country had finished in top 10 every year since 1988. Patrick didn't disappoint as he came home from Millstreet, Ireland with a 4th place.
The song, Mama Corsica, is in French and Corsican and is written by François Valéry. At the Eurovision Song Contest, it received 121 points. 18 out of 24 other participating countries gave points to French. Two of them; Denmark and Portugal the highest 12 points.
Patrick Fiori also recorded a German language version of his Eurovision entry.
Mama Corsica – opinions from fans
In order to find out what Eurovision fans today think of this French entry from 1993, we asked our Eurovision Fan Panel. It includes team members as well as fans from all over the world.
🇬🇧 Kat H. – 1993 was the first year I ever watched Eurovision, and I was bewitched by the live instruments and superb vocals from Niamh Kavanagh's In Your Eyes. Add to that the chaotic Better The Devil You Know by Sonia and I must have missed this classic French entry (forgive me, 😎).
Upon listening to it again, I can see how this song finished 4th. Catchy chorus, charismatic singer and the uniqueness of having partly Corsican lyrics made it stand out among the 25 songs. I'm glad to be reminded of this song some 27 years later.
🇵🇱 🇯🇪 Pawel J. – I adore the French entry from 1993- such a beautiful and classic song. It was the first time Corsican language has been used at Eurovision. Lovely tribute to mother Corsica caring for everyone who comes to her. One of my favourites that year.
🇩🇰 Charlotte J. – This is my favourite French entry. I simply LOVE it. It's beautiful, catchy, emotional and well performed. The only thing I would change is his suit! He should have worn a more fitted version. Well deserved 4th place. I would even have placed it higher.
🇫🇷 Bernard D. – The French don't like the Eurovision Song Contest. Since the 80s many people hate it.
Two notable exceptions are to be noted: 1990 Joëlle Ursule and 1991 Amina, who broke into the musical top 50. They are both exceptions. Patrick Fiori is now a singer and author recognised in France but above all thanks to his hard work and his participation in the musical "Notre Dame de Paris", not for his 4th place in Millstreet. What a beautiful song, however, interpreted powerfully and with heart by Patrick. You can see it and you can hear it throughout his performance. A little pearl, really.
🇦🇺 Vivienne F. – What a lovely comforting song from beginning to end. I love the instruments used. The gentle up and down beats to the song makes it very soothing to the soul. The singer delivers the song perfectly. Definitely a winner in my eyes.
🇬🇧 Michael O. – Didn't Patrick love himself on camera, but this basically simple melody was one of the best from 1993, and fortunately on this occasion the judges agreed. France was on a good run in the early nineties and this didn't disappoint.
🇨🇴 🇫🇮 Álvaro S. – The first verses of this song have a quite optimistic feeling. This plus the charisma of the singer and the way he smiled to the camera makes this performance very joyful. I also liked the instrumental part and the way the song ends with the backing singers joining Patrick Fiori.
🇸🇪 Sara T. – Mama Corsica is one of those songs that are totally fine, nothing wrong with it, it just doesn't give me anything. The singing is good, the music is good, but I forget the song right after I listen to it. France is actually one of my favourite Eurovision countries, but I much prefer their other songs over this one. In my opinion, this song was a bit overrated at the 1993 competition.
Enjoy Patrick Fiori's performance from the 1993 Eurovision Song Contest in the embedded video. Below the video, you can read more about him.
Patrick Fiori – a mini biography
He got his big breakthrough in 1993 when he was asked to represent France at the Eurovision Song Contest. The song included some lines in Corsican, a language which wasn't unfamiliar to Patrick Fiori. He was born in Marseille, in the south of France but his mother was Corsican, and his father of French-Armenian background.
Fiori's debut album 'Puisque c'est l'heure' was released in 1994, and from there things went quick. In the period from 1994 to 2017, he has released a total of 10 albums. His latest single from 2019, Délé Yaman is a traditional Armenian tune, and as such a tribute to his father's Armenian roots.
Over the years, Patrick Fiori has also appeared in musicals like Notre-Dame de Paris. That show was awarded Show Of The Year in France, and the song Belle from that production Song Of The Year.
In June 2008, Fiori married Ariane Quatrefages with whom he also had children. He has previously been in a relationship with another former Eurovision participant; Lara Fabian who represented Luxembourg in 1988.