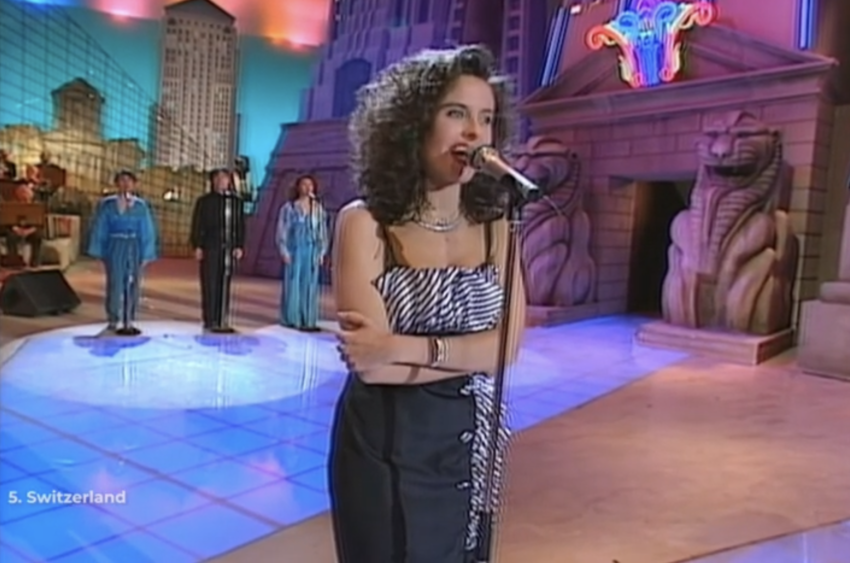 As the country that hosted and won the first Eurovision Song Contest, it is surprising Switzerland has only won twice. They were hoping Sandra Simó would be third times the charm in 1991.
On 23 February 1991, Lolita Morena, famous already for hosting the Eurovision Song Contest in 1989, and being Miss Switzerland 1982, was back to host the Swiss National Final.
Ten acts competed, amongst them past Swiss entrants, Carol Rich and Daniela Simons. This time however, Sandra Simó had the perfect song in Canzone Per Te, as she was awarded maximum marks by all the juries.
On 4 May 1991, Sandra performed fifth, at Eurovision in Rome, and ended in fifth place after receiving 118 points, including top marks from Luxembourg and Belgium.
Canzone Per Te – opinions from fans
In order to find out what Eurovision fans think of this Swiss entry from 1991 today, we asked our Eurovision Fan Panel.It includes team members as well as fans from all over the world.
Michael O. – For me, perfection in every way. A well scrubbed performance of an instantly likeable melody. A backing group that stood behind and behaved, performing what was necessary. An adorable singer, definitely the best from 1991 – oh and in Italian too. Loved it.
Nihad B. – Ah the orchestra! When I watch these old Eurovision videos, you can feel true magic of live music. This song is such a strong entry for Switzerland, and I believe that it should place higher that 5th place. I just hope Switzerland will come back in its full glory.
Gunec G. – A beautiful melody from an extremely beautiful lady. A parade for our eyes and ears. Well done Switzerland. Contrary to many fans, I love the atmosphere of Eurovision 1991, a very fun night to remember thanks to Toto ❤
Quique B. – First time I saw her that year in the preview videos I felt in love. Obviously that was my favourite song that year. She's pretty, good voice, stylish and the song very nice and in Italian. What more could you want? Well, only to have been second after Spain. 30 years afterwards I'm still dreaming and waiting for that moment. Wonderful.
Alvaro S. – Beautiful song in Italian for the year that Rome hosted the show for the last time. Fun fact: the singer looks like Gigliola. I also like that in her performance the camera shots focused on the orchestra at the right times. A good entry for a competitive year.
John E. – I remember this year being one of the most disorganised ever. I thought Sandra was a superb singer who really tried hard to sell the song and performed well. I love the sound of the Italian language but have little idea of what the song was about. I really preferred when they had a live orchestra. An enjoyable entry which I am happy to hear again.
Charlotte J. – A great 5th place for Switzerland. I would probably have placed it a bit lower than that. I actually like the song, but it's a bit unfulfilled material here. In the beginning. I have the feeling that this is warming up to be a new Ne Partez Pas Sans Moi (Switzerland's 1988 winner), and then I am disappointed when it doesn't quite reach that. The music is good and Sandra is vocally strong too, but I am just sad it lacks that little extra to be superb.
Egemen O. – In those dark ages when you had to compete with a song in your official language, Switzerland used its versatility and sent a song in Italian to Rome. I also watched the performances of Sweden, France, Israel and Turkey and compared to them, the volume of the orchestra and the back vocals is louder or at least, as loud as her. Besides, she stands like a statue and doesn't move at all. Don't think that I am being judgmental in here but considering the top 3, I think this song did its best.
Eric O. – What a boring song! Her vocals are quite alright though, but the song and overall performance are just not very interesting. I also don't remember this song at all, so it's probably not so popular on ESC Radio either. But apparently it was pretty decent for the juries, as Switzerland placed 5th. I'm glad Carola won that year with her Stormwind, when she introduced the wind machine that got pretty popular at Eurovision from then on… 😂
Enjoy Sandra Simó's performance from the 1991 Eurovision Song Contest in the embedded video. Below the video, you can read more about her.
Sandra Simó – a brief biography
Sandra Simó was born Sandra Studer, on 10 February 1969 in Zurich, Switzerland. She tried to represent Switzerland in 1990 with the song Lo So, but unfortunately ended in last place.
What a turnaround the following year, when in 1991 she ended up winning and representing Switzerland with Canzone Per Te.
Sandra reverted to her birth name after Eurovision, changing singing careers and became a Swiss television presenter. She was the Eurovision commentator for the German language Swiss Channel, SRF, in 1996, then from 1999-2002, and then again in 2005 and 2006.
In 1994, Sandra announced the Swiss votes, where they gave hosts Ireland maximum points. Sandra married in 1998 and has four children. She also starred in the musical Spam A Lot with fellow Swiss contestant from 2010, Michael von der Heide.