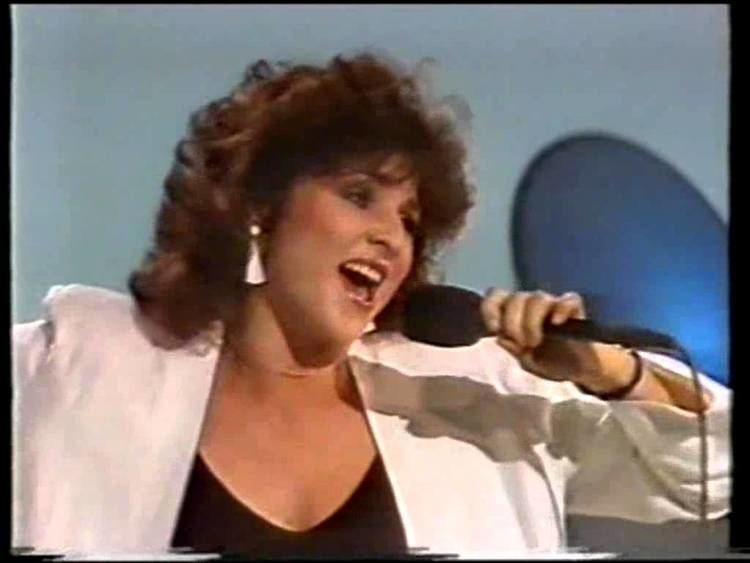 The Eurovision Song Contest rules in the eighties, dictated that a country must sing in their National language. This gave Switzerland the advantage of choosing four. In 1983 they went for Italian, with singer Mariella Farré.
On 26 March 1983, Switzerland held their Concours Eurovision contest to pick their entry. Nine acts competed with the winner being Io Cosi No Ci Sto by Mariella Farré.
Scoring 43 points she won the trip to Germany, while in last place was Daniela Simons, who went on to place 2nd for Switzerland in 1986.
On 23 April 1983, Mariella performed 8th on the stage in Munich. Receiving her top marks of 7 points from Yugoslavia, and maybe, as expected, from Italy, Mariella  finished 15th out of 20 songs.
Io Cosi Non Ci Sto – opinions from fans
In order to find out what Eurovision fans today think of this Swiss entry from 1983, we asked our Eurovision Fan Panel. It includes team members as well as fans from all over the world.
Michael O. – This is actually my favourite entry from 1983. Based on this song alone I went on holiday to Switzerland, and spent two weeks with the song on my Sony Walkman, as it was the only tape I had there. Still love it to this day.
Enis H. – This one was a pleasant surprise. I love the lyrics (they show the bad side of love, something most songs don't do) and her voice. The soft guitar was also great. I hope Switzerland sends her again.
Robert I. – An entry to be forgotten. Her voice is good but it doesn't help because this is a boring song. Then I like the 1985 entry she participated with much better (Piano, Piano).
Alvaro S. – Although I generally like the entries sung in Italian the chorus from Io cosi non ci sto sounded repetitive to me. It probably deserved a better place than what it actually got. However, to me it looked like Mariella Farré was not having a leading role in this performance which had an impact on the overall song.
Pascal W. – I just heard this song for the first time and I unfortunately did not really enjoy it. There's nothing that I don't like about this song, but there is also nothing that I really like – except that the song is in 12/8 which makes it somehow different from other entries which are mostly in 4/4. But besides that it just doesn't do anything for me unfortunately.
Doina A. – A nice, enjoyable rock – ballad. She really has a strong voice, even if there are a few moments where she loses control (due to emotions, I believe). The lyrics are telling about a love story, yet there is no sign of happiness. It's like a fight, a passionate one! She feels the music and, as a whole, her presence is pleasant. The band helps her to keep the rhythm of the music.
Charlotte J. – I had forgotten all about this one. As Switzerland however had good entries in the 1980's, I was looking forward to hearing it… Unfortunately, I now know why I had forgotten it. It's extremely boring to me. I like her performance, but the song itself will be forgotten again before this article is published.
Kat H. – Swiss Eurovision entries normally hold a special place in my heart; from the OG winner Lys Assia, to the iconic Celine Dion and the phenomenally crazy DJ Bobo.
However, I do feel that the 1983 entry was an exploratory blip on the way to Celine reigning in 1988. I am not amazingly familiar with the song, but upon listening today I found it dull, unmemorable and worthy of its 15th place finish.
You can watch the video of the song below and read a brief biography about Mariella after it.
Mariella Farré – a brief biography
Mariella's real name is Gabriella Filomeno. She was born in the mainly German speaking are of Thurgau, on January 7 1963. She has three siblings.
She placed last in the Swiss Eurovision selection in 1981 with the song, Una Costa Meravigliosa.
In 1983 she won the right to represent Switzerland with Io Cosi Non Ci Sto..
Mariella returned to Eurovision again in 1985, this time with duet partner, Pino Gaspirino, placing 12th out of 19 in Gothenburg, Sweden with the song Piano, Piano..
Nowadays, Mariella is a choreographer, owning two dance studios, in the Swiss towns of Brugg and Whalen, and is the main dance teacher of the group, The Vibrations.