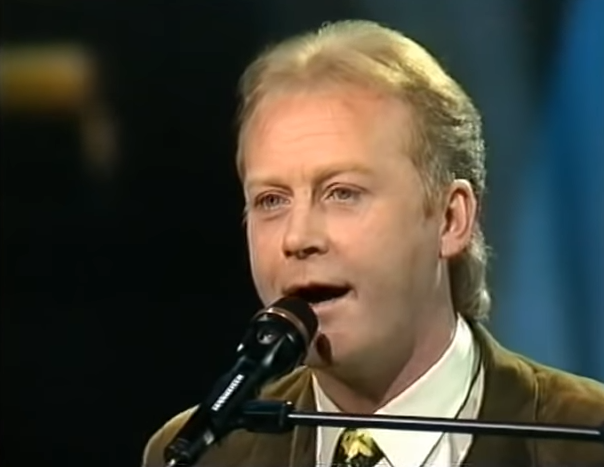 A plea to his love affair to meet him various places in Europe, brought Liam Reilly a second place in 1990. Is this Ireland's best non winning entry? 'Somewhere In Europe' is loved by many Eurovision fans, but there are also some who find it too boring.

8 songs competed in the Irish national final held on the 25th of March at the Gaiety Theatre in the capital Dublin. 12 regional juries awarded Liam Reilly with 130 points. Linda Martin (who came second at Eurovision 1984 and won in 1992) finished second 105 points.
Reilly's Somewhere In Europe is written by himself.
Liam Reilly performed as 17th in the running order at the Eurovision Song Contest between Portugal and Sweden. At the end of the night, he had received 132 points, the same as France. Italy's Toto Cutugno however finished with 149 points and won the contest, leaving Ireland and France on a tied second place.
Ireland's 132 points included the maximum 12 points from Austria and Sweden. 10 points came from Netherlands, Spain and United Kingdom. Three Nordic countries Denmark, Iceland, Norway all served the third highest set of points, 8 to Ireland.
Somewhere In Europe – opinions from fans
In order to find out what Eurovision fans today think of this Irish entry from 1990, we asked our Eurovision Fan Panel. It includes team members as well as fans from all over the world.
🇮🇪 John D. – I remember being pleasantly surprised that this was odds on favourite to win. It was a confident performance that definitely deserved to. It was robbed! The Italian jury suspiciously didn't rate this or the French song that finished joint second with Ireland that year. I was raging when Italy won. It is only recently that I started to rate Insieme 1992 as a winner. Somewhere In Europe remains for me Ireland's best entry that didn't win. I don't know if France and Ireland complained about the Italian jury voting but they should have.
🇩🇰 Charlotte J. – This finished second in 1990 after Italy – and that's also I how I will rate them. Italy was my favourite, but Ireland came extremely closely after. In fact, following Johnny Logan's 1980 and 1987 victories, this is my third favourite Irish entry (Rock 'n' Roll Kids from 1994 is 4th). I LOVE Somewhere In Europe, and 30 years later, I still enjoy listening to it – and sing a long to it. I can't see myself ever getting tired of this. Oh, and yes, I adore Liam Reilly's accent too ♥️
🇬🇧 Richard C. – I had almost forgot about this song to be honest, not the most remembered of all the 90's Irish songs. It was the decade after all on which the Irish dominated the scoreboard. Since watching his very intimate performance after all these years I personally think it's more prevalent today than it was back in 1990. The nostalgic love affair for Europe. So much has happened since then especially for an English ear like mine. I thoroughly enjoyed listening to this song once again. In fact I will say it's one of my new found favourites of all Ireland entries thus far.
🇳🇱 Eric O. – I believe that this song could have won, as it was definitely one of my favorites together with Azucar Moreno's Bandido. Unfortunately, Italy won that year because of the call for a united Europe.
🇨🇴 🇫🇮 Alvaro S. – The standards were very high in the 90s thanks to Ireland. I like the positive vibes in the lyrics of this song, a song about European unity. I like this feeling that was in the atmosphere that year after the end of the cold war and that we can see also from the winner. A beautiful entry we can watch with nostalgia as we are facing complex, divisive times in different parts of the world.
🇬🇧 Michael O. – I could just about understand how Italy did so well, but for this to draw second equal is with the amazing French entry was quite incredible. Pleasant but very dreary. I'd have had this mid table.
🇮🇪 🇦🇺 Vivienne O. – Definitely one of the best Irish entries, Liam is a talented singer, songwriter and musician. The whole song is perfection from beginning to end, such a romantic song played on a piano with a gentle melody. I preferred this one over the winner, but I might be slightly bias because I'm Irish ☘️
🇩🇰 Liza P. – To this day it is still a complete mystery to me, how this song could finish 2nd in 1990. I would gladly have it switched place with either Portugal, Finland or Sweden. Even Norway is a better choice for a 2nd place. But this is utterly boring in my humble opinion. Except Germany and maybe Turkey, this is the worst entry of that year.
I couldn't even get myself to listen to the song – I just read the lyrics. This is not the worst Eurovision entry by far. But it's just boring.
🇹🇷 Günec G. – A song to impress all the Europeans from Liam Reilly. And it obviously worked as it brought 2nd place to Ireland. I like the melody and the soothing style of the song.
Enjoy Liam Reilly's performance from the 1990 Eurovision Song Contest in the embedded video. Below the video, you can read more about him.
Liam Reilly – a mini biography
Born in 1955, Liam Reilly was 25 years old when him and the rest of the Irish rock band Bagatelle released their debut album. Reilly had received an offer to go solo, but had decided to stick with the band. Aside from one hit in Uruguay, Bagatelle remained popular in Ireland, but pretty much unknown outside the borders.
In 1985, Liam Reilly did pursue a solo career in relation to moving to Georgia, US in the mid 1980's. Songs like Savannah Serenade and Georgia On My Mind is from this period. Both – and his 1990 Irish Eurovision entry Somewhere In Europe, which finished second, are featured on the album Throwing Caution To The Wind.
Being in the US, Liam Reilly never forgot Ireland or the band members in Bagatelle, who he would later reform with.
Somewhere In Europe was Reilly's second attempt to reach the Eurovision Song Contest. In 1988, he nearly made it coming second in the Irish national final with the song Lifeline. The year after his Eurovision participation, he would return – as a songwriter to Kim Jackson's Could It Be That I'm in Love.