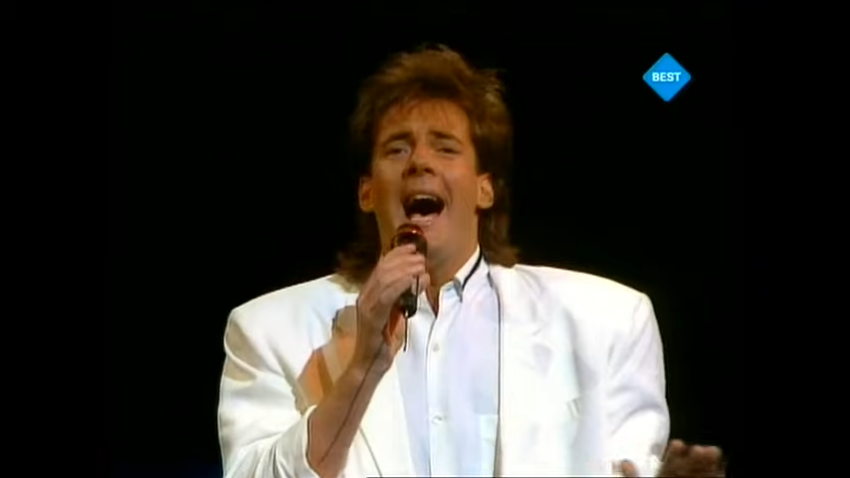 He is a well known name in the Netherlands, and most Dutch will have an opinion about him. They might however not necessarily immediately connect him to this 1988 entry. 'Shangri-La' did however finish in a respectable 9th place.
Dutch broadcaster NOS had internally selected, Gerard Joling. The public were asked to choose between five songs performed in the national final; the Nationaal Songfestival. Shangri-La won with 283 points. In second place came Heel Verliefd (Much in love, edt.) with 222 points.
At the 1988 Eurovision Song Contest taking place in Dublin, Ireland, Gerard Joling finished in 9th place with a total of 70 points. It included the maximum 12 points from Greece and Luxembourg.
Shangri-La is written by Peter de Wijn.
Shangri-La – opinions from fans
In order to find out what Eurovision fans today think of this Dutch entry from 1988, we asked our Eurovision Fan Panel. It includes team members as well as fans from all over the world.
🇩🇰 Charlotte J. – This is one of my personal favourites from the Netherlands, and I fell in love with it at the 1988 Eurovision Song Contest, where it was one of my personal favourites. I was 12 years old, and this song just drew me in whereas Celine Dion didn't get any attention from me. It was extremely catchy, well sung and well performed. Years later, when I got Internet, I checked up on other music from Gerard Joling, and I loved a lot of it.
I am aware of that he is one many Dutch either love or hate. When I got together with my Dutch boyfriend in 2007, I practically had to apologise for being a Joling fan. I hope – and think – his family have forgiven me by now ;-). I know he is extravagant, but I stand by the choice, I made in 1988: I am Gerard Joling fan, and I am not ashamed of it.
🇳🇱 🇩🇰 Wouter V. It's unfair how this song is blamed in the Netherlands. It is that because of the high note in the end, which he didn't hit. Gerard Joling can actually make that, have done it before and afterwards… I really don't like the singer and his voice, but I have to admit that this actually isn't that bad a song.
🇬🇧 Ashleigh K. – My first thought when watching this was that he looked like a mix up between Pat Sharp and Barry Manilow with the sound of Tony Hadley. This song has such a typical 80's sound despite it being sang at the end of the decade. The vocals are strong and quite faultless. I like this a lot.
🇦🇺 Vivienne F. – Leven, Liefde, 'k Ben op zoek naar Shangri-la! From the first words to the last it caught me, I loved the beat. The back-ups singers were phenomenal, and loved their choreography as I could do all the movements! I always get up to dance to this one as it takes me back to my dancing days and this is so Flash dance! This was my favourite then and now. Better than Celion Dion!
🇬🇧 Michael O. – When this was released it was touted as being represented by one of the Netherlands biggest names so I expected much. This wouldn't be out of place as the B side of Tony Christie's Amarillo, and while not truly awful, Gerard must surely only be big on the cabaret circuit. I did like the backing singers though.
🇸🇪 Sara T. – The Netherlands is actually one of my least favourite countries in Eurovision. Their songs are often plain and not interesting enough. This song is all right, but the structure of the song is a bit confusing. I like the more energetic parts as well as the choir's opera style singing, but I lose interest in the slower middle part. All in all a fairly decent song, but not one I will remember in the future.
🇳🇱 Jacques H. – I rather like Shangri-la. Gerard would have ranked higher if he had touched that high note. But, because he had a gig in The Netherlands, he flew back home, performed, over used his voice, got a cold and didn't perform as well as we might expected him to do. Shame! It is the story of The Netherlands not taking Eurovision serious enough. Even in 1975 with Teach-in winning, we didn't take it serious, and we won. That was the example many an artist took too serious and became our participation a true shangri la la la laaaaaaaa.
🇨🇴 🇫🇮 Alvaro S. – I was born in 1988 and though I have revisited the previous editions on YouTube at least once, I did not remember this entry from the Netherlands. I like how the music suddenly starts with such a typical, dynamic sound from the 80s. The high notes from the singer were also a highlight and the simple choreography of the backing vocals. I don't know why but it is a charming song and it is the type of entry that fits with the stage from Dublin '88.
🇧🇪 Enis H. – I really like the instrumental and the lyrics of the song, though I am not the biggest fan of his voice. I love the small dance moves the backing vocals too.
🇷🇴 Doina A. – "Living, loving, In the land called Shangri-la, Ain't no living without loving, Let's get out of the new world, No more words to say, No bridges left to burn".
I think that these words and the soft, dramatic music, made Greece and Luxembourg give 12 points each on the night of the song contest and placed the song 9 among 21!
Enjoy Gerard Joling's performance from the 1988 Eurovision Song Contest in the embedded video. Below the video, you can read more about him.
Gerard Joling – a mini biography
Born in late April of 1960, with a career kicking off in the mid 1980's, Gerard Joling has a long career behind him. He is still going strong however.
His first singles from 1985 Love Is In Your Eyes and Ticket To The Tropics reached a 4th and a first place on the Dutch charts. The album became number one. In other words; he got a fantastic start on his career. Over the years, he has released close to 20 solo albums with several of them peaking at the top of the Dutch charts. No More Boleros from 1989, being a hit that would also make him noticed abroad.
In the early 2000's, Gerard Joling's releases didn't do so well. Maak Me Gek (Make me crazy, edt.) from 2007 changed that. Both the single and the album once again served him a number one hit.
Gerard Joling has over the years developed into a TV personality that regularly appear on Dutch TV. He is a TV presenter as well as judge in various talent shows. He is still popular as a singer too, and his extravagant personality has made him one everyone knows, whether they love or dislike him.
De Toppers
Joling was to return to the Eurovision Song Contest in 2009 as part of De Toppers, but that didn't happen. The extremely popular trio consisted of René Froger, Gordon and Joling. Gordon and Joling were almost constantly fighting, and five months before the contest, it resulted in a break-up. Gerard Joling left the trio and was replaced with Jeroen van der Boom. After Eurovision, he returned to De Toppers, Gordon left – and came back – and currently they are 4.