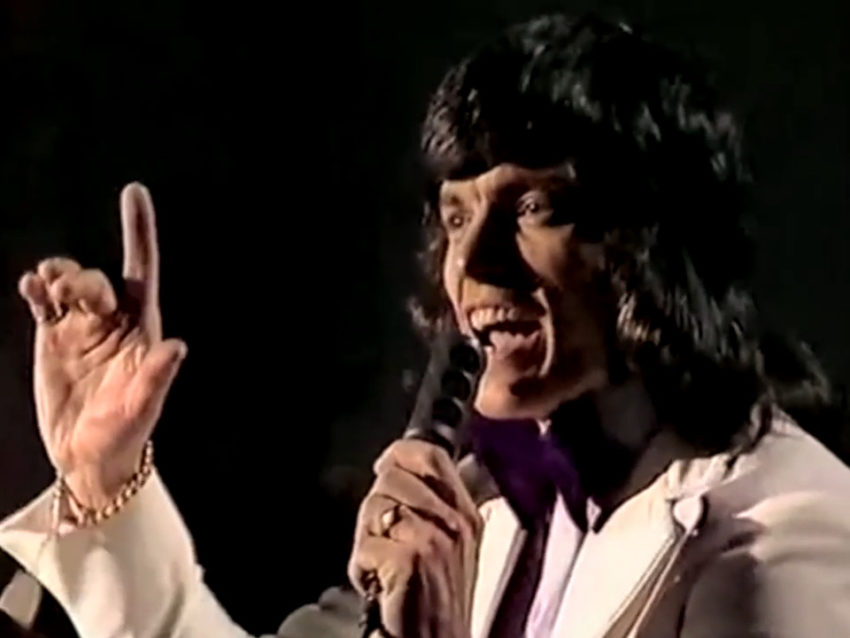 Forty-seven years ago, this song hopelessly flopped at the Eurovision Song Contest, reaching a mere 14th place. It was deemed old-fashioned already then. And yet it has lasted all those years, and many Dutchmen would remember it much better than more recent songs.
For the first half of the 70s Dutch broadcaster NOS internally selected artists and let a jury choose among a few songs who would represent the country at Eurovision. All four songs Ben Cramer performed on 28 February 1973 where written by different songwriters.
Just over a month later, it's luck had turned. Appearing as 13th, it received 69 points reaching the 14th place, out of 17 songs. And while 69 points until recently would have qualified you for the final, it was particularly bad in the 1973 voting system – where each song was guaranteed 2 points from each country.
De Oude Muzikant, a tale about an old musician who now performs in the streets of Paris with his accordion, was written and composed by Pierre Kartner. As the song proceeds, the once loved musician loses his fame, is looked down on by his friends, mostly forgotten and is eventually gone. His song, however, still echoes on across the city. One can't help but draw a parallel to Kartner's career. The songwriter also wrote Sieneke's Ik Ben Verliefd, Sha-La-Lie (2010), earning him another 14th place out of 17 songs, in the semi final.
De Oude Muzikant – opinions from fans
In order to find out what Eurovision fans today think of this Dutch entry from 1973, we asked our Eurovision Fan Panel. It includes team members as well as fans from all over the world.
Richard C. – Ben demonstrates great vocal capabilities on stage with excellent control. Impressive orchestral composition. It's the first time in hearing this song to honest. It's quite the hidden gem from the Netherlands. A Eurovision classic Schlager in style. Thoroughly enjoyed listening to it.
Wouter V. – This song, just like the song this song sings about, will probably never disappear from my mind. I can totally relate to people calling it old-fashioned, even for 1973 standards, but that doesn't bother me. Nor does it really bother me how much the lyrics actually resemble Lenny Kuhr's winning song from 1969. I just really, really enjoy it. I have to admit though, that the version of this song I know and love most is Paul de Leeuw's cover version.
Bernard D. – 1973 was a very strong year. Ben Cramer fails to make us really like his song. The ballad is not bad, the lyrics too, but the whole is still too bland and average.
Josef Š. – This song sounds very old. Maybe even from the first decade of Eurovision. But this sound of barrel organ reminds a lot of my childhood in amusement parks and combined with accordion, it is simple retro. And this is something I like. Well sung, memorable and catchy melody, it's fun. I would give it a go. As I don't like all of the older ESC entries, so this belongs to the group I like.
Jacques H. – Oh my, good old Ben Cramer, you bohemian, belting Dutch troubadour. In the 60's this was a song that would have fit perfectly in the Eurovision circus. But I guess even for the early 70's this was considered old fashioned. This The Old Musician doesn't do anything for me and apparently neither for the composer, because he couldn't even create a real ending to his own tune. Thus making it one of the weirdest fade outs ever. Next!
Alvaro S. – The contrast between the chorus and the verses is outstanding to me. The verses sound monotone and slow while in the chorus Ben Cramer sounds more exciting but it was too little too late. And the accordion makes me think about an old-fashioned amusement park, a feeling that did not help me to appreciate this song 🙁.
Charlote J. – I am a bit mixed when it comes to this one. It includes part I really like. He sings it well, and I like the music, in particularly the harmonica. Unfortunately, with a minute left, I really start to get bored, and I lose attention.
Michael O. – A typical very Dutch sounding entry with his little music box and all. No great dislike of the song, it meanders by pleasantly and I wouldn't skip it, very much of its time and age, still old fashioned Eurovision, which ironically was brought up to date in part by the Netherlands entry the following year
Frank S. – De Oude Muzikant probably wasn't the best Dutch entry – hence the results ending 14th in 1973. It also got lost between the mass and overpower of fantastic songs and known artists this specific year in Luxembourg.
However, the song itself isn't that bad at all and is still an evergreen in Dutch bars and cafes on "drink nights and parties" 😉 at least in Amsterdam, where I am from. I still love the melody of this song that represents typical Dutch as well as French music. Maybe it is one of my guilty pleasures…who knows!
Adi S. – He is a good singer and gives a good performance. However, the song is one of quite many from the 60-70s era of the competition that sounds like merry-go-round background music.
In the embedded video below, you can watch this Dutch 1973 entry performed at the Eurovision Song Contest. Below the video, you can read more about Ben Cramer.
Ben Cramer – a mini biography
Cramer is a living legend in his own country, despite only ever having scored three top 10 placements in the Dutch single charts. When he took part in the Eurovision Song Contest, he had been active as a solo singer for 6 years. Before that, he worked at an insurance company and sang in a backing group "The Sparklings". During his prime solo recording years, spanning from 1967 through to '91, he has had 17 hit singles reaching the Top 40.
His last hit was called Vergeet 't maar (Forget about it), and it seems like he had taken his own advice and shifted focus to musical theatre. In the role of Juan Perón he debuted with the Royal Ballet of Flanders. He played the same role in San Francisco and The Netherlands, where he also – among others – played in Evita, The Phantom of the Opera, Aida and Chess. Op hoop van zegen (2008 – '09) is his last musical to date.
In 2013 he returned to the Dutch and Flemish charts, along with an ensemble of Dutch artists, performing the Koningslied (King's song) for the investiture of Prince Willem-Alexander as King of the Netherlands. Five years later, in 2018, he performed as guest artist in a series of concerts with The Toppers.