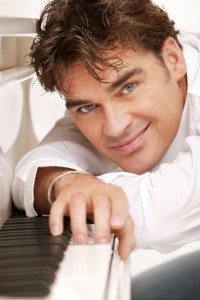 The Dutch docu-soap called the break-up of De Toppers continues. Gerard Joling has apparently left the country and Jeroen van der Boom has just been announced as a new member of the popular trio.
De Toppers have been bad-mouthing each other and breaking up so many times that many medias have been speculating in whether or not this was another media stunt from the trio that has featured big success in the Netherlands. One thing was different this time as Gerard Joling decided to leave the country instead of staying back defending his name in various talkshows as used to be the case.
It is not known where Gerard Joling is, but he is expected to stay away for another week.
Monday was full of various names being suggested as a possible replacement and this evening 36-year-old singer and former TV host Jeroen van der Boom has been announced as the new man to join the duo that will or will not represent the Netherlands at the 2009 Eurovision Song Contest.
Gordon and René, the other two members are welcoming Jeroen with the words: "Jeroen has a great voice and in the past year he has proven himself to be a winner."
Both Gordon and René Froger have a big solo career behind them and the same counts for Gerard Joling. Jeroen started in 2006 and can as such be considered a newbie. His single Jij Bent Zo, from his debut album carying the same name however, became a big hit and classified him as a name to pay attention to.
The Dutch broadcaster has not commented on whether or not the invitation to represent the Netherlands in Moscow also counts for De Toppers with Jeroen van der Boom as a replacement for Gerard Joling.
Below you can see Jeroen's biggest hit Jij Bent Zo, a cover version of David Bisbal's Silencio.