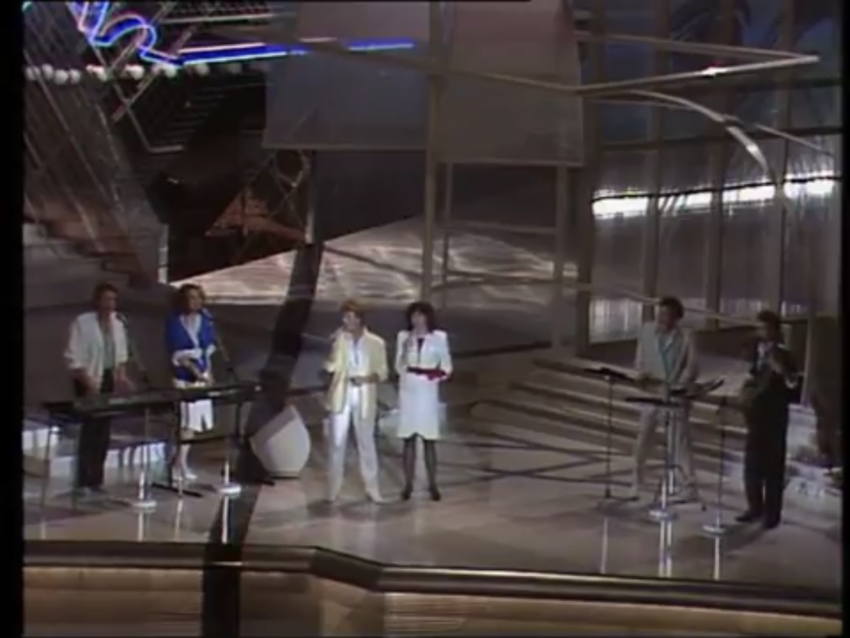 In 1985, Germany had only won the Eurovision Song Contest once, despite sending several promising entries. Wind came to the 1985 contest as the favourites to give Germany a second win, with the song, 'Für alle'.
On March 21, 1985, German Television broadcast, Ein Lied für Göteborg, hosted at Munich's Deutsches Theater. Twelve acts competed, with Wind performing, Für alle in fifth place. A representative group of the German public voted for the winner. Wind won with 3618 points, 21 ahead of second place, Heike Schäfer.
At Eurovision, on May 4, 1985 in Gothenburg, Wind performed 10th in a field of 19. During the voting, things looked good for Wind, as they took the lead almost immediately, including maximum points from Cyprus. Things started to waver, as Sweden's Kikki Danielsson took the lead midway with, Bra vibrationer.
The United Kingdom, as good as ended, Germany's chance to win when they awarded Für alle one point, and gave maximum points to Norway's Bobbysocks and La det swinge. From then onwards, it was Norway all the way, with Germany finishing 2nd with 105 points.
Für alle – opinions from fans
Michael O. – This was my winner from 1985, and to be honest, I was very annoyed it didn't win, as I felt Norway and Sweden's entries were very clumsy and old-fashioned. I liked the more melodic, Für alle. I also liked their 1987 entry, happy it was second then, but would have put Italy first then. Not so keen on their third entry.
Tina M. – I will say it right away. I'm very excited about the song Für alle with Wind. A song that is on one side a time-typical 80s song but also a song that is timeless. The song makes me remember the amazing 80s – and I have to admit that I started singing along. The song just has it all. A wonderful atmosphere, safe vocals, and a great chorus. I miss these performances where it's about the song and the performance and not as several countries in these years are struggling to have the biggest and most spectacular shows. A song I like. 8/10
Andrew G. – I really only like one part of this song and is the lyrics. So uplifting and full of hope. The music is low key without any highlights. And the male voice still makes me cringe 36 years on. This song is not for everyone. And I am one of them
Alvaro S. – It is a cute couple and it is easy to listen to in the background. On the other hand this 'cuteness' is a turn off for me, I don't know how to explain it but this image of the happy couple supported by some guys playing the instruments looks to me as artificial and cheesy as the scene of a teenage film and I cannot get rid of this idea while I watched this video.
John D. – I remember this being a pre contest favourite and it did very well coming second to La det swinge from Bobbysocks. It is a well structured piece with a charming melody that still sounds very pleasant. I much prefer this to the group's other second place two years later.
Charlotte J. – The first of three Wind participations. Where I think they placed a tiny bit too high in 1987, and too low in 1992, the result was just spot on in 1985: This was the second best that year after Norway. Actually, if you only judge it musically, Für Alle is better than La' Det Swinge but when you include performance, Bobbysocks had the better package for this show. But I LOVE Für Alle, no doubt about that. Just like I really like their two other entries, and a lot of their other songs. I had a cassette tape or two with Wind in the late 1980s.
Mihai D. – Germany is the country with a superb inconsistency in the Eurovision Song Contest. It has amazingly good pieces in some years as well as upsetting plateaus in other years. This song seems to be in the second category. The musicality of the song seems to me to be "sought after", with an unnatural flow, old-fashioned even for the '85s. The performers, even if they were sought after with similar vocals, sang unconvincingly, with fear, without transmitting emotion. It seemed to me an artificial number in which the soloists either did not understand what they were singing or did not have a good enough text to be sung.
Gunec G. – This one is a true classic. I love the message it gives and how catchy the melody is. The guy vocalist's voice is amazing.
Sara T. – This is one of those songs that is perfectly fine to listen to but that I wouldn't put on repeat. It's nice, they have good voices and the performance suits the song, but it doesn't give me anything extra. I actually prefer their two other entries, 1987 being my favourite.
Josef S. – This song is actually pretty nice even though it starts weird. In general, I would say it's just nice, but nothing more. Maybe better average. I definitely appreciate those harmonies when they sing together and the last refrain after the key change. It becomes more interesting musically to me. For Germany, this is just not enough I'm afraid.
You can watch Wind's 1985 Eurovision performance below and read briefly about the group afterwards.
Wind – a brief biography
Wind were formed in 1985 by the writer of their Eurovision entry, Fur Alle. The original members of the group were
Alexander "Ala" Heiler, Christiane von Kutschenbach, Rainer Höglmeier, Willie Jakob, Sami Kalifa and Petra Scheeser.
After Eurovision 1985, the band became a popular Schlager act in Germany, with continuously revolving members. In 1987 the group were back at Eurovision with Lass die Sonne in dein Herz. At this point Rob Pilatus, who would go on to become famous in Milli Vanilli, was a member of the team.
Wind have released, astonishingly, nearly 30 albums throughout their tenure.
In 1992 they returned to Eurovision for a third time, with the song, Träume sind für alle da. This time it wasn't third time lucky, as they placed a disappointing 16th out of 23 entries.
Currently, the group are still together as a trio, comprised of Andreas Lebbing, Iris Criens and Carolin Frölian.