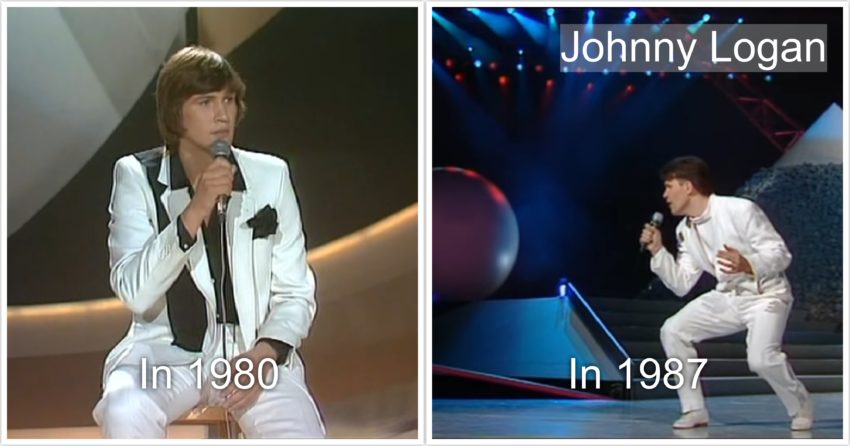 Mr. Eurovision himself, Irish Johnny Logan won the contest twice as an artist and once as a songwriter. But which one is the better one; the 1980 entry 'What's Another Year' or the 1987 'Hold Me Now', that's a tough question for many Eurovision fans.
In Eurovision Battle we put two former Eurovision entries up against each other. They are songs with something significant in common which makes them worth a comparison. The Fan Panel members are asked to watch the videos for both songs before providing their opinion.
Twice as a singer did Johnny Logan win the Eurovision Song Contest. In both 1980 and 1987 did the Irish choose Johnny Logan to represent them at the Eurovision Song Contest. They two songs are so much connected to him that it's hard to mention one without the other.
Ireland 1980 vs Ireland 1987
In order to find out what Eurovision fans today think of these two entries, we asked our Eurovision Fan Panel. It includes team members as well as fans from all over the world.
🇩🇰 Charlotte J. – Damn, this is an impossible choice. I grew up as a big Johnny Logan fan, and I still am. Both of these entries are in my top 3 over best Eurovision entries ever, a top 3 in which I am unable to rate them. It all depends on my mood that day. Both songs are amazing – in each their way. Sorry, but I can not pick a favourite among them. You don't ask a mum to choose between her children, and in the same way, you don't ask a big Johnny Logan fan to pick between those two winners ♥️
🇮🇪 Paul K. – This one is hard for me, the King of Eurovision, both awesome songs that truly deserved 1st place. But out of the 2, Hold Me Now is definitely my go-to. Just such a classic that everyone knows, and honestly probably Ireland's most famous Eurovision entry. We need to get quality back! So I'm glad Lesley Roy is back, but we need a new King/Queen of Eurovision from Ireland! With hope, hopefully.
🇹🇷 Gunec G. – Johnny Logan is my childhood crush. I love the tenderness and tranquillity in his voice. His has won Eurovision three times and this is a huge success. If I have to compare What's Another Year and Hold Me Now, I have to pick Hold Me Now because as a teenager I was really effected by its lyrics and Johnny's way of singing it.
🇮🇪 🇦🇺 Vivienne F. – To tell you the truth, even though I'm Irish I wasn't really a fan of either song at the time. I call these "Mom songs" as my middle-aged Mother loved Johnny's songs. Over the years the songs grew on me as I became middle-aged myself! However, Hold Me Now is the one for me as it's the most melodic and I can sing the chorus at least!
🇲🇹 Christopher D. – They are both two massive songs but I must say that Hold Me Now is my favourite out of these two. It is much more radio friendly and a song that is very catchy and you end up singing it even after the song ends. Therefore, for me I go with Ireland 1987.
🇬🇧 Michael O. – In 1980 it was generally accepted that a female singer usually wins Eurovision, so the focus was on Germany or Switzerland, to win, but the fact is What's Another Year is a really good song, and deserved to win, it was even good enough to be a hit without the Eurovision publicity. However, by 1987 I feel the return of Mr Logan was totally unnecessary and I hate that he's called Mr Eurovision because I believe in 1987 he just got lucky because of his name. Also, the lack of success he's had outside of Eurovision had proven he's not that remarkable. What's Another Year is by far my preference of the two.
🇳🇱 Frank S. – This is an easy one: for me the winner is the 1987 winner Hold Me Now. I still love this song and compared to What's Another Year, I feel that this was composed directly from heart into notes! I have to say that I think the national performance in Ireland was better than that special night in Brussels.
🇨🇴 🇫🇮 Alvaro S. – This battle is particularly difficult. We are talking about the Eurovision Kng. Although I think What's Another Year is lovely, Hold Me Now is more memorable for me. When I listen to the chorus it is just irresistible not to want to join Johnny and sing it out loud: 'hold me now don't cry'. A perfect song for a live audience.
🇩🇪 Pascal W. – I actually love both these masterpieces, but I like Hold Me Now a bit more. I can't exactly say why, but the melody gets stuck in my head way better than What's Another Year's melody.
🇷🇸 Milosav T. – For me, it's definitely the 1987 song. I feel that his voice has matured and gained a deeper note I prefer in male voices. Also, the first song is somewhat too corny and schlagery for me, while Hold Me Now has a more permanent impact and has matured better. Props for winning twice anyway
Johnny Logan – a mini biography
Seán Patrick Michael Sherrard, who would later take the stage name Johnny Logan is born in May 1954 in Australia. His father, Irish tenor Patrick O'Hagan was living in Australia back then. When Seán was three, the family moved to Ireland.
Johnny Logan released his first album In London in 1979, where he also first set his eyes on the Eurovision Song Contest. With the song Angie, he finished third in the Irish national final. The following year, he returned, and won – both the Irish selection and the Eurovision Song Contest. He would move on to achieve two more wins; in 1987 and 1992, the latter as composer for Linda Martin.
More than 20 albums later, Johnny Logan, or the King of Eurovision, as fans and media like to refer to him as, is still going strong. The past 15 years his success mainly brings him to the Scandinavian countries, Germany and the Netherlands. In those countries, he still has a large committed fan base.
5 national final and Eurovision appearance by Johnny Logan
1979: Johnny Logan performed the song Angie, which came in as third in the Irish national final
1980: Johnny Logan won first the national final and later on also the Eurovision Song Contest with song What's Another Year
1984: Johnny Logan composed Terminal 3, with which Linda Martin finished in 2nd place at the Eurovision Song Contest
1987: Johnny Logan won the Eurovision Song Contest for the second time as Hold Me Now took Europe by storm.
1992: Johnny Logan achieved his third Eurovision victory as Linda Martin won with his composition Why Me.