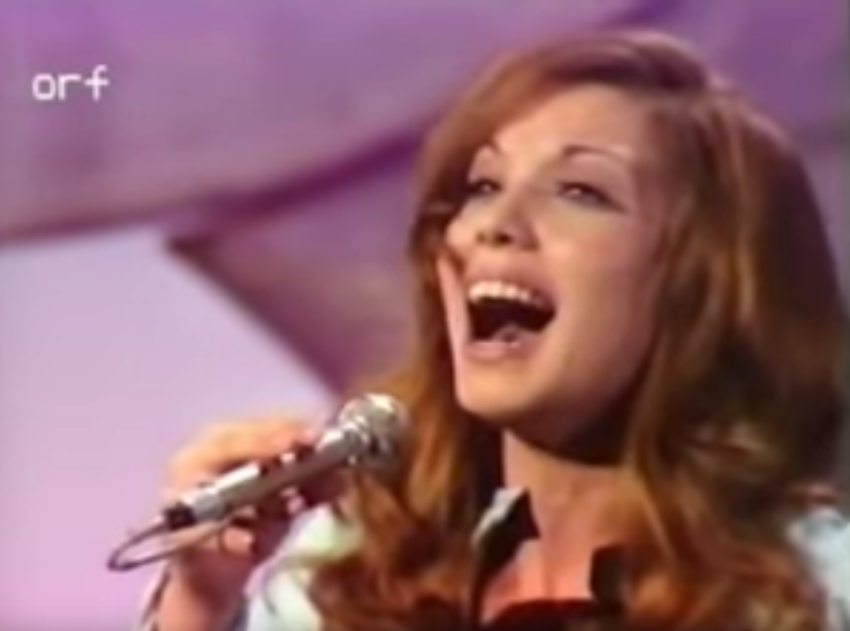 In 1971, Spain ended up in second place in the Eurovision Song Contest, only two years after their second victory. Karina was the chosen one to represent Spain with a song with an optimistic message. Today fans share their opinions about this 70s song.
In 1971 the Spanish broadcaster organised Pasaporte A Dublín as their national selection. The selection process to find their representative was rather unusual for the time. Each week from 24 October to 26 December a different artist sung several songs. Ten contestants participated in this selection.1970 Eurovision participant Julio Iglesias and 1968 winner Massiel hosted the inaugural gala of the selection.
The Spanish national selection included Nino Bravo and Rocío Jurado, two of the best-selling Spanish singers. On December 30, 1970 Karina was announced as the winner of Pasaporte A Dublín.
Karina represented Spain in the Eurovision Song Contest held in Dublin, Ireland. She sang En Un Mundo Nuevo (In a new world) on the night of the final. The Spanish representative came in second place with 116 points. It received 10 points, the maximum score according to the scoring system in place at the time, from France and Monaco. This was the first time Spain came in second place.
Rafael Trabucchelli and Tony Luz wrote the lyrics for En Un Mundo Nuevo. The ballad speaks of having faith for the future. Some people interpreted the lyrics talking about "an awakening at the end of the road" in which "dreams will become a reality" and people would "forget about the past" as a veil reference to the Franco dictatorship in Spain which was about to end.
En Un Mundo Nuevo – opinions from fans
In order to find out what Eurovision fans today think of this Spanish entry from 1971, we asked our Eurovision Fan Panel. It includes team members as well as fans from all over the world.
🇬🇧 Michael O. – If you played any two random 20 second parts of this song to someone they'd never think it was the same song. Every musical tempo possible was thrown into this song, but thank goodness left it as a respectable entry from Spain.
🇨🇴 🇫🇮 Álvaro S.- I love this song. The instrumentals, the lyrics so full of hope and of course Karina's performance. This is like listening to a lullaby. This is my 1971 winner. Spain gave us in 1971 a song with a beautiful message and the performance is also great.
🇳🇱 Jacques H. – Don't be fooled by the 50s backings and orchestration, it is a 70s song indeed. I can't help the thought that even in 1971 this was terribly outdated. The modulation, the clapping, the whole shebang. It even sounds a bit like Cliff Richard, but then the Spanish way. It's not my cup of tea. Or in Spanish: Esta no es mi taza de te 😄
🇨🇿 Josef S. – This oldie Eurovision song from early 70s is very strong. And it's Karina who gives the energy out there. She is a good singer, the performance is simple, but strong at the same time. This song is a new to me, and I am glad I found it. I love how you can understand the meaning of the song even without the knowledge of Spanish. That's the magic of music and Eurovision.
🇩🇰 Charlotte J. – This is lovely. I don't understand more than a few words here and there, but I like it. The music flows well, she is vocally strong, and the performance looks nice too seen with early 1970s eyes… BUT all that counts only for the first two and a half minute. The last 30 seconds are just plain annoying. Let's skip those, as the rest of the song is lovely.
🇲🇹 Luke B. – This is a lovely song and it breathes such a good vibe. I would have preferred that the last twenty seconds or so of the song have been cut but nevertheless, I love this song. On a separate note, who would have thought that circles were in fashion at the time?
🇹🇷 Günec N. – I really love this classical 70's sound. The song is rather modern for its age and there's no ethnic Spanish elements. Karina is a very good singer and one of my Spanish artists. Btw, this song is from the year I was born 😇😊
🇬🇧 Aaron S. – This is a nice entry, I'm not usually a big fan of ballads but this is different, I like Karina's voice and the up-tempo vibe, I also found it cool that she performed this song in multiple languages, my favourite is obviously the Spanish language version.
🇪🇸 Quique B. – Karina was probably the most successful Spanish pop singer on those years, and she had all the right for going to Eurovision. The song was studied for having everything needed for being a success so it was a very good participation. Performance, singer, song, composer, lyrics, conductor, chorus, classification, everything was perfect except being the winner. Those were old times for Spanish music that today has passed, we miss it a lot.
Enjoy Karina's performance from the 1971 Eurovision Song Contest in the embedded video. Below the video, you can read more about her.
Karina – a mini biography
María Isabel Llaudes Santiago was born in Andalusia, Spain. She later became famous using her stage name Karina. Karina learned to play the piano and started her career recording covers. In 1961, she made her recording debut. Two years later, she started using her stage name. She covered France Gall's winning song Poupée De Cire, Poupée De Son in Spanish. She won the Majorca music Festival in 1965. In 1968, she debuted as an actress in the film La chica de los anuncios.
Karina represented Spain in the Eurovision Song Contest 1971. She ended in second place with her song En Un Mundo Nuevo. After her Eurovision participation, she had a successful career in Spain in the 70s. She moved to Mexico where she continued her career. Karina returned to Spain in 2003 and has participated in music shows. To this date she remains popular among Eurovision fans.