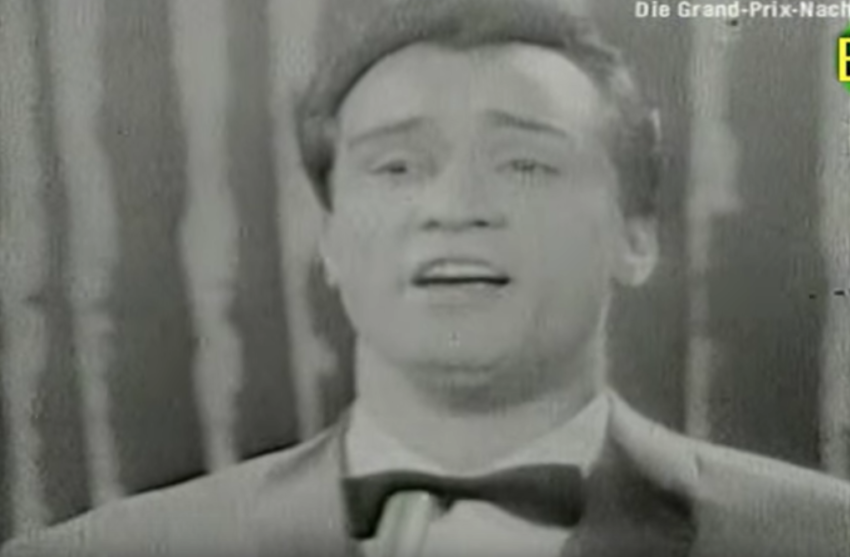 Five minutes and nine seconds.  That is the length of the longest Eurovision Song Contest entry ever performed. Nunzio Gallo from Italy is responsible for this record. This song is most likely the reason we now have the 3 minute rule that is currently in place. Nunzio finished in 7th place.
The Eurovision Song Contest 1957 was the second edition of the song contest. Italy selected Nunzio Gallo to represent the country in Frankfurt Germany. The song was Corde Della Mia Chitarra (Chords of my guitar). Italy used the Sanremo Music Festival for the second time to select their entry. However,the Italian entry is better known for being the longest Eurovision entry in history.
Nunzio Gallo performed his song Corde Delle Mia Chitarra at the 1957 Eurovision Song Contest. The song is a ballad with the particular classic sound from these early days of the festival.
Moreover, it has long guitar solos, an extensive intro.  As the longest Eurovision song, it also has a long instrumental part in which the live orchestra builds up the song. The song talks about a lost love and how the author feels that thee chords of his guitar doesn't sound the same after his love interest left him.
Italian composer Giuseppe Fiorelli wrote Corde Della Mia Chitarra.
Corde della mia chitarra – opinions from fans
In order to find out what Eurovision fans today think of this Italian entry from 1957, we asked our Eurovision Fan Panel. It includes team members as well as fans from all over the world.
🇨🇿 Josef S. – This song proves that opera was always present at Eurovision. And I am an opera guy, so this song really got my attention. I imagine myself in Venice in gondola and Nunzio Gallo could be there with us and singing this lovely serenade.This is definitely a classic, a true one, and another piece of multi-genre mosaic of Eurovision.
🇬🇧 Michael O. – Has Italy ever really understood the rules of Eurovision although to be fair this was the song that caused the three minute rule to be introduced. Can't really see what merited the song to go on so long, and like so many in the black and white age I see no distinctive reason for the song to win, but equally no reason why it didn't. Thank goodness Elvis was waiting in the wings to change music forever.
🇫🇮 Martti I. – One of the great tenors in that time having a bit difficult task to deliver and win over the jury. Long intro, lost half immediately and the lack of melody made it too difficult for sure. I simply wonder how this could represent Italy? Claudio Villa made a hugely functional version though, which I recommend to check out later.
🇩🇰 Charlotte J. – Thank God (or in this case EBU) for the three minutes rule. This song is way too long for me, and I can tell that it's just after the three minutes I feel the need to turn it off. The song itself is nice though. I like the music, the singing and the guitar play, but yes, with two minutes left, my patience is being stretched. The last minute really was hard to get through.
🇨🇾 Elena T. – Beautiful song by Italy! Great quality and the singer has a wonderful voice. I enjoyed the guitar and orchestra too. Even though it is quite long it has a lovely melody. Bravo Italy!
🇫🇮 🇨🇴 Álvaro S. – I find it amusing that Nunzio Gallo and the Italian broadcaster stick to their guns and refuse to shorten the length of their song. This of course, gave us the time limit rule we still have. But apart from this fun fact from the Eurovision history, let's appreciate Nunzio's amusing vocals and I also love his facial expressions in particular when he sings "Oh… com'era dolce questa musica!" (Oh how sweet this music was). It sounds so passionate.
🇷🇴 Doina A. – The strings of the guitar are always nice to listen! Nunzio Gallo's song Corde Della Mia Chitarra reveals a sad love. I enjoyed listening to it, but felt sorry for the boy!
🇬🇧  Ashleigh K. – A very nice male vocal. This song makes me realise that it's a good thing that we now have a 3 minute cap on songs as this is rather quite long and I feel like I'm waiting for it to end and I shouldn't feel like that as its a nice song with a strong male vocal.
🇵🇹 Linete A. – I always love the Italian entries and this one even though it's from so far back, is beautiful too. The singer, Nunzio, has a beautiful, operatic voice and sings this beautifully! I found the almost one minute intro too long and the whole song was more than 5 minutes long. I also love the orchestra and it has a fantastic and powerful ending!
🇩🇪 Andrew G. – This is the entry that made the EBU put the three minute rule on all songs to this day. And it was a wise decision. This song is just to long. Nunzio Gallo undoubtedly has an amazing voice. An the orchestral are present yet reduced. As the song is about the strings of my guitar we get a lot of guitar. Too much. Not one of Italy's better entries. Better luck next year.
Enjoy Nunzio Gallo's performance from the 1957 Eurovision Song Contest in the embedded video. Below the video, you can read more about Nunzio Gallo.
A mini Biography to Nunzio Gallo
Nunzio Gallo was a singer and actor born in Naples. He begun his career as an opera singer. Forever, most likely, he will hold the record for the longest Eurovision entry ever performed.
As an actor, he worked in more than 20 films. Nunzio Gallo is the father of Massimiliano Gallo, an Italian singer and actor. As a singer, he recorded 3 studio albums, 11 EPs and several phonograph records. His last record was released in 1978.
In September 2007, Nunzio Gallo had a severe brain haemorrhage. He never fully recovered.  In Telese Terme, Italy on 22 February, 2008, he passed away.