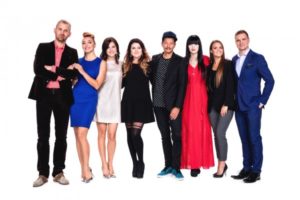 A few weeks after announcing that the national final is growing bigger with the winning song getting selected at the Saku Arena, broadcaster ERR shared a record breaking number of song submitted for Eesti Laul 2016. Soon the 20 competitors will be chosen.
ERR, the Estonian Broadcaster announced that they received 238 songs for next year's Eesti Laul. This number represents 19 more than last year, when Estonia reached the top 10 again after 3 years, thank to Elina & Stig.
Mart Normet the producer of Eesti Laul said:
Elina and Stig increased in both international and domestic interest. Hopefully this year will be at least just as strong, and some of the range of timeless songs. Luckily we don't have to wait for long, the 20 semi finalists will be revealed on Thursday night.
A jury composed of 11 members will now choose 20 songs to compete in the two semi finals on the 13th and 20th of February, while the Eesti Laul's final will be on 5th of March. The full list will be announced on 5th of November at the TV show Ringvaade. Ringvaade starts at 18.00 CET.
Estonia in the Eurovision Song Contest
Estonia has participated in the Eurovision Song Contest 21 times since their debut in 1994. Their first appearance would have taken place in 1993, however a qualification round was put into place for seven Eastern European countries hoping to make their debut and unfortunately Estonia failed to qualify. The country has won the contest once, in 2001, making it the first former Soviet state to win the contest.
This year, the nation was represented by a duet. Elina Born & Stig Rästa with Goodbye To Yesterday reached 7th place with the 106 points they received. This was the 9th top10 result for Estonia in the contest, more than any other Baltic country so far.
Below you can watch the first and only Estonian winner in the contest, Tanel Padar & Dave Benton performing at the 2001 Eurovision in Denmark their song Everybody.