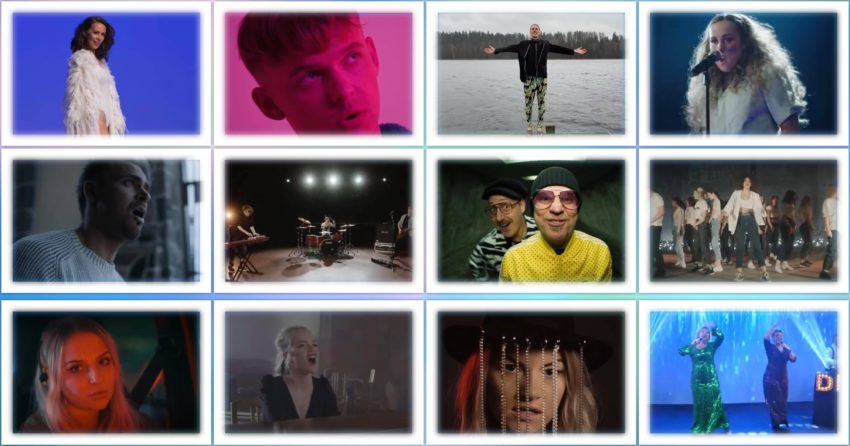 This year's second semi-final of Eesti Laul sees another twelve acts competing for a place in the final. The second semi-final will take place tomorrow evening.
Some of the acts in the second semi-final have taken part in previous Eesti Laul's. Uku Suviste should have represented Estonia at the Eurovision Song Contest 2020.
For now let's take a closer look at the artists hoping to represent Estonia at the Eurovision Song Contest 2021. Six will go to the final, to be joined by another six from the first semi-final, to  be held on February 18, 2021. The Eesti Laul 2021 final takes place on 6 March 2021.

Sissi
Sissi Nylia Benita is the daughter of Dave Benton, who won Eurovision for Estonia in 2001 with Everybody. Sissi came 4th in Eesti Laul 2019 with the song, Strong. She tried again last year but did not make the show. Sissi says that her greatest dream is to make it to Eurovision to follow in her fathers footsteps.
Gram-Of-Fun
Gram-Of-Fun are a six piece DJ/Music Production team who work out of Tallinn and Berlin. It is made up of members Kristel Aaslaid, Jaan Jaago, Martin "Muudu" Kuut, Kostja Tsõbulevski, Raul Ojamaa and Dr.PhilGood.
Kadri Voorand
Kadri won the award for Best Jazz album and best musician of the year in Estonia in 2019. She also won these awards in 2015 and 2017. She released the album, In Duo with Mihkel Mälgand in which she plays the piano.
Helen
Helen Randmets used to be a member of the band, Nexus. This is the fourth time Helen has tried to represent Estonia. Helen co-wrote her entry with Rob Montes, Jason Hunter and Renae Rain who have collaborated with her on previous releases. Nexus were an electronic female band who released two albums in Estonia between 2013 and 2016.
REDEL
REDEL have made the claim that ordinary bands have been kept out of Eesti Laul because of them. The duo comprises Kristjan Oden and Indrek Vaheoja. You may remember them as part of Winny Puhh who tried to represent Estonia in 2013, when they placed third with Meiecundimees üks Korsakov läks eile Lätti.
Rahel
Rahel only began her career last year, and cites her mother as her inspiration. Rahel Ollisaar will actually use Eesti Laul as an introduction to the Estonian public. She has sung with the bands, OUU, Rake and been backing singer for 2 Quick Start.
Uku Haasma
Uku doesn't believe in wasting time, so wrote his entry within one hour. He was introduced to music early as his dad was an accordion player in the Estonian group, Kukerpillid. At the age of 14, Uku joined the band as the bass guitarist. His performance at Eesti Laul will be simple, and he is hoping it will later allow him to showcase other songs he has written.
HELEZA
Heleza went to live in France last year as part of the Erasmus project, and as a result this has influenced her entry. Karl Killing from semi-final one, helped HELEZA write her entry. The song is basically advising not to worry too much as tomorrow is another day.
Uku Suviste
Uku should have represented Estonia last year with What Love Is. Uku's first release was a Christmas album in 2005. The following year he performed in a band called Lament. In 2018, Ani Lorak coached Uku on the Voice, Russia. He entered Eesti Laul in 2019 with Pretty Little Liar and then won the contest the following year.
Alabama Watchdog
Alabama Watchdog are Ken Einberg and Sven Seinpere. This is the duos first composition, and it's about current events in the world today. Some fans have suggested the lyrics are controversial, but the group deny any charges vented towards them.
Jüri Pootsmann
Jüri represented Estonia at Eurovision 2016 with the song, Play. Prior to this he had won Estonian Pop Idol in 2015. After his Eurovision appearance he released his debut album, Täna. In 2018, he teamed up with fellow Eurovision contestant, Elina Born for the single, Jagatud saladus which made the Estonian Top 40.
Suured tüdrukud
This duo comprises the large girls, Kaire Vilgats and Dagmar Oja. They don't even mind the taunts that large girls implies because that's the name they go by, if translated to English. Koit Toome wrote their entry for them, and the intention is to make you feel good and not sit still, as the ladies are constantly on the move.