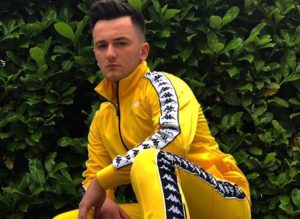 Emel França, member of the band D Moll, that represented Montenegro at 2019 Eurovision Song Contest, is ready with his first solo project. Yesterday he released the song titled "Ljetnji Vjetar" which offers plenty of summer vibes and love emotions.
This year in Tel Aviv, the young Montenegrin band D Moll failed to qualify for the Eurovision grand final as they finished second to last in their semi-final performing the song Heaven. Although they still get along together, several of the group members are working on solo projects too.
Following this path, 19 years-old Emel França dropped his first single yesterday. Ljetnji Vjetar, which translates to Summer Breeze, is a cool, summerish track about being in love. The sound is very contemporary and mainstream mostly relaying on reaggeton and modern pop vibes.
Ljetnji Vjetar is written and composed by Alisa Polumenta-Brulić, while the Bosnian producer RimDa was responsible for arranging the song.
Here is it! My first solo song. A very important day for me. Another one after my participation at Eurovision. 13 years-boy has fulfilled his dream after he made a promise to himself that he will never give up despite of stage fright and shaky voice during the very first appearance.

I am here, standing in front of you again. More confident and encouraged by Ljetnji Vjetar, which I am sure will awake the feelings which you were hiding from all.

This is not only my debut. This is also an expression of my endless desire, work and effort. This is a big step forward for me.

Thank you very much to my dear ones, that you believe in me and give me unconditional support! This song is for us! Let love and summer wind blow you up. love you!
Below you can watch the lyric video for Emel França's Ljetnji Vjetar: