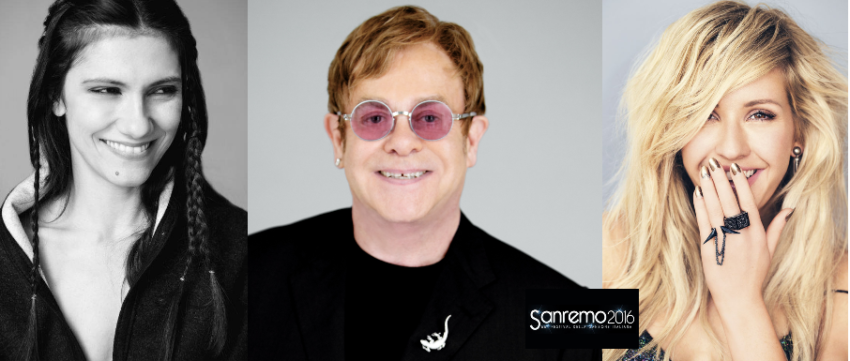 Back in December Italian broadcaster RAI announced the participants in both categories of Sanremo 2016, and also the guests that will shine in the popular Italian music festival. Yesterday they confirmed three more guests, among them the worldwide famous British singer and songwriter, Sir Elton John.
As reported in our previous article some of the most famous Italian singers with success all over have confirmed their presence at the upcoming Sanremo music festival. Laura Pausini, Eros Ramazzotti, Andrea Bocelli and Ariana Grande will appear at the 2016 Sanremo music festival.
RAI really tries its best to put together a show of high standard and announced yesterday an even more popular artist as a guest in the shape of Sir Elton John. RAI also confirmed two other strong names. Elisa will be there to present her new work and return to sing in English, No hero. Ellie Goulding will be bringing her worldwide success to Teatro Ariston as well.
We should wait until the 9th of February to see if RAI surprises with more guests. Italian broadcaster RAI has previously confirmed that the Sanremo 2016 winner will have the right to go to the Eurovision Song Contest 2016 in Stockholm for Italy. The broadcaster has already revealed the dates and the hosts of the series of shows. Sanremo 2016 will start on the 9th of February and end on the 13th of February in Teatro Ariston in Sanremo. The exact progamme of Sanremo 2016 is as follows:
Serata 1: February 9th (Tuesday)
Serata 2: February 10th (Wednesday)
Serata 3: February 11th (Thursday)
Serata 4: February 12th (Friday)
Serata 5: FINAL – February 13th (Saturday)
Italy in the Eurovision Song Contest
Italy has participated in the Eurovision Song Contest 40 times since making its debut at the first contest in 1956. It was one of only seven countries that competed in the very first contest. Italy competed frequently in the contest until 1997. After a fourteen-year absence, the country returned for the Eurovision Song Contest 2011, with a respectable second place achieved by Raphael Gualazzi and Madness of Love. Italy has won the contest twice (1964, 1990).
Along with Germany, France, Spain and the United Kingdom, Italy is one of the Big 5 who are automatically allowed to participate in the grand final because they are the five biggest financial contributors to the European Broadcasting Union (EBU).
This year in Vienna, Il Volo was one of the favourites to win. They finished third, but the Italian group was rated first in the televoting.
Below you can watch Sir Elton John performing live Looking Up, a hit from his latest album