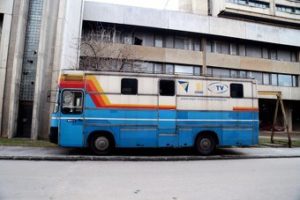 Due to debts to the EBU of over 3 million euros, EBU decided today to impose the sanctions on the Bosnian National Public Broadcaster, BHRT. Their difficult financial situation is the reason why Bosnia and Herzegovina won't participate at the Eurovision Song Contest in Kyiv next year.
In June this year the EBU chose to extend the deadline for BHRT to pay part of their debt to the EBU until at least the end of UEFA EURO 2016 on 10th of July. Obviously the EBU has now lost patience with BHRT and the Bosnian Parliament, who several times failed to pass the law, that makes a credible and long-term solution to funding public service media. BHRT's biggest problem is that it merrily relay on TV licence fee, and that only 50% of the Bosnian citizens actually pay the fee. Because of these conditions BHRT "was only surviving" for a long time, almost totally unable to make own production.
EBU's decision from today means, that BHRT will no longer has access to the Eurovision News Exchange, which is a sanction of third degree. In the worst-case scenario BHRT can be forced to shut down. If that happens Bosnia and Herzegovina would become the only European country without a public broadcaster, leaving the country dependent on privately owned TV-stations.
Bosnia and Herzegovina made a comeback to the Eurovision Song Contest this year in Stockholm after being absent from the competition since 2013. Dalal, Deen, Jala and Ana Rucner didn't manage to qualify for the grand final after they finished 11th in their semi-final. It was first time since the semi-final system was introduced that Bosnia and Herzegovina failed to reach the final. Unfortunately we won't see them back for the 2017 edition, BHRT confirmed that already in September.
Below you can watch Ljubav Je, which was this years entry from Bosnia and Herzegovina: