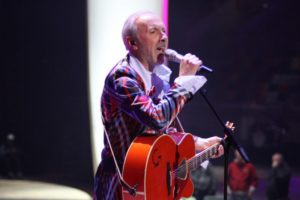 Dino Merlin, who represented Bosnia and Herzegovina twice in the Eurovision Song Contest, has released a new video for the song "Sve Dok Te Bude Imalo" (As Long As You Exist). The song goes all the way back to his latest album "Hotel Nacional" from 2014.
Hotel Nacional is an important milestone in history of music in the former Yugoslavia, as it is the first and only album from the region, that managed to enter the famous Billboard World Albums top list.
The filming of the video for Sve Dok Te Bude Imalo took about one year. Many different locations have been used in the video, including Sarajevo City Hall (Vijećnica), where Bosnia and Herzegovina's 2016 entry Ljubav Je was presented in a live transmission. The video is directed by the famous Swiss music and commercial video director with Bosnian roots Haris Dubica.
Haris was, this year, awarded the Best Swiss Video Award for the music video of the year in Switzerland for the third consecutive time. Haris and Dino are not strangers to each other as Haris already has directed a bunch of Dino's music videos such as Deset Mlađa, Individualizam and Rane. Beside Dino, the two young Bosnian actors, Armin Omerović and Aida Bukva, appear in the video.
Dino Merlin represented his country at the Eurovision Song Contest on two occasions. In 1999 in Jerusalem he came 7th in the grand final with the song Putnici. In 2011 in Düsseldorf he finished 6th in the grand final with Love In Rewind, which is Bosnia and Herzegovina's second best result in history of the contest. Actually Dino debuted at the Eurovision Song Contest already back in 1993, when he wrote and composed Sva Bol Svijeta – Bosnia and Herzegovina's first entry as an independent country.
A translation of the lyrics to Sve Dok Te Bude Imalo are provided below the video.
Translation of the lyrics
As Long As You Exist
May your hands bring anything
Just don't that be a flower
That ain't have the scent
May anything lie on your lips
Just don't that be a word
That could inspire me
May your chest carry anything
Just don't that be a breath (sigh)
For someone else
May your eyes reflect anything
Just not glow
When I'm not around
As long as you exist
I'm not afraid at all
I fear no one, except everyone
May your thoughts bear anything
Just know that words ring stronger
When told silently
May your dreams carry anything
Just don't that be a lie
We deserve more
As long as you exist
I'm not afraid at all
I fear no one, except everyone
Let the bird of the heart take off
There's always a cause to die