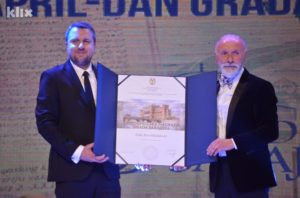 Dino Merlin, who has represented Bosnia and Herzegovina in the Eurovision Song Contest several times, has received the Sixth of April Award, which is the City of Sarajevo's finest award, a couple of days ago.
The award was presented at a special ceremony, which was held in Sarajevo City Hall. The Sixth of April Award is awarded on the 6th of April every year by the City Council of Sarajevo. This is the day that marks 72 years since the liberation of Sarajevo after World War II. The award is given to prominent individuals, groups, and collectives for their achievements and outstanding success achieved in all areas of social life. This year Dino Merlin was announced as the winner of this award in the field of culture and art.
The decision to award Dino Merlin was known already last month. Back then, the City Council made the following statement:
The Sixth of April Award of Sarajevo, as the highest social recognition for contribution in the field of culture and art, will be awarded to Edin Dervišhalidović – Dino Merlin – who made an enormous contribution to the development of culture in the last three decades with his artistic work, and, not only as the biggest show business personality in the region, but also as an author and performer who promotes Sarajevo and Bosnia and Herzegovina, its culture and tradition, through his artistic work.
In the wake of the City Council's announcement, Dino Merlin told the Bosnian web portal Klix:
It is a great honour for me to receive the Sixth of April Award of Sarajevo – the city where I was born and where everybody knows me. Life has taught me that we can come through even the darkest periods by saying two words: "sorry" and "thanks". One of the signs that we are moving forward as a society is that we use these two words more often. I am very glad that we did not lose the hope that our reality can become better than nostalgia, but this will only happen if we roll up our sleeves enough. Let's keep working on it.
Dino Merlin in the Eurovision Song Contest
Dino Merlin has taken part in the contest three times in the past. In 1993, he wrote the lyrics for Bosnia and Herzegovina's first entry as an independent nation – Sva Bol Svijeta. Six years later, in Jerusalem, he performed the song Putnici together with Beatrice Poulot. They ended up in seventh place. In 2011, Dino Merlin represented Bosnia and Herzegovina in Düsseldorf with the song Love In Rewind, which came sixth in the grand final.