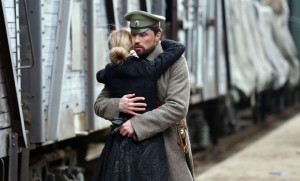 Dima Bilan, the 2008 Eurovision Song Contest winner, starts a new career as cinema actor. He has the main role in the historic movie Герой (The Hero) which is about love and takes place in two eras, in 1st World War and in our time. The film premieres tonight.
Dima Bilan who won the Eurovision Song Contest in 2008 for Russia with the song Believe, is already one of the most successful artists in his country. He now decided to try his skills in acting. The first movie is called Герой (The Hero). It is a war historical drama which takes place in two eras, present time and 1914, during the 1st World War, 100 years ago. Dima Bilan holds the double leading role in the movie.
On 23rd of March, the movie was premiered for a few fans and critics. The red carpet was attended by many stars of Russian showbiz, among them Alsou the representative of Russia in Eurovision 2000, actors, singers even politicians. The reviews were more than positive.
The movie was filmed in Paris (France) and Lithuania, and besides Dima, it also features Alexandra Balueva, Svetlana Ivanova, Marat Basharova and Alexander Vassiliev. It premieres to the public in Russia tonight, while the rest of the world including America in April under the title "The Heritage of Love".
I believe that we need to develop, grow up, without stopping, to try something else, new, the unknown…

Dima Bilan about his role in The Hero.
Below you can watch the official trailer of the movie: