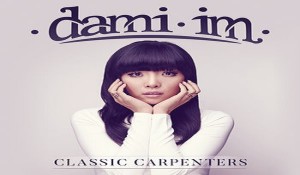 Dami Im is facing some busy months. As well as representing Australia at this year's Eurovision Song Contest, she is about to release a brand new album of Carpenters covers. The album will hit the stores just before she heads to Stockholm.
For those who might not be familiar with The Carpenters, they were a male/female American bother-sister pop group from the seventies, with a huge catalogue of excellent songs, those songs which Dami Im, this years Australian Eurovision representative have digged into.
Dami Im says to Auspop about Karen Carpenter that "Our voices naturally sound so different, so I tried to bring out the joy and the innocence in the songs while trying to sing them as honest and raw as I could".
The album will feature eleven classic hits from The Carpenters catalogue, from originals penned by Richard Carpenter, like Yesterday Once More and I Need To Be In Love, to cover versions that ended up being more associated with The Carpenters than the original artists, like Superstar and This Masquerade.
Dami continues "My intention wasn't to copy Karen Carpenter's voice or her tone".
The album, simply called, Classic Carpenters, will be released on Friday, the 22nd of April.
Track list for Dami Im – Classic Carpenters
(They Long To Be) Close To You
There's A Kind Of Hush (All Over The World)
Yesterday Once More
Superstar
Rainy Days And Mondays
This Masquerade
A Song For You
I Won't Last A Day Without You
I Need To Be In Love
Hurting Each Other
We've Only Just Begun
The Carpenters (Richard and Karen) released fourteen oirginal albums, their biggest being Now And Then in 1973 featuring Yesterday Once More and Jamabalaya, but their biggest album success is a collection of their singles The Singles: 1969–1973 which has sold over 10 million copies worldwide. Karen tragically died in 1983 from emetine cardiotoxicity resulting from anorexia nervosa.
In the video below you can see a performance of Yesterday Once More by The Carpenters