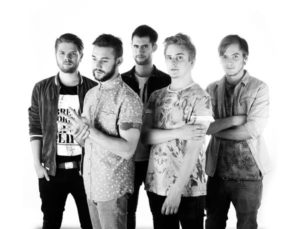 The second heat of the Hungarian national selection A Dal 2018 took place tonight. Ten songs were presented once again on stage, and at the end of the night we found six new semi-finalists. Will one of them represent Hungary this year?
The songs
Peet Project – Runaround: After last year's successful debut Peet Project is back aboard in A Dal. Their new song Runaround is a mix of pop, jazz and funk and the band perform it very charismatically. The jury members think it was a very professional performance.
Odett – Aranyhal: It's Odett's third attempt to become Hungary's Eurovision representative. Her song Aranyhal is a chart-friendly pop song mixing the 60's and 2000's music styles. She is delivering a solid and confident performance according to the jury.
yesyes – I Let You Run Away: The duo is made of Ádám Szabó (who came second in A Dal 2015 and was a semi-finalist in 2017) and Tamás Katona. I Let You Run Away is a very modern and catchy electro-pop song in which Ádám can also show us his amazing accordion playing skills. Jury members highlight that Ádám felt much more confident on stage than last year. Judit is awarding the first set of 10 points tonight.
Maya'n'Peti – Nekem te: A laid-back romantic duet performed by Annamária Szalai (Maya) and Péter Szikszai (Peti). We can easily see this song to be played at a wedding. However jury members think the performance wasn't authentic enough.
Viki Singh – Butterfly House: For the third year in a row, Viki hopes to go to Eurovision. After her 2016 and 2017 dramatic ballads now she is entering with a more uptempo energetic pop track with the use of a lot of pyrotechnics and wind machine. The jury misses true emotions here.
SativuS – Lusta lány: A rap entry in Hungarian about a lazy girl to Lisbon? "Why not", thought the band SativuS and entered A Dal for the first time. The mid-tempo song is flavored with some folk music instruments being played while the lyrics is quite sarcastic and critical just as you would expect from a rap song. The jury thinks the band is yet to become professional enough.
Gergely Dánielfy – Azt mondtad: A truly emotional and dramatic song about a lost love presented by former X-Factor contestant Gergely Dánielfy. Simply but effectively performed with some very memorable and touching violin and guitar melodies. Jury members are highlighting Gergely's honest stage presentation. Both Judit and Misi giving 10 points for this.
Nene – Mese a királyról: Five friends from music college formed the band Nene and present themselves to a wider audience for the first time at A Dal. Their song is easy to be imagined as an animation movie soundtrack. Jury hopes to see more from the band in the future.
Gábor Heincz BIGA – Good Vibez: BIGA is back to A Dal after a break of not less than six years. At his first attempt in 2012, he has made it to the superfinal but lost to Compact Disco in the jury voting. His current song is a very radio-friendly pop entry easy to sing along. His vocals are perfect as usual. A lot of colourful balloons appear on stage too.
AWS – Viszlát nyár: The four-member band AWS are newcomers at A Dal and they are bringing us some real heavy metal on stage. A very energetic performance as expected, with excellent vocals from the lead singer and of course the use of pyrotechnics. Jury members are very enthusiastic about the song.
The show
Just like last week, Hungary's 2016 Eurovision participant Freddie hosted the show alongside with Krisztina Rátonyi. The jury consisted of the same four members: Károly Frenreisz (rock musician), Judit Schell (actress), Misi Mező (singer) and Miklós Both (songwriter).
In the first round each jury member awarded scores from 1 to 10 points to the songs. The televoters were the "fifth member of the jury", the average score of their votes from 1 to 10 points have been added to the jury points. The five songs with the highest number of points in this round have directly qualified to the semi-finals, In the second round the remaining five acts were fighting for one last ticket in the semis, awarded by only the televoters. During the final televoting period an interval act has been performed by János Karácsony "James" and the band Margaret Island.
The results
1. AWS – 45 points
1. Gergely Dánielfy – 45 pts.
3. yesyes – 43 pts.
3. Gábor Heincz BIGA – 43 pts.
5. Odett – 39 pts.
6. Nene – 37 pts.
7. Peet Project – 36 pts.
8. SativuS – 34 pts.
8. Viki SIngh – 34 pts.
10. Maya'n'Peti – 30 pts.
The Top 5 automatically qualified to the semi-finals. In the second televoting round SativuS has been saved by the viewers at home.
Hungary at the Eurovision Song Contest
Hungary debuted at Eurovision in 1994 in Dublin. Friderika Bayer's 4th position from that year is still the country's best ever result at the contest. After a longer period of withdrawals and returns, since 2011 Hungary has participated at Eurovision every year.
In 2012 broadcaster MTVA has launched the new national selection format; A Dal which has become quickly popular and also successful. Since their 2011 return, Hungary has qualified to the Grand Final every single time, that means a series of seven qualifications in a row, three times (2013, 2014 and 2017) they even finished in the Top 10 of the Grand Final.
Last year Joci Pápai got the honour to fly the Hungarian flag in Kyiv. He finished in 8th position with 200 points in the Grand Final. You can watch his performance of Origo right below!