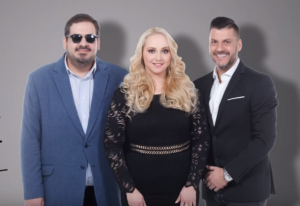 The last six spots for the semi-finals have been taken this evening during the third live show of Hungary's A Dal 2018. Next week, the 18 remaining acts still in the running will now fight for the Golden Ticket to Eurovision in Lisbon. It's getting exciting!
Just like the previous weeks, Hungary's 2016 Eurovision participant Freddie hosted the show alongside with Krisztina Rátonyi. The jury consisted of the same four members: Károly Frenreisz (rock musician), Judit Schell (actress), Misi Mező (singer) and Miklós Both (songwriter).
As interval act we saw A Dal 2013 singer Veca Janicsák and Fecó Balázs.
The songs
Tonight the following ten songs have been performed:
#yeahla feat. Viki Eszes – 1 Szó Mint 100: It's Viki's second attempt at A Dal, last year she performed in the duo called The Couple, and made it to the semi-final. Her 2018 entry, in co-operation with musician Péter Jelasity (#yeahla), is a more uptempo electro-pop song, which should be played a lot by radio stations next summer. The jury thinks Viki should sing with more power
Andy Roll – Turn the Lights On: András Dutka (Andy Roll) is not only a singer, but an all-around musician, composer and producer too. At this very first attempt in A Dal, he is performing an anthemic mid-tempo pop song that has some nice 90's vibes. Jury members are criticizing Andy's outfit.
Roland Gulyás – H Y P N O T I Z E D: Roland Gulyás finished in third place at X-Factor Hungary last November. One of the show's mentors was Hungary's 2013 Eurovision singer ByeAlex, who composed this song for him. If you except a similar song like Kedvesem, you're gonna be surprised, it's a very modern acoustic pop entry which is fitting to Roland's raspy voice. He performs on stage with the band London Kids, his fellow X-Factor contestants. However the jury thinks the song is too average and Roland needs to improve his stage presence.
Ham Ko Ham – Bármerre jársz: Following Joci Pápai's footsteps four-member boyband Ham ko Ham is bringing us some authentic gypsy music on stage. Their performance is however completely different, it's a feel-good uptempo song easy to sing or even dance along. Jury members are missing some lines in Romani language.
Cintia Horváth & Tomi Balogh – Journey (Break Your Chains): Singer Cintia Horváth and composer-jazz pianist Tomi Balogh appear on A Dal's stage for the very first time. Their entry is a radio-friendly pop song with some smooth jazzy elements. Jury members are highlighting Cintia's excellent vocals.
Tamás Horváth – Meggyfa: The recent winner of Sztárban Sztár (Hungarian version of Your Face Sounds Familiar) Tamás Horváth is a talented singer and guitar player. In his A Dal entry he can show off both of these skills, the song is excellently mixing up electronic, acoustic and Hungarian folk music. Without any doubt this will be a hit in Hungary, but will it be in Europe too? The jury thinks it was a very professional performance overall.
Maszkura és a Tücsökraj – Nagybetűs szavak: After A Dal 2016, the band is participating at the Hungarian Eurovision selection for the second time. The song is – representing their usual style of music played – an alternative acoustic ballad with some influences of hiphop music. Maszkura was very charismatic on stage according to the jury.
Nova Prospect – Vigyázó: No A Dal 2018 heat without some quality rock music. This time the Kecskemét-based band Nova Prospect is on stage with their emotional rock ballad Vigyázó. The female lead singer Gabriella Besnyő is adding some extra flavour to the song. The jury is not sure the song's lyrics makes much sense.
Nikoletta Szőke, Attila Kökény & Róbert Szakcsi Lakatos – Életre kel: One of the singers, Attila Kökény has already participated at A Dal in 2012, for Nikoletta and Róbert it's the very first time. The trio is performing a nice jazz ballad full of emotions and deliver some excellent vocals. Jury members are very happy about the performance
Reni Tolvai – Crack My Code: Talent show winner Reni Tolvai is already taking part in A Dal for the third time. The long-term girlfriend of András Kállay Saunders, who represented Hungary at Eurovision in 2014, is delivering some real American vibes on stage. In her Nicki Minaj-style song she can show us her rapping skills too. The staging was too chaotic according to the jury.
The results
In the first round each jury member awarded scores from 1 to 10 points to the songs. The televoters were the "fifth member of the jury", the average score of their votes from 1 to 10 points have been added to the jury points. The five songs with the highest number of points in this round have directly qualified to the semi-finals, In the second round the remaining five acts were fighting for one last ticket in the semis, awarded by only the televoters.
1. Nikoletta Szőke, Attila Kökény & Róbert Szakcsi Lakatos – 44 points
2. Tamás Horváth – 42 pts.
3. Ham Ko Ham – 38 pts.
4. Maszkura és a Tücsökraj – 38 pts.
5. Cintia Horváth & Tomi Balogh – 37 pts.
6. Reni Tolvai – 37 pts.
7. Nova Prospect – 37 pts.
8. Roland Gulyás – 35 pts.
9. #yeahla feat. Viki Eszes – 35 pts.
10. Andy Roll – 34 pts.
The Top 5 automatically qualified to the semi-finals. In the second televoting round Roland Gulyás has been saved by the viewers at home.
Next week, nine of the eighteen remaining acts will appear on stage in the first Semi-Final, and four of them will make it to the Grand Final to be held at the 24th of February. The winner of A Dal will perform representing Hungary in the second half of Semi Final 2 at the Eurovision Song Contest 2018 in Lisbon on the 10th of May.
Hungary at the Eurovision Song Contest
Hungary debuted at Eurovision in 1994 in Dublin. Friderika Bayer's 4th position from that year is still the country's best ever result at the contest. After a longer period of withdrawals and returns, Hungary has participated at the Eurovision Song Contest every year since 2011.
In 2012 broadcaster MTVA launched the new national selection format; A Dal, which has become quickly popular and also successful. Since their 2011 return, Hungary has qualified to the Grand Final every single time, that means a series of seven qualifications in a row, three times (2013, 2014 and 2017) they even finished in the Top 10 of the Grand Final.
Last year, Joci Pápai got the honour to fly the Hungarian flag in Kyiv. He finished in 8th position with 200 points in the Grand Final. You can watch his performance of Origo right below!