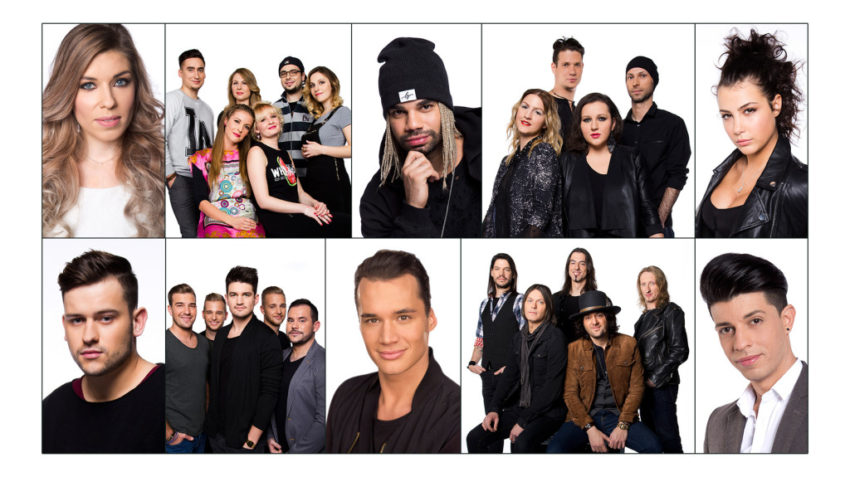 Today was the second heat from Hungarian national selection A Dal following last week's cancellation of Heat 2. How did the 10 hopeful participants manage? Let's find out.
Last week's edition of A Dal was unfortunately cancelled due to a tragic bus accident in Italy that left 16 people dead and many injured. Our condolences to the friends and families of those involved in the crash.
The second Heat was instead broadcasted today. Ten participants fought to qualify for the semi-finals which will happen the same weekend on February 10th and February 11th.
The Songs
Peet Project is smooth jazz band. Their song Kill Your Monster has a very funky vibe to it. I think this song has great potential overall but would probably need to be re-worked a little. The lead singer is very charismatic and sings the song well. I get a similar vibe as Switzerland's song from 2014 here.
This is not the first time Andi is trying her luck at the competition. Last year, her song Seven Seas with Olivér Berkes made it to the final. She is returning this year with a darker sound. Interesting choice of staging all dressed in white which makes the look and feel of the song a bit strange for me.
AnnaElza feat. Juli Kása – Jártam
Next is the first non-English track of the night. AnnaElza and Juli Kása bring a very odd experimental track to the contest. Interesting staging, she looks beautiful in her white dress and with the backdrop videos, but the song is just too strange, it has no melody or hook. Oh and the dancing… I don't quite know what to say about that, but make it stop.
Next is a bit of a controversial entry since he replaced an act that was previously disqualified (Jetlag). Chase brings is mid-tempo pop song Dust In The Wind. It has a much more mainstream sound than any songs so far. Unfortunately, the bad point here is Chase's vocals, if he can work on those he'll have a much better chance.
Song number five is Mrs. Columbo with the song Frozen King, another experimental type of song mixing multiple genres. A sort of modern take of jazzy elements and electronics. This is a lot more interesting than Jártam in terms of experimentation. I am not fully sold on it, I think there are arrangements in the song that could be updated, but overall a decent entry.
Kállay-Saunders Band – 17
András Kállay-Saunders is back to A Dal once again with his band, this time with the song 17. Having finished in 3rd place last year with his band as well as representing Hungary in 2014, Kállay-Saunders is no stranger to the competition. 17 takes on similar elements from current mainstream pop songs by the likes of Justin Beiber. No doubt it will do well with this competition but I can't say it would do better than his 2014 song.
Next up is Zoltán with his ballad On My Own. I have to say this is the one that has the strongest melody so far. I think he will need to work a bit on his vocals to make sure he hits all those notes perfectly. The staging also is very simple with him playing the piano, although when the piano starts to move around the stage it does make it a bit strange and unnecessary.
Peter Kovary & The Royal Rebels – It's A Riot
The seventh song to be performed is It's A Riot. A Rock'n'Roll track from Peter Kovary & The Royal Rebels. Not a terrible song, but really nothing to run home about. This is overall pretty forgettable, specially after the much better performance that came right before this.
Next is Gina with the song Fall Like Rain. This has a retro 90s element to it, but the melody just seems to be all over the place. Gina has a very nice voice and carries the song well, but again this is a very forgettable song.
Final song of the evening comes from Ádám Szabó. This one has a bit of a social-political message as the song denounces prejudice towards migrants of foreign cultures and religions. The melody is nothing super original but it works well. With an interesting staging of bird cages.
The Show
The format to qualify hasn't changed: the ten performers are judged by a group of four jurors and given a score out of ten. Finally, the public cast their votes and each artist is given an average on 10 from the public out of a maximum of 50 points.
The five acts with the most points are automatically moving forward to the semi-final, but out of the bottom five, one artist gets picked in a second round of voting to move forward.
The Results
Top 5 qualifiers:
Peet Project
Chase
Mrs. Columbo
Kalley Saunders Band
Gina Kanizsa
Second round qualifier:
Eliminated:
Andi Tóth
AnnaElza & Juli Kasa
Zoltán Muhajid
Peter Kovary & The Royal Rebels
Check out the top 2 songs of the night below who each received 42 points: Gina Kanizsa and Kalley-Saunders Band: