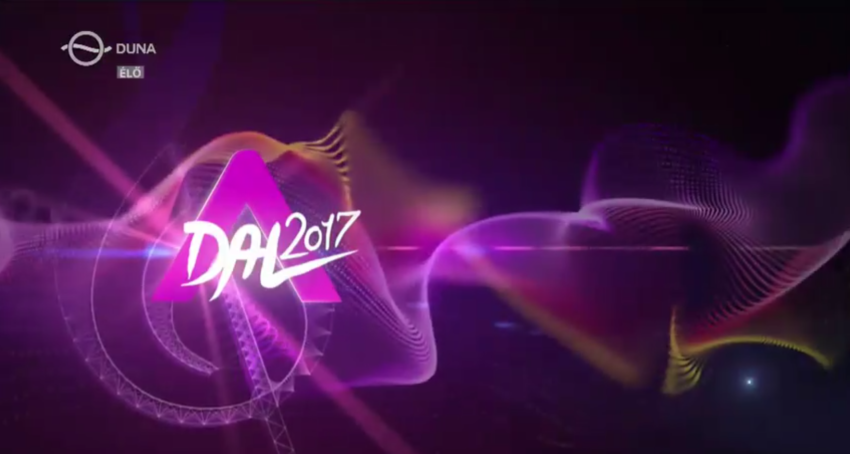 Tonight was the third and final heat of the Hungarian national selection A Dal 2017. The jury and public picked six more artists to move to the two semi-finals to be held next weekend.
These six songs join the already picked 12 from the previous two shows and will compete next week in a two-parts semi-finals.
Ten participants competed tonight with six qualifying and four who had to say goodbye to the competition. Let's find out more about the competing entries from tonight.
The Songs
First up is Kyra with her high energy track Got To Be A Day. The song is quite eclectic as the verses seem very quiet and the chorus is loud and big. The staging is not bad although the dancers are rather distracting and the track feels a bit dated
Zävodi + Olivér Berkes – #háttérzaj
Second artist is Zävodi and Olivér Berkes. Very interesting song here mixing some very soulful vocals, classic burning piano (mind you that didn't work so well at Eurovision before). and some experimental electronic sounds creates this very odd entry.
Gabi Tóth & Freddie Shuman feat. Begi Lotfi – Hosszú Idők
Next up is Gabi, Freddie and Begi. This is a very interesting performance. Gabi brings a lot of confidence to the stage and the choreography is on point with the staging. The song itself is anything but typical pop music. I really have to give props to Hungarian people for really trying to do something different.
Song number four is another entry that is not in English, which is quite refreshing from what is typically sent to Eurovision I must say. This one is a very pretty ballad sung beautifully by Orsi. It reminded me of a song from an old Hollywood musical from the 1950s.
Next up is Soulwave, a group of five young men singing a folksy tune. Think of a faster version of Hungary's 2013 Eurovision entry. The vocals are quite good and the band carries the song well, but when comparing to some of the songs from last year's A Dal, so far I feel a bit underwhelmed.
The Couple is up next with their song Vége Van. Right away there is an interesting use of staging as the camera circles the singer and shows the A Dal studio actually has LED screens all around! The is a very simple but very effective song. The singer really draws us in even without understanding Hungarian I felt captivated by this one.
Next is Enikö Muri with her song Jericho. This is a fun high energy typical pop song. Well sung by Enikö, the staging is a tad cheesy but it works. In a heat filled with either forgettable or ultra experimental sounds, this one sounds more fun and fresh.
Father's Eyes is one of those songs that delivers a message, but in this case does it using a too many lyrics. What ends up happening here is that the chorus is saturated with a lot of words that doesn't work well with the melody and the message doesn't come through properly.
Gigi is up next and is bringing the vocals! Soulful voice for a soulful song. This is a good basic ballad with a 90s feel. One thing that needs to change is the dress, it's a little too much, but otherwise she has the potential here to have a moment.
Joci Pápai – Origo
Final song of the night and of the three heats and we are ending with a bang. Throughout this season of A Dal, I've been very impressed with the amount of experimentation from different genres and so on. Origo is an example of how to make it work mixing traditional music with hip hop in a great way. The way the performance was shot was quite interesting, the staging with the dancer worked.
The Show
Four judges give each artists a score out of ten. The public, then also gives a score out of then for a possible maximum of 50 points.
The five acts receiving the most amount of points automatically qualified to the next round. If two acts are in fifth place with the same amount of points, the judges decide who will make it through.
A second round of voting only for the public then happens to pick a sixth qualifier from the bottom five.
The Results
Top 5 qualifiers:
Zävodi + Olivér Berkes
Gabi Tóth & Freddie Shuman feat. Begi Lotfi
The Couple
Gigi Radics
Joci Pápai
Second round qualifier:
Eliminated:
Kyra Fedor
Orsi Sapszon
Enikö Muri
Benjámin Pál
Check out See It Through below who got the most points tonight: