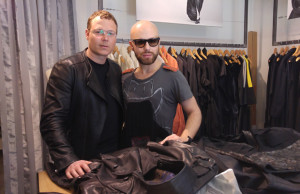 Famous fashion designer Tom Rebl will design the outfits for the Bosnian-Herzegovinian Eurovision team as they gradually begin to make preparations regarding stage performance and choreography.
40 year-old Tom Rebl was born and raised in Germany. He studied fashion and design at the prestigious Central St. Martins College in London. Before he started his own fashion label in Milan (Italy) in 2008, Rebl worked for the world-famous fashion designers Alexander McQueen, Vivienne Westwood and Andrew Mackenzie. Among Rebl's fans and clients are numerous personalities such as Justin Bieber, Adam Lambert, Green Day, Eros Ramazzoti and Gianna Nannini. His brand has an avant-garde reputation and works independently and regardless of the rules of the fashion system. This is what made Tom Rebl the voice of a new generation.
Rebl came to Sarajevo this Thursday to work with Deen and Jala on their outfits they'll be wearing at the 2016 Eurovision Song Contest. The first dress rehearsals have already taken place at the fashion atelier, whose owner is one of the most famous Bosnian fashion designers Selma Starfinger, who also designed Maya Sar's dress for the 2012 Eurovision Song Contest.
Deen and Tom Rebl are not complete strangers to each other as they became good friends when Deen was studying fashion business at Istituto Marangoni in Milan, which is a private school of fashion and design.
Check out EuroVisionary's highlights of Bosnia and Herzegovina at the Eurovision Song Contest below and test your knowledge about Dalal, Deen, Ana Rucner and Jala with our EuroVisionary quiz!
What does the song title Ljubav Je mean in English? Check your knowledge in this quiz about the act from Bosnia & Herzegovina.