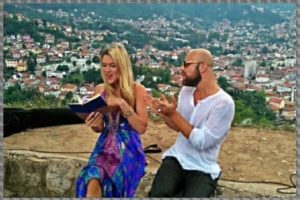 Have you ever wondered how this years Bosnian and Herzegovinian entry Ljubav je sounds when a world famous singer performs it? The British R&B and soul singer Joscelyn Eve Stoker, better known as Joss Stone, tries her best in order to give an answer to this question accompanied by Deen himself.
On September 15th, Joss Stone performed in the hall of the National Theater in Sarajevo as a part of her world tour. Stone's concert tour is the artists ambitious plan to visit all the countries of the world and learn about the local music. Deen joined her on stage, where he gave an acoustic version of some of his own songs.
Stone is known as the youngest singer ever to get on the British top list of albums in 2004, at age of seventeen. It was Stone's debut album Mind, Body & Soul, that made her worldwide famous. During her 15 years long career Stone, who was born in 1987, has released six studio albums and sold more than 14 million albums. She also won a Britt Award in 2005 for the best British Urban Act and a Grammy Award in 2007 for the best R&B Performance by a Duo or Group with Vocals.
The day before the concert Stone spent some time together with Deen, who showed her some of the main attractions in Sarajevo. Their performance of Ljubav je, which Deen shared on his Facebook, happened during the sightseeing on Stones initiative. Stone sang in Bosnian and it sounded amazing as if she was a native speaker. It seems like Deen was very impressed by the world famous British artist. About his meeting with Stone, Deen wrote on his Facebook as follows:
To get to know Joss and to have a possibility to sing together with her is priceless. There is no need to talk about her glorious career and her worldwide success. What a wonderful person she is!
You can watch Joss Stone's and Deen's performance of Ljubav je in the video below: