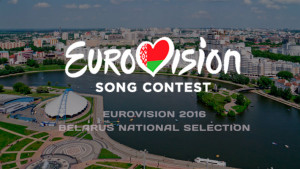 After two live auditions in front of a panel of experts, Belarusian broadcaster BTRC revealed yesterday the 10 finalists that will fight for the right to represent their country at the 2016 Eurovision Song Contest. The winner will be decided solely by SMS voting during a live show to take place no later than January 25.
After two open audition on November 26 and December 1, the professional jury in Minsk have decided on the acts that will compete to represent Belarus at Eurovision 2016. The public was able to watch the auditions live through the official site of the broadcaster. Yesterday, the 10 finalists were announced on the news.
The songs are:
1. Alexander Ivanov- How to fly LISTEN
2. Valeria Sadovskaia- Not alone LISTEN
3. Anastasia Malashkevich- Pray for love LISTEN
4. Group NAVI- This land LISTEN
5. Alex Gross- Flame LISTEN
6. Kirill Yermakov- Running to the sun LISTEN
7. Group Radiovolna- Don't go mad LISTEN
8. Sasha Zakharik- Glory night LISTEN
9. NAPOLI- My Universe LISTEN
10. Group THE EM- Turn around LISTEN
The above 10 acts were deemed the best out of 60 from about a hundred applicants, solo artists and bands. The jury included some former Eurovision entrants like TEO, Alyona Lanskaya and Dmitry Koldun. Among the 10 winners there are some names who have already tried to represent Belarus in the past such as Alexey Gross, Alexander Ivanov and Napoli.
Belarus in the Eurovision Song Contest
Debuting in 2004, Belarus has participated in the Eurovision Song Contest 12 times. The country entered the contest in the same year that semi-finals were introduced to determine who would compete in the final. Belarus has so far managed to qualify for the final four times (2007, 2010, 2013 and 2014). Their best result until now is a 6th place in 2007 with Dmitry Koldun and his song Work Your Magic.
Belarus is also known in Eurovision for the interventions in its entries by the president of the country, Alexander Lukashenko, who has changed the results of their national final a lot of times!
This year the country was represented by Uzari & Maimuna who failed to qualify in the final as they ended 12th in the 1st semi-final with their song Time.
Below you can watch Uzari & Maimuna performing their song Time, at the 2015 Eurovision Song Contest in Vienna.