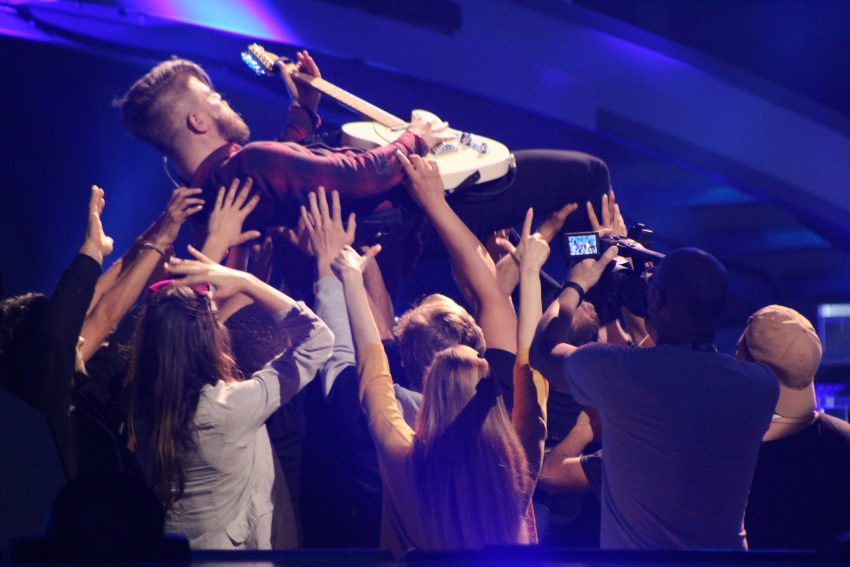 As one could expect, Hungary brings a lot of energy to this year's contest. Their first and second rehearsals revealed that AWS brings a lot more than that. This is definitely an entry that stands out.
Viszlát Nyár
, which is written by Dániel Kökényes, Bence Brucker, Áron Veress, Soma Schiszler and Örs Siklósi.
First dress rehearsal
Gallery
Complete the sentence interview
Second Rehearsal
Opinions expressed during our second rehearsal coverage are personal from the mentioned writers.
Michael, UK (in the arena) – What a complete and utter noise unless you like this kind of music. If Switzerland was loud it at least had a tune. This just screeching guitars and screaming in Hungarian that's a real ear bleed to listen to. Being in the hall makes the noise worse. I need a headache tablet.
Josef, Czech Republic (in the press centre) – Even though AWS is a rock band full of energy, they still had few technical problems during their second rehearsals. I am definitely not a fan of this kind of music, but they really rock the stage and uses all possible space, also the catwalk. I would let them stay in the final, but there should be some kind of space for all different music genres, so we'll see the results of the second semifinal. I think that Hungary could qualify.
First Rehearsal
Hard rock has been seen before at Eurovision, but a metal band that is headbanging is still rare. However, AWS brings just that to Eurovision 2018. They delivered a great performance in the national show A Dal a few months ago with a high level of energy and passion, and their first rehearsal at the Altice Arena had just as much energy and passion.
It starts a bit quiet in blue colours, but it doesn't take long before the energy explodes in front of the audience and cameras. The lead singer is running at the catwalk, he's growling and headbanging, the guitar player is stage diving, we get fire and in the end, the stage and catwalk literally explode in pyro. If you like hard rock, you'll like this one. Not just the song but the performance itself. It's very well put together and though it all might look a bit much, it isn't.
Just like previous Eurovision winners – Sandie Shaw, Loreen, and Emmelie de Forest – to name a few – the lead singer Örs Siklósi is bare feet during the performance. Could that be a sign of a Hungarian qualification to the final?
How AWS were selected
Through a total of six heats, 30 acts competed in this year's Hungarian A Dal competition. The final which was held on the 24th of February consisted of eight, who was first judged by a jury who selected the four which advanced to the super final. To make the final decision as to who should represent the country, a public voting took over and picked AWS as their winner.
AWS made it to the super final as only the 4th and last choice from the jury, which showed a big difference between what the jury preferred compared to the public.
Hungary at the Eurovision Song Contest
Over the years, the Hungarian results have been quite mixed. A fourth and a fifth place from 1994 and 2014 are their best result to date.
The country attempted to take part in the 1993 contest, but a pre-selection round eliminated Andrea Szulák. The year after, Friderika Bayer made it through, and came in 4th in Hungary's Eurovision debut.
After the semi-finals were introduced, Hungary only failed to reach the final in 2008 and 2009. The country didn't take part in the 2010 contest, but since 2011 they have had impressive row of always making it to the final. András Kállay-Saunders came 5th in Copenhagen, Denmark in 2014 with the song Running, and in 2017 they once again ended in top 10 as Joci Pápai finished 8th.