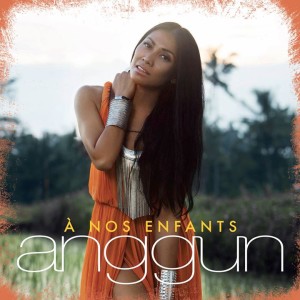 Anggun is back on the French music scene with a brand new song called A Nos Enfants. This single serves as a prelude to her forthcoming album of original studio material, Toujours Un Ailleurs, which is scheduled for release in October 2015.
Three years after the release of her previous album, the talented Indonesian singer who represented France at the 2012 Eurovision Song Contest with Echo (You And I), has recently premiered a brand new song in French called A Nos Enfants which means To Our Children.
This is the first single from her long awaited sixth studio album, Toujours Un Ailleurs, whose French version will be released next autumn. The English one is expected to be ready for 2016.
In recent years, Anggun has released a best-of album and has collaborated on several music projects recording songs with other artists mostly for compilation albums. She has also been working on some international projects as a judge for popular talent shows such as X Factor Indonesia, X Factor Around The World, Indonesia's Got Talent and Asia's Got Talent.
This new song is a tribute to children and it has a deep message. Before the beginning of the song, Anggun says: 'everything is fine as long as nothing happens to our children'. She speaks about all the little moments that fill our lives with happiness and how to appreciate the little things.
The official video of the song will be released in mid-July but you can watch the lyric video below.