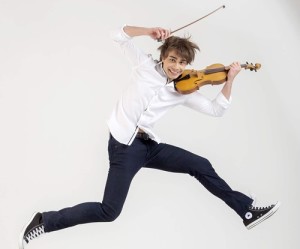 Alexander Rybak likes to experiment with new things and after having released a new Russian-language song now he is working on a new project that will enable him to integrate his talent as a composer and singer with his until this moment hidden ability as a book writer.
Eurovision Song Contest winner Alexander Rybak knows he has fans of all ages so he is about to debut as an author with a children's book called Trolle Og Den Magiske Fela which means Trolle And The Magic Fiddle. It will be published by Cappelen Damm in September and, along with the book, there will be both an audiobook and a brand new album which will include songs closely linked to the story.
The original idea was to make a musical so Alexander started composing some songs. Then he realized that it was better to write the story and publish it as a book that will be released at the end of September 2015. Illustrator Thomas Kirkeberg has drawn the characters and the audiobook will be narrated by Dennis Storhøi with voices by Anders Baasmo Christiansen and Stig Werner Moe.
The story is kind of autobiographical with references to Norwegian mythology and fairytale tradition. It speaks about a lonely and outcast troll named Trolle who is threatened by the other trolls because he does not have a tail. When he feels left out, he has the ability to bewitch other people by playing a magical violin. He gains too much power over the other trolls but one night the troll-herd manages to release the trolls from Trolle's curse and then he is lonelier than he was before. Luckily, a human kid called Alva helps him but they have to keep their friendship as a secret because everybody in Alva's village wants to kill trolls. Furthermore, the owner of the violin, the Hulder-King, is willing to do whatever is needed to get his magical instrument back.
The album will feature different music styles with a combination of pop and classical music in order to introduce that sounds to kids. The first single from this project, Blant Fjell, which means Among Mountains, has been recently released. You can listen to it in the video below.
This is not the only project Alexander Rybak has been working in recent months. A few days ago, he released a new Russian-language single and video called КОТИК which means Kitten. The video was shot in Moscow and it was directed by Rustan Romanov. You can watch it below.