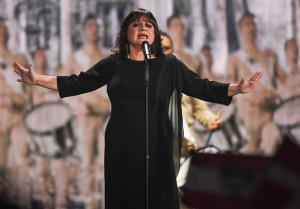 French broadcaster France 2 announced that it has received 280 applications for the upcoming Eurovision Song Contest. Nathalie André, head of entertainment for the French Broadcaster, revealed that France is looking for a more modern song for next year's contest.
Almost 300 songs were submitted to the French selection for next year's Eurovision Song Contest. Once more, France is sticking to an internal selection for 2016. As was announced in October, a special jury from France 2 will review all the songs submitted and internally select the best one to wave the French flag in Stockholm.
Yesterday, Nathalie André, head of entertainment for the French Television, said during an interview for Télé 7 Jours that they are looking for a more modern song for 2016 compared to the song Lisa Angell performed in Vienna.
I am still proud of the song that Lisa Angell performed and of her vocal power. It was not a modern song but we know that the theme is still topical after the tragic events in Paris.  Next year, France wants to send something which is more suitable for the current times, perhaps even in English.
France also announced that they will broadcast both semi finals on France 4, something they have not done in the last couple of years.
France in the Eurovision Song Contest
France has participated in the Eurovision Song Contest 58 times since its debut at the very first contest in 1956. France is one of only seven countries to have beeen present at the first contest and has only been absent from two contests in its history, missing the 1974 and 1982 contests. Only Germany has one more participation than France. France has won the contest five times (1958, 1960, 1962, 1969, 1977), and along with Germany, Italy, Spain and the United Kingdom is one of the Big 5 who are automatically allowed to participate in the final because they are the five biggest financial contributors to the European Broadcasting Union (EBU).
Last year, the French entry was selected through an internal selection, organised by the French broadcaster France Télévisions. The nation was represented by the song N'oubliez paz performed by Lisa Angell. Lisa premiered the song in November 2014 when she performed it during a 1st World War centenary concert held at La Madeleine, Paris. With only 4 points, France finished 25th in the Grand Final.
Below you can watch Lisa Angell performing N' oubliez Paz at the 2015 Eurovision Song Contest.