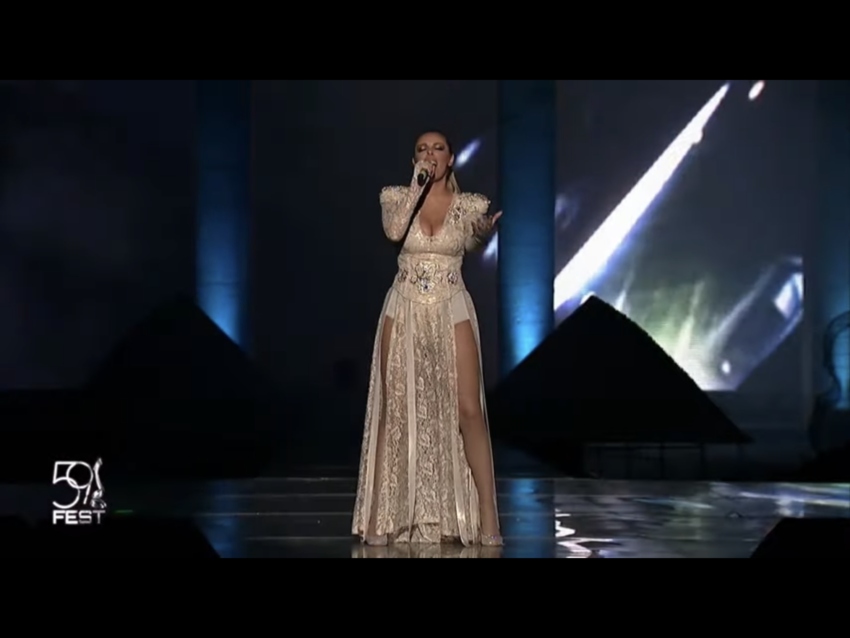 Tonight, the first National Final of the 2021 season took place in Tirana, with Albania choosing their Eurovision 2021 act and song. They have picked Anxhela Peristeri with the song Karma
Following two nights of pre recorded shows, the moment of truth, came only minutes ago, after 18 acts performed in the Festivali i Këngës 59 final.
The Show
As on the previous two evenings, Blendi Salaj and Jonida Vokshi hosted the show. Both arrived in a long white limousine to the sound of Santa Claus Is Coming To Town. Although it didn't look like it, the venue was open air, the Sheshi Italia in Tirana.
The honour of opening the contest fell to Sardi Strugaj who performed on top of a cage, which held a lady captive, and the other seventeen acts soon followed.  Sardi finished in 2nd place. The canned applause loved every song. Opera singer Rame Latham performed three songs, halfway through the contest. As the show proceeds it's looking more and more as if tonight's performances are also pre-recorded, as the hosts disappear of the stage very quickly before each performance starts.
Special guests, Mixed Up Everything gave a performance of the Scorpions big international hit, Winds Of Change.
The last act to perform in the contest was Kastro Zizo, so after his performance all that was left was the for the winner to be announced.
Albanian entrant , Eugent Bushpepa performed after the contest was over, giving a rendition of Leonard Cohen's Hallelujah.
Below you can watch Albania's entry to the Eurovision Song Contest 2021.
Albania at The Eurovision Song Contest
Albania made their Eurovision debut in 2004. So far they have sent 12 women, one duo and 3 men to represent them. Two of the men, Luiz Ejlli and Frederik Ndoci failed to make the final in 2006 and 2007. Only Eugent Bushpepa did well by placing 11th in 2018.
The duo of Adrian Lulgjuraj & Bledar Sejko also failed to qualify in 2013.
From the ladies, Aurela Gaçe, Hersi Matmuja, Eneda Tarifa and Lindita missed out in 2010, 2014, 2016 and 2017 respectively.
Rona Nishlui remains their most successful act with Suus placing 5th in 2012.
With the exception of Anjeza Shahini, their debut entry, all other Albanian ladies have finished 16th or 17tth.
Tonight's songs were as below
Anxhela Peristeri – Karma
Devis Xherahu – Peng
Era Rusi – Zjarri im
Evi Reçi – Tjerr
Festina Mejzini – Kush je ti dashuri
Florent Abrashi – Vajzë
Giliola Haveriku – E lirë
Gjergj Kaçinari – Më jep jetë
Inis Neziri – Pendesë
Kamela Islamaj – Kujtimet s'kanë formë
Kastro ZIZO – Vallja e jetës
MIRUD – Nëse vdes
Orgesa Zaimi – Valixhja e kujtimeve
Rosela Gjylbegu – Vashëzo
Sardi Strugaj – Ka me t'ba me kajt
Viktor Tahiraj – Nënë
Wendi Mancaku – Ves I shpirtit im
Xhesika Polo – Më mbron